Secret Tourist-Free Spots to View the World's Most Famous Attractions
In the TV show An Idiot Abroad, Ricky Gervais sends his buddy Karl to the Petra Monastery in Jordan, where Karl learns that the best view isn't actually standing in front of the monastery but from a cave across the way. And what he says upon realizing this is actually freakin' enlightening: "You're better off livin' in the hole looking at the palace, than living at the palace looking at the hole."
Karl's right: sometimes the better vantage point is where you least expect it (or rather, where you will encounter the fewest number of selfie sticks). Which is why we tracked down eight lesser-known spots for seeing some of the world's biggest attractions.
St. Peter's Basilica
Rome, Italy
Viewing spot: The Knights of Malta Keyhole
Unfortunately, there's no other way to marvel at Michelangelo's handiwork than to go inside of St. Peter's Basilica, but you won't want to miss seeing it from this other stealthier spot. It's a teeny keyhole that perfectly frames the Renaissance church! Get there by climbing Aventine Hill and finding The Knights of Malta building, HQ to the world's oldest order of knighthood.
Wat Arun
Bangkok, Thailand
Viewing spot: The Deck
This Buddhist temple is a must-visit in Bangkok, but can be a real pain to get to -- we're talking jumping boats and dodging tourists. If you don't really care about climbing the temple, book a table at The Deck restaurant for sunset drinks (by Western prices, it's reasonable). You'll enjoy a breathtaking view of Wat Arun sparkling on the water, with a breeze and cocktail thrown in for good measure.
dimitris_k/Shutterstock
Acropolis
Athens, Greece
Viewing spot: Filopappou Hill
So Acropolis admission is going up this year (because, Greek debt crisis), but hold onto your Euros: one of the best spots to admire the ruins is actually totally free. Climbing up Filopappou Hill, you can get an awesome panorama of Athens, the Aegean, and even a full shot of the Acropolis -- no backdrop of tour groups necessary.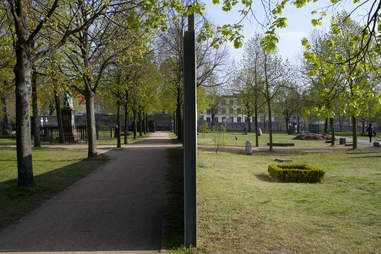 Visit Berlin
Berlin Wall
Berlin, Germany
Viewing spot: Invalids' Cemetery
Go ahead and get that necessary selfie against some East Side Gallery graffiti, but also take time to check out Invalids' Cemetery where a decrepit, lesser-known piece of the Berlin Wall still remains. Here in what was once "no man's land" between East and West, you'll also find the resting places of WWI veterans and Nazi leaders.
Christ the Redeemer
Rio de Janeiro, Brazil
Viewing spot: From a helicopter
OK, OK, so not really a secret spot (or even an accessible one really), BUT if you're only going to splurge $150 on a token tourist chopper ride once in your lifetime, trust us -- Rio's the place. Four thousand feet in the air is where you'll get the most epic view of Christ the Redeemer, including the bottom part, which can't be seen from ground entry.
Hollywood Sign
Los Angeles
Viewing spot: Lake Hollywood Park
Hiking Hollywood Ridge and Beachwood Canyon are the most popular ways to set eyes on this crucial American landmark, but your best view is actually (perhaps too sensibly) from underneath. Locals love to disagree about where that prime real estate is, but when it comes to overall experience, there's Lake Hollywood Park. It's one of the easier spots to find with a clear view of the sign, and a pretty location on its own boasting greenery and a neighboring reservoir.
Cliffs of Moher
County Clare, Ireland
Viewing spot: Coming from Doolin
Google Ireland's most famous attraction, and you'll pull up words like "tourist trap" and "overrated" pretty quick. But blogger Shannon O'Donnell found a route through pastures starting in a charming village called Doolin (another town, Galway, is where most tourists head in from). Trade-off? There's a high probability you will be stepping in cow patties.
Taj Mahal
Agra, India
Viewing spot: Yamuna or Agra Rivers
Ah Taj Mahal, there you are as the world's No.1 tourist trap and bane of happy-go-lucky travel photographers everywhere. Getting the money shot of this architectural wonder can be unbelievably tricky, and that's why your best bet is on riverbanks, or even ON the water. Hire a boat to float out for a unique, full frontal angle. Trade-off? Sewage smell. Better than big crowds and fending off scams? You decide.
Sign up here for our daily Thrillist email, and get your fix of the best in food/drink/fun.
Barbara Woolsey is a Berlin-based writer who grew up in Canada, and has stepped in her fair share of cow patties. Follow her adventures around Europe on Facebook and Twitter.