Sure, everybody knows Napa, Bordeaux, and Tuscany. But if you want to really impress potential overnight guests (and the waiter), you'll need to up your oenophilic game beyond the usual suspects.
To help you do that, we've rounded up seven off-the-beaten path wine regions that are worthy of your attention.
Bekaa Valley, Lebanon
Often billed as the oldest wine-producing region IN THE WORLD, Lebanon's been crushing grapes since, like, forever – or at least for 5,000 years. Today, the underrated Bekka Valley (home to the Temple of Bacchus, the god of wine) is experiencing a renaissance, with new wineries producing increasingly popular local varieties that lean dry and spicy, as well as traditional Cabernet Sauvignons and Merlots.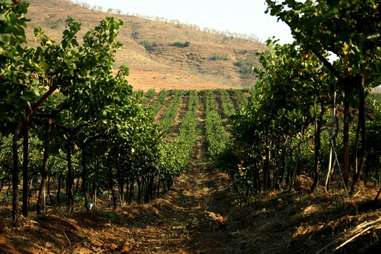 Nashik, India
Believe or not, Indian wine is currently enjoying its moment in the sun, garnering praise at wine fests across the globe and gaining popularity both locally and abroad. Vintners in Nashik (about two-and-a-half hours northwest of Mumbai) began making basic French varietals like Cabernet Sauvignon, Shiraz, Sauvignon Blanc, and Chenin Blanc, but are now experimenting with more diverse grapes. A drive around the region reveals wineries and tasting rooms aplenty.
Texas Hill Country, Texas
Who says cowboys don't drink wine? The Lone Star state is actually the fifth largest wine-producing area in the United States, home to eight distinct wine regions and approximately 273 wineries. Claiming 70 of said wineries, Texas Hill Country (west of Austin) is the largest region in the state; it's known for producing strong reds that flourish in the desert heat, like Syrah, Tempranillo, and Tannat.
Random fun fact: One of America's first vineyards was established in Texas by Franciscan priests around 1662.
Guadalupe Valley, Mexico
Turns out, Mexico's wine legacy is actually as old as its history with tequila. Valle de Guadalupe was long ago identified by the Spanish as an ideal spot for winemaking; Cortés, in fact, took a brief respite from conquesting in the 16th century to order landowners to plant 1,000 Spanish vineyards around the area, which sits among seven lush valleys. Today, the region produces about 12 million gallons of grape juice per year, or 90 percent of Mexico's wine.
Niagara Peninsula, Canada
No surprise here that a country known for its deep freezes would specialize in, well, ice wine. Often referred to as "liquid gold," it dominates the Niagara Peninsula, a section of Southern Ontario on Lake Erie that produces 70 percent of Canada's grapes and maintains around 70 wineries. Oh, and what is ice wine, you ask? It's basically a sweet, dessert-style vino made from frozen grapes that're handpicked when temps are below 14F.
Khao Yai, Thailand
Probably more famous for backpackers and buckets of beer, Thailand's on the up-and-up as a wine producing country. Laughing at the naysayers who claim good vino can't be made that far south, Thailand released "New Latitude Wines" 20 years ago and now boasts three winemaking regions. Khao Yai, about an hour south of Bangkok, is considered the birthplace of Thai wine and offers oenophiles some pretty sweet bike tours across its vineyards and the Khao Yai National Park, a UNESCO World Heritage site.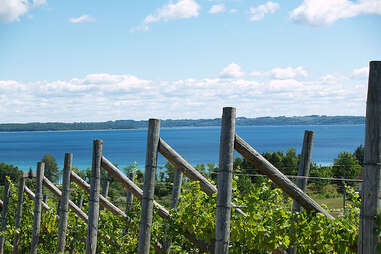 Traverse City, Michigan
If you think Lake Effect snow is bad, just try Lake Effect wine. JK! It's actually quite nice. Located on the same parallel as more famous wine regions like Burgundy and Bordeaux, Michigan ranks 13th in US wine production and bottles around 1.4 million gallons a year across 100 wineries.
Ironically, wine making in Michigan grew out of the grape juice biz, and a lot of the state's vineyards were originally planted by Welch's Grape Juice Company. Not surprisingly, fruit wines were a speciality for years but now vintners are focusing more on Riesling, Pinot Blanc, and Pinot Noir.

Sophie-Claire Hoeller is Thrillist's über-efficient German associate travel editor and, from personal experience, doesn't recommend wine tours via bicycle. Follow her @Sohostyle