Secrets to Save Money on Car Rentals That Companies Don't Want You to Know
Gas is expensive, rental cars have shortages—don't get ripped off even more.
Fasten your seatbelt and adjust your mirrors—this is Rerouting, your one-stop-shop for mapping out the ultimate summer road trip, no matter what gets your engine going. Cruise over to the rest of our coverage for pit stops at offbeat roadside attractions, sweeping desert panoramas, epic mountaintop vistas, oceanfront oyster bars, dynamic public art, and so much more.
Did somebody say road trip? If you're taking to the open road but lack a set of wheels, then that probably means you'll be waiting endlessly in line at a rental car counter soon... that's if you have no idea what you're doing.
Fun fact: Rental car aficionados never wait in line. They also never prepay for gasoline. No matter how much pain at the pump you experience, there's always an upcharge tacked on by the rental car agency.
Renting a car used to be pretty rigid—you selected from one of the big three: Hertz, Avis, or Enterprise. But recently quite a few disruptors have broken into the industry, which has seen some dents along the way, including a pandemic-driven rental car shortage.
Even with all the price volatility and changes we've seen, there are still some very reliable ways to tip the scales in your favor to save on your next trip.
To find out how we asked rental car experts (read: car rental agency employees who agreed to spill if we kept them anonymous) for their tricks of the trade.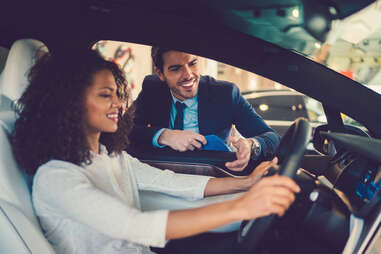 Free member programs have so many immediate perks it's stupid not to join
Unlike airline frequent-flier programs, which really only benefit you if you fly with one particular airline a LOT or use an airline-branded credit card for all your spending, car rental agency member programs—like Emerald Club, Hertz Gold Plus, and Avis Preferred—are free to join, don't require a credit check, and begin accruing benefits pretty much as soon as you drive.
One of the best benefits: These member programs allow you to bypass the rental car counter entirely, regardless of how many people are in line or how infrequently you actually rent a car. That saves you a lot of time in the process of travel.
In fact, the goal of most rental companies is to get members out of the building (if they have to enter at all) in under a minute. A minute! Plus, members typically score pre-assigned newer, nicer vehicles and possible automatic upgrades by enrolling in the program.
Consider car-sharing and ride-hailing apps disrupting the space
You should always compare between the big guys (Hertz, Avis, Enterprise—to name just three) and some of the up-and-coming disruptors giving them a run for their money, such as Turo, Sixt, and Uber Valet.
Car-sharing is a relatively new concept, where individual people can lend their personal cars to you at a moment's notice, and best of all they'll drop the car wherever you are. These services also offer some variety in vehicles, including accessible vans, rugged pickup trucks, electric cars, and swanky luxury sedans.
Turo has just expanded to all 50 states and offers spontaneous deals—like $25/day rentals from New York to the Hamptons on all weekends throughout July. But even the regular service saved me $300 on a week-long rental of a fuel-efficient sedan in Florida compared to what Hertz had to offer.
"Recent travel and supply chain disruptions have caused consumers to flock to innovators in the travel and transportation industry like Turo," says Albert Mangahas, Turo's Chief Data Officer, "who are transforming the car booking process from a chore into an exciting part of the vacation planning process."
And when I needed last minute wheels on a moment's notice to visit family in New Jersey, I reserved my rental car with ride-hailing app Uber and received a performance-driven Dodge Charger with only 11 miles on the car. This brand spanking new car was a fun way to cruise up I-95, and it was on par with what the cost of a sedan at Enterprise (which can also pick you up).
The biggest difference was the valet-like service. It's a new in-app function and service launched earlier this year, explains Caleb Varner, Global Head of Uber Rent.
"We built Valet for an on-demand and delivered world as we heard from users time and time again that they want to rent a car the way they order an Uber ride," he says. "We leaned into near on-demand access with just two hours lead time and no need to plan far in advance."
Book as far in advance as possible, then check the rates regularly to see if they've fallen
If your travel plans are a little bit more determined, then it's a very good idea to book as far in advance of the trip as possible and track the rental car rate using an automated tool like Autoslash. Unlike a plane ticket, you do not have to pay in advance for a rental car reservation, and if you do, the price point is usually not going to save you.
By not prepaying in advance, you can easily cancel and lock in on a better rate should your preferred rental agency decide to lower rates based on demand.
Each company has software that links to the online travel sites and adjusts prices according to both other listed prices and the company's available inventory. If it's a holiday weekend or peak travel time (like Spring Break), inventory gets booked sooner and rates will go up.
If you see a great deal several months out, book it, then check every few weeks to see if it has changed and request your price adjustment. Otherwise, rely on the free and magical automation that tools like Autolash provide.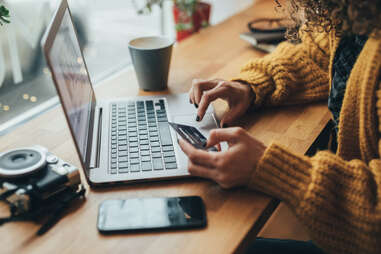 Booking directly through the agency's website won't save you that much money
If you don't care about which company you rent from and just want the best deal, third-party sites like Kayak, Priceline, Travelocity, and Expedia are your best bets for deals. Costco members will be happy to hear that their membership also affords them access to some premium rental car rates, and so does AAA status.
Always compare as you search. Rates can vary between the agency's website and these third-party booking sites. It's often the case that $30/day for an economy car from Enterprise through Orbitz is also going to be $30/day on Enterprise's website. All of these websites are pulling from the same rate tables. Sometimes you'll get a better rate through the company's website or by calling the company directly, but most of the time it won't make a difference.
That said, occasionally you can get special "manager rates" by booking through the company's site
This isn't that common and certainly not a guarantee, but if there's a lull in booking or they need to get certain car classes on the road, companies will open up very specific rate codes to unlock low rates. And those rates will only be available on the company's website, so it's worth at least checking before you make a reservation.
For lengthy or complex trips, call the company
For trips longer than a week, it's also worth your time to call and ensure you are getting the best pricing. Many companies now offer long-term, monthly, and mini-lease rental options that are cheaper than published daily rates. Plus, you could also avoid costly fees, like those pesky one-way drop fees for trips that start in one destination and end someplace else.
Non-airport locations can be cheaper, but might not be worth the headache
Airports have what is called an "airport concession recovery" that is charged to the rental companies and, subsequently, passed on to the consumers in the form of a fee. It ranges from 2%, all the way up to 18% in certain markets.
So yes, while non-airport locations may be cheaper, your selection may be limited, and it's your responsibility to get yourself to and from the airport, which might be more trouble (and more costly) than the rate difference is worth.
Cancellations are almost always free
This isn't even a trick of the trade, but still something many customers don't realize: There's NO penalty for canceling or just not showing up for your car, assuming you didn't prepay for it.
This means if you see a great rate, book it (just don't prepay in advance)! You can cancel it without penalty. And be sure to read the fine print. Some prepaid bookings can be canceled up to 24-hours in advance without penalty. If you didn't use a credit card for the reservation, you can even no-show without charge. (You shouldn't because it's kind of dick-ish! But you can.)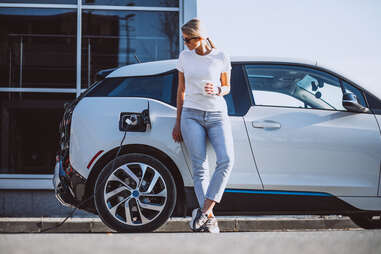 Prepaid fuel is not a good deal unless you're just lazy
How it works: you pre-purchase a full tank of gas so you don't have to worry about refueling before you drop off the car. Some companies also offer partial tanks and yadda yadda. The thing is, it's not that hard to fuel up close to the rental drop-off and avoid being charged the upwards of $10-per-gallon refueling penalty.
One agent recommends filling up within 10 miles of the drop-off location and keeping that receipt as proof. Purchasing fuel in advance only pays off if you somehow manage to drop the car off needing exactly that much fuel. If you bought a full tank in advance but drop the car off with still two-thirds full in the tank, you do not get a refund for the leftover gasoline you ended up not using.
It's also a complete rip-off: not only is it subject to the local gasoline tax but also all the taxes and fees that the airport tacks onto every purchase there. This is strictly a convenience purchase, and it's not smart.
If you're opposed to paying for gas at all, check to see what the price differential may be on an electric vehicle. Most rental car fleets offer hybrids and electric vehicles as an option, and while it may cost you more in terms of the rental car rate, you could save money if it's a particularly long-haul drive.
Pay the toll yourself
As you drive, you're probably going to encounter a toll road. Rental agencies say they offer the "convenience" of a toll transponder, located inside the car.
But if you turn it on, you'll usually pay a service fee to use it. A typical charge is about $5 per day for the duration of the rental—even if you don't go through a toll that day. That's the kind of nonsense that adds up. Do yourself a favor and bring your own EZ-Pass or pay in cash at the toll gate.
And watch out for automatic toll charges. Those will be tagged to your car, and you'll receive a bill in the mail from your rental car agency with, you guessed it, processing fees tacked on to the bill.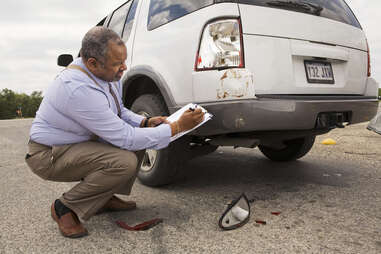 And finally, the biggest FAQ... INSURANCE
Every person who has ever rented a car has at some point panicked over the additional insurance offered, especially as over-aggressive counter agents strike fear into you with mention of $100-a-day "loss of use" fee should the car be damaged in an accident (which they can, and will, charge). Allow us to parse this out for you, 'cause Lord knows the rental car companies would like to keep it as vague and ominous as possible.
The "insurance" that is sold to you is typically one of three different kinds:
1. Damage waiver
This is a waiver that means you wouldn't have to pay anything for any damage to the rental car (note this does not cover damage to other people's cars or to people, including yourself; more on that below). You might not need this if you have a special rewards credit card or personal car insurance that covers this
The simplest way to find out if that includes you is by doing a bit of phone dialing. First, ask your car insurance company if you're covered for rental cars, if you have a deductible for rental cars, if there is a dollar limit to that coverage, and if there are any exclusions. Then ask them if they cover "loss of use" from car rental companies.
Certain American Express and Chase credit cards offer A+ premium insurance if you book using their credit card. These are card perks you can easily use, but be sure to call your credit card company and ask them the same questions above.
Then again, sometimes it's just not worth the hassle of going through your insurance provider and credit card company in the event of an accident, and being able to just turn in the wreck with the keys is a nice convenience.
Additional coverage costs anywhere from $10-25 per day, which is economical for short weekend trips. But for longer trips, it becomes cost-prohibitive, and as long as you know that between your insurance company and your credit cards you're fully covered, you shouldn't feel that you need to get it—because you don't. However, if you travel abroad, some countries may require you to hold insurance.
Take, for instance, Mexico, which advertises very cheap rental car rates online, but then requires international tourists to purchase third-party liability insurance (which will cost you).
2. Liability coverage
This is coverage for damage you cause to someone else's person or property. In this case, car rental coverage can be a good deal: it offers $1,000,000 in coverage to expend before you ever contact your own insurance. It doesn't cover the car at all, but it covers other people you hurt or cause loss to.
Again, contact your own insurance company and find out the specifics (and limits) of your own coverage in a rented vehicle. And if you're traveling out of the country, study up and see what liability insurance may be required to drive.
3. PER/PPP/UMP
This is coverage for any occupants in the case of injury, death, or damage to personal items from an uninsured or under-insured motorist. Usually, if you are visiting from another country, seriously consider this, as insurance coverage in different countries may differ widely.
All of these insurance options are just that: optional. You are not required to purchase any of them. If you do decide to add insurance, here's some advice from one of our experts:
"Never ever, ever, ever, ever, ever, ever, ever, ever prepay insurance through a third-party site. Most of those policies are complete trash and will serve as nothing other than peace of mind—until something happens. Whomever you rent with will still charge you, directly, for any and all of the damages and YOU will have to track down somebody at Priceline or Joe's Car Insurance or whoever to get things covered. And frankly, no one ever reads the terms and conditions and they are masters at hiding stuff in fine print that makes their contract virtually worthless."
So, there you go.
Nicole Rupersburg is a freelance writer covering food, travel, arts, culture, and what-have-you. She winters in Las Vegas and summers in Detroit, as does anybody who's anybody. Her favorite activities include drinking beer and quoting Fight Club.