Seeing Live Music Is the Secret to Unlocking a New City
Whether it's a local jazz trio or a beloved touring band, there's nothing like catching a show in a foreign land.
Presented By

It was around 8 pm on a unseasonably balmy June evening in Glasgow, Scotland when I rolled up to the Barrowland Ballroom, a storied venue on the east side of town. Lovingly referred to as "the Barras," the 1,900-capacity former dancehall stood in fine form. Its towering facade looked like a giant upright pinball machine, with looping letters and shooting stars, not yet illuminated thanks to the bright mid-summer sun. That night, a line snaked around the building, stocked with Glaswegians of all ages—older couples holding hands, college kids in baggy pants and beat up sneakers, groups of women in their 30s rocking dyed hair and jumpsuits, groups of men in their mid- to late-40s embodying a look that can only be described as "aging music critic," and—somewhat surprisingly—a good number of young people, teenagers with tiny backpacks and tightly curated outfits. The surprise lay in the fact that we were all here to see Le Tigre, a neo-Riot Grrrl electro-punk band that had, until 2023, been on a hiatus that lasted longer than many of these kids had been alive.
But here they were, back in action and taking the stage in a city synonymous with live music (a.k.a. gigs) in the United Kingdom. I had arrived just the day before, coming off a weekend stint in Islay drowning myself in peated whisky at Ardbeg Distillery's annual Ardbeg Day celebration. I was set to spend the week in Glasgow by myself, getting to know the city via meandering self-guided walking tours, eating haggis and kebabs, ducking into cozy bars, and (mostly) avoiding whisky—or the peated stuff, at least. When I discovered Le Tigre's tour stop coincided with my visit, I was elated; not only would I be able to catch one of my favorite bands from high school for the first time in decades, but I'd also have the opportunity to soak up Glasgow's culture in one of my all-time favorite manners.
There are as many ways to familiarize yourself with a destination as there are reasons for traveling. Food and drink is an obvious one to most people, while others prefer to roam museums, check out historic landmarks, or window shop along buzzy commercial strips. Me? I like to see live music (plus live sports, but that's another story).
I've hit up hip hop shows in South Carolina clubs, house music sets in shadowy Roman squats, porch parties fueled by twangy indie rock in Vancouver and Portland, Irish folk quartets in dusty Dublin pubs, and mariachi bands in Guadalajara cantinas. Sometimes, like in Glasgow, it's prearranged, while other times it's a happy accident. But no matter how things fall in place, seeing live music gives me a totally different perspective on what makes a certain place tick. Standing shoulder to shoulder in a sea of fellow fans or sidling up to the bar between sets provides plenty of inroads to chat with locals in a legitimately non-awkward way. And even if the performance sucks, it's still way, way better than sitting in your hotel room watching badly dubbed Friends reruns.
Interested in adding a show to your next vacation but not sure where to start? Here's everything you need to know about seeing live music while traveling.
Keep an eye out for cool venues
No matter where on the planet you land, live music can go down in a whole host of settings, from town squares, fancy music halls, and cultural museums to family-friendly pubs, indie hipster magnets, splashy gay bars, and bass-thumping nightclubs. And when you're hoping to get to know a new city through its live music scene, the building that hosts a show can be just as impactful as the show itself.
As a history nerd, I'm drawn to well-worn spaces where crowds have gathered for decades or even centuries. Glasgow's Barrowland Ballroom, for example, ranked high on my list not only because one of my favorite bands happened to be performing there, but also because the building itself played a huge role in establishing Glasgow as one of the UK's premier entertainment hubs (especially for working class people). In fact, a few hours before Le Tigre's Kathleen Hanna grabbed the mic, I stumbled upon an entire interactive exhibit on the venue at the People's Palace, a celebrated local museum exploring Glasgow's diverse social and economic past. Reading about how generations of Glaswegians gleefully partook in "the Dancing" on the very same squeaky sprung floor I bopped around on later that night made the whole experience resonate on a much deeper level—even if I wasn't exactly losing myself in the Jitterbug in the aftermath of World War II's Clydesdale Blitz.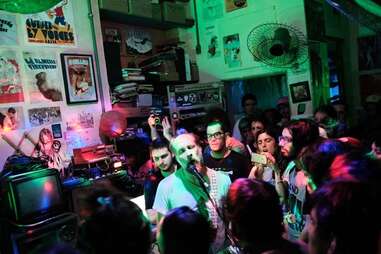 Stick to local acts or small to mid-level touring bands
For the ideal concert-going immersion, you'll want to avoid the kind of international superstars that tend to book giant stadiums and arenas. It's not that you won't have fun at those shows, but at the end of the day, it's going to be all about the performers and little else. With some notable exceptions—Sydney Opera House, Greece's Odeon of Herodes Atticus, Dalhalla in Sweden, Auditorium Parco della Musica in Rome, France's Théâtre Antique D'Orange—gargantuan venues can feel generic and interchangeable, especially when they're hosting an big name artist that draws folks from all over the world. See Harry Styles in New Jersey, Frankfurt, or Seoul, and you'll undoubtedly emerge hard-pressed to remember anything except Mr. Styles and his adoring hoards of anonymous (shrieking) fans.
With less in-demand musicians, however, you're usually looking at a more intimate experience, from your proximity to the stage and your ability to mingle with fellow attendees, to the opportunity to poke around that unique and storied venue you researched. Local gigs are no-brainers, whether you're crashing a battle of the bands, popping into a cafe for a jazz set, or sneaking into an underground club for a hip hop show. As a bonus, snagging tickets to these types of concerts (if you need tickets at all) is not only compatible with a spontaneous and shifting schedule, but also costs way less than your average A-list headliner.
US-based bands are fair game, of course, and can even lead to some cool conversation starters before or after the show with fans and potentially even the musicians, depending on how famous they are. If you're ever looking to scope out what expat life is like in Brazil, hit up a Built to Spill show in Rio. Your cup will runneth over with first-person anecdotes about picking up and moving to another continent, and you might even make a few friends along the way.
Avoid big music festivals
See above. But also, festival culture is REAL, and very much its own thing. If you're inspired to traipse around the world's finest exurbs hopping from one idyllic/sweaty five-day bash to another, by all means, live your best life. But if you're hoping to get to know a previously unexplored place by dipping into its live music scene, it's best to take it one show at a time.
Don't be afraid to go it alone
Whether you're flying solo or traveling with a music-averse buddy (your first mistake), hitting a concert alone might be your only option for seeing live music on the road. And that's okay! As mentioned, concerts are basically breeding grounds for forming connections with like-minded folks, be they fellow globetrotters or born-and-raised locals enjoying an evening out. Strike up a conversation at the bar during the opening set and you might just unlock an entirely different perspective on the city, one that results in dinner party invites, directions to off-the-beaten-path hangouts, or—at the very least—a quality Instagram follow.
What if you're shy, introverted, or not in the mood to chat? Totally cool. The mere feeling of being surrounded by strangers in a strange place, all vibing to the exact same sounds at the exact same moment, is 100% worth the price of admission. And it sure as hell beats sitting around your hotel room.
Meredith Heil is the Editorial Director of Thrillist Travel. Eau D'Bedroom Dancing featured prominently in every mixtape she made for a girl in high school.