Three Underrated Neighborhoods That Showcase the Quirkier Side of Seoul
All the local vibes, none of the tourist traps.
South Korea's dynamic capital is one of the most famous—and well-documented—cities on the planet. Seoul's neon-lit alleyways, electric nightlife, hidden bars, thriving music scene, wild karaoke nights, trendsetting style, and world-class dining coexist beautifully with its scenic beauty and ancient heritage. It's a city that's always on the move, but also one whose history is still so present—strong and solid, almost as immovable as the Bukhansan Mountain Range looming in the distance. And when you visit this eclectic city of 10 million, you instantly become a part of its story.
Perhaps the most interesting thing about Seoul, however, is just how one of the world's largest metropolises still, somehow, maintains a multitude of hidden gems. You just need to know where to look.
While living in the southern city of Busan, I got to know some of the best places to see, eat, and drink in go-to Seoul neighborhoods like Hongdae, Insadong, Itaewon, and beyond. I visited dusty jazz clubs and makkoli bars, wandered the centuries-old Gyeongbokgung Palace, and ate my way through Gwangjang Market. The core of the city's skyline, the Seoul Tower, became my Northern Star. I truly felt like I knew the city from the inside out.
Yet some of Seoul's most interesting, vibrant, and transformative areas remain under the radar for even the savviest of tourists—something I found out when I recently returned to the city after a prolonged absence. Guided by friends, I was led off more familiar paths and soon encountered a side of Seoul I hadn't known before. These close-knit areas were still humming with activity, incredible flavors, and gorgeous art, yet reassuringly steeped in history and innovation.
No trip to Seoul is complete without exploring the highlights, but to truly experience the city is to embrace its less-touristy sides with equal vigor. Here are three neighborhoods key to unlocking the heart of modern Seoul.
Mullae
South of the Han River, the once-overlooked industrial area of Mullae-dong (dong means 'neighborhood' in Korean) is growing in popularity as rents go up in more polished districts like Gangnam and Itaewon. And the cool kids have definitely caught on—even on a cold Thursday in February, the bars, restaurants, and cafes are filled to the brim. It feels simultaneously like Seoul's best- and worst-kept secret.
Even if it's your first time in the country, plan to spend at least a day in Mullae-dong. From funky bars to hidden alleyways full of art and culture, Mullae rewards urban adventurers. Make a beeline for the Mullae Arts Village, arguably the neighborhood's biggest draw for newcomers and locals alike. Spread along a few narrow alleyways just east of Mullae's subway station, this area is a mix of painted murals and cutting-edge galleries.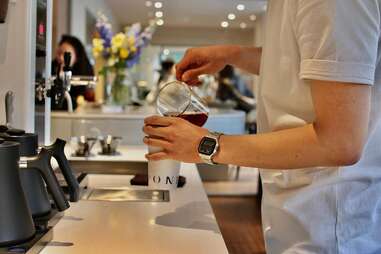 The cafe culture is next level in Seoul, and Mullae-dong stands tall amongst the city's giants. Many of the neighborhood's now-closed steel and iron factories have been converted into crowded coffee shops and bars, and it seems like every corner of downtown Mullae is paying aesthetic homage to its industrial history. Grab a hand-drip coffee—sometimes hard to find in Korea—at the open and airy Pont Cafe Mullae, and save room for pastries at Rust Bakery, whose second floor is home to great views and even better vibes. And just up the road you'll find Cafe 1953 with Audrey, where you can sip Breakfast at Tiffany's-themed lattes in a converted warehouse dedicated to Hollywood icon Audrey Hepburn's stylish legacy.
Starlets aside, sometimes the Mullae's best moments are the quietest ones. The last time I wandered the village, my friend and I warmed up at a small, nameless hole-in-the-wall serving ramen. The spicy, steaming broth mixed with fumes from nearby iron foundries to create a sensory mingling of the neighborhood's roots and its ever-changing present.
Hyehwa
A trendy neighborhood about 15 minutes outside of central Seoul, Hyehwa is home to hilly, winding streets housing a well-preserved fortress, indie theaters, and boutique shops. Here, you can explore attractions all day before seeking refuge in one of the many bars and restaurants at night. Compared to the famous Hongdae University district a few miles south, this area feels more laid-back while still offering a wealth of experiences around every corner.
Hyehwa's nucleus is Marronnier Park. This tree-lined expanse is a great place to relax in the hot summer months, but it becomes even more stunning during the fragrant spring bloom and autumn's colorful bursts. A few blocks south, you'll find Ihwa Mural Village, whose snaking alleyways are full of eye-catching public art and statues depicting typical Korean life. This form of contemporary expression stands in sharp contrast with nearby Naksan Park Fortress Wall, which was first built in the late 1300s during Korea's Joseon Dynasty and features sweeping views of Seoul and the mountains of Bukhansan.
Seoul's indie theater scene is also headquartered in Hyehwa, with one of the biggest concentrations of performance-arts spaces in the city. ARKO Art Center, Tintinhol, Madang Cecil Theater, JTN Art Hall, and more are clustered down on "Theater Street," a modest stretch of marquees a few blocks east of Marronnier Park. Hosting everything from musicals to K-pop and dance performances, you'll quickly see why so many of the city's arts-loving residents make Hyehwa their home.
Drop some cash at the area's signature stationery shops and indie boutiques, then get ready to eat. Catering to a multicultural college kid crowd, Hyehwa's cuisine leans international. Here you'll find Hong Kong-style diner Jami the Hong perched alongside the country's oldest coffee shop, Hakrim Dabang, which has been pouring Viennese brew since 1956. On Sundays, grab ube-flavored treats and homemade empanadas at Daehangno Philippine Market. Or go back in time at the underground Sudowon Bar, where charcuterie and Belgian beers are served by candlelight.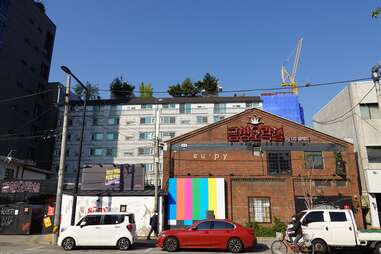 Seongsu
Saddled along the city's eastern side just north of the Han River awaits super-chic Seongsu-dong. Similar to Mullae-dong, Seongsu is dominated by refurbished factories converted into stylish coffee shops and bars that attract the coolest of Seoulites. Yet while Mullae still sports a gritty edge, Seongsu-dong has been completely transformed over the past decade. What was once a neighborhood of shoe factories and rice mills is now one of Seoul's trendiest districts, complete with postmodern art exhibits, see-and-be-seen nightclubs, head-turning architecture, and matcha lattes going for 12,000-won (about $9 USD).
A cafe crawl is essential to immersing yourself in the neighborhood. Sip an espresso in the minimalist Recovery Coffee Bar, or head to Tongue Planet for a more maximalist experience: With colorful plush chairs and a '70s-hotel look, this oasis of cake, coffee, and art exemplifies quirky Korean cafe culture. Later, kick back in with a coffee at OUDO, whose onsite gallery and sleek outdoor garden go a long way in justifying Seongsu's reputation as "the Brooklyn of Seoul."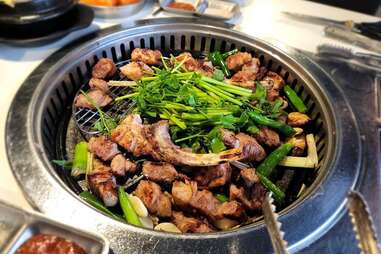 As for eats, you can sample anything from Italian pasta to Thai stir-fry and Vietnamese pho, but Seongsu is one of the top areas for trying South Korea's famously succulent galbi barbecue. Pork short ribs are a quintessential part of any Korean BBQ experience, and Daeseong Galbi just might offer the cream of the crop. Located in the carnivorous enclave of Galbi Alley, expect plentiful amounts of banchan to accompany the mouth-watering ribs and other K-BBQ mainstays grilled right at your table.
All that immaculately marinated meat is sure to leave you thirsty. Head over to Villain Bar in the southern end of Seongsu, a dimly lit watering hole tailor made for winding down with a classic cocktail or a Japanese whisky served up with a smile. Then keep the energy flowing at Blue Seongsu, a former art studio turned Mediterranean wine bar. Stocked with a few wooden tables, narrow wooden bar, and cozy windowsill lined with wine bottles, this welcoming spot prides itself on serving some of the best sangria around.