In Seoul, an Epic All-Nighter Ends in the Karaoke Room
If you can make it through five rounds of soju, snacks, and drinking games first.
Cavan/Getty Images
Cavan/Getty Images
Welcome to Karaoke Week, Thrillist's celebration of our favorite global phenomenon, with drink recipes, singing advice, celebrity recommendations, tips for hosting karaoke at home, and much more.
A night out in Seoul can feel like five nights in one. That may be because the greatest drinking city in the world conducts its evenings on a five-round regimen. Hopping from one location to the next, often until dawn, a high alcohol tolerance and won't-quit attitude are basically mandatory if you're partying in Seoul.

At the root of Korea's formidable drinking culture is the desire to connect with friends and colleagues and unwind after a long day. I think Hooni Kim, the owner of NYC's Danji, says it best in his new cookbook: Explaining the meaning of hanjan (or having a drink), he writes, "It is the start of a night of laughter and heartfelt conversations with friends, sharing in joy, sharing in heartache."

The high incidence of all-nighters in Seoul might also be a consequence of the subways closing at midnight. Rather than shell out for a cab, people stick around for another cha (or round). The best way to kill time before the trains start up? Singing your face off in a noraebang (a private karaoke room).
Though karaoke was invented by the Japanese, most Koreans would argue they "do it better" -- and with a belly full of pork, a bottle of soju on the table, and your song coming up next, there's not much point in arguing. Nightclubs and noraebangs in Seoul are currently closed, but assuming you'll want to blow off some steam when travel opens up and everything stops sucking, Korea will be there to say gunbae (cheers!). Here's how to pull off an epic night out in Seoul.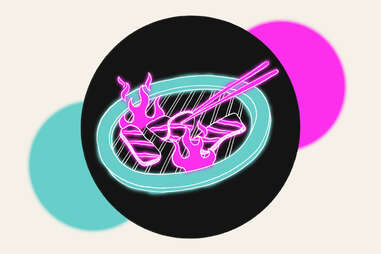 Il-Cha: Round One
The first cha (or round) typically kicks off around 7pm with dinner. Korean barbecue is the move here. You want your stomach well-coated with oily samgyeopsal (pork belly) to help you last through all five rounds. Try Gold Pig, which serves flaky Maldon salt flakes to dip your meats in, or Mong Tan where they smoke their pork ribs over hay for a whole different flavor experience.
A bottle of soju is a given: You'll see the ubiquitous green bottles of soju giants like Jinro or Chum Churum. But higher quality craft alcohol brands like Tokki Soju are also popular -- the shots go down easier, and hangovers are a bit more manageable.
Also on the table: A pitcher of beer to make somaek (a combination of soju and beer, usually to make soju bombs). If you're in it to win it for all five rounds, skip the bombs and opt for some lower ABV makgeolli (rice beer).
Some basic soju etiquette: See an empty glass? Fill 'er up! Always pour with two hands -- and hold your cup with two hands when you accept soju. If for some reason you're too distracted (talking to your neighbor, for instance) to pick it up, tapping your glass is a polite alternative to the two-hands rule. And when everyone goes in for a group gunbae (cheers), clink your glass lower than those older than you.
With a belly full of pork and a light buzz on, we're off to the next cha!
Ee-Cha: Round Two
Pinkies up for an upscale ee-cha! The natural wine and cocktail bar scene in Korea has exploded in the past few years, but be warned, it is not cheap.
Speakeasies are big here, especially with the millennial crowd. After Le Chamber opened in 2014, hordes of speakeasy copycats followed suit. Even the Four Seasons Seoul decided to partake, opening Charles H in 2015. To bar hop, try the Gyeongbokgung neighborhood -- there's a cluster of speakeasy-style bars hidden away from the main street outside exit 7. This area is also a must-visit for traditional hanok-style bars like The Cobbler or Tender Bar. Just be prepared to cough up $20 a drink, possibly even a cover charge.
Alternatively, the natural wine scene has really taken off after the first natural wine bar, Big Lights, opened in 2017. Koreans love it, and if you're keen to hop from one natural wine bar to the next, the Hannamdong area has you covered.
Sam-Cha: Round Three
Round three should fall around 10pm. Stay on the classy cocktail route if it feels right -- many Seoulites will stick to one neighborhood and/or one "theme," whether it's jumping from wine bar to wine bar, or pocha to pocha (which are casual drinking spots, usually tented on the street).
But it might be time to let your wallet cool off with some cheap eats and draft beer. Pub-style bar hopping is best experienced at the trendy "newtro" (Korean slang combining new and retro) area of Euljiro.
Here, lively Nogari Alley is the place to be. You'll find groups of students, grandparents, and every age in between outside embracing this street-style version of Korean nightlife. Look for Eulji OB Bear, the first hof (a hard-to-translate word synonymous with pubs and draft beer) established in Korea in 1980, or the impossible-to-miss Manseon Hof, where bright red and blue plastic chairs litter the alley.
Crisp draft beers and anju (drinking food) typically consisting of nogari (dried pollack) are must-order items here, all for less than $5. Throw in a few bottles of soju for good measure -- getting good and tipsy is what this round's all about, as are drinking games like "Titanic" (where you try not to sink a soju glass into a pint of beer by pouring in a tiny bit at a time).
Traveling solo? Looking for some romance? Seek out a "hunting pocha," where people go to get matched up for a group blind date. Popular with college students, hunting bars like Samgeori Pocha are often located around universities. The idea is to meet in a more wholesome setting rather than a raucous club -- although typically, that's exactly where you're going next with your new-found friends.
Sa-Cha: Round Four
When the clock strikes midnight, it's time to hit the clubs. The best place for a foreigner to go clubbing in Seoul would be at Itaewon hotspots like Cakeshop and Soap. Just behind Hamilton Hotel, you'll find a rowdy scene with countless clubs, including the well-known Prost. And across the street from Prost is the epicenter of LGBTQ+ nightlife in Seoul. If you want to catch a drag show, try Trance Bar around 2am. Just be warned, gay bars in Korea are notoriously selective at the door.
It's common to order bottle service, which secures your own table. Not cheap, but a worthy investment if you plan to stay awhile (and things could easily go until 4am). Expect to get some nicely arranged fruit with your bottle, because you can't expect to drink in Korea without getting some kind of anju!
O-Cha: Round Five
Congratulations, you made it to o-cha! It's time for karaoke at a noraebang, no reservations necessary. Even at 4am, the drinks are still flowing; shots of soju are accompanied by saewoo-kkang (shrimp crackers) or you can opt for pricey bottle service with yet another fancy fruit plate.
Noraebang is all about hyping the group up: When people are singing, be sure to clap and sing along. Shake the tambourine to keep energy levels high. Don't hog the mic. Prepare to hear Adele's "Hello" at least twice.
When it comes to noraebang, four seems to be the magic number as everyone gets a good chance to sing, but it's not uncommon for ten to twenty people to squeeze into a room.
Need a smaller room for a smaller crowd? There's also coin noraebang -- a popular karaoke option for teens, couples, or people who ditched their friends but don't want to go home yet. These fully automated noraebangs (the name is misleading, you can pay with a card) can't fit more than two people, but there's no drinking allowed. Check out Old Man Coin Noraebang in the Gundae area, but just search 코인노래방 and a bunch of options should pop up.
Yook-cha: Bonus Round Six
By now you may have wondered how Koreans manage to wake up and function in society after ten straight hours of drinking. Enter the final (optional, but highly recommended) cha: A bowl of haejang guk (or hangover soup). Popular varieties include soondae gukbap (blood sausage soup and rice), gomtang (oxtail broth), and kong namul guk (bean sprout soup). But really, any soupy option will help dilute all that alcohol.
In tourist-heavy Itaewon, it's actually more common to finish the night with a kebab, but in almost all areas of Seoul, even at 4am, haejang guk will be easy to find: just look for words like 국밥 (soup rice), 탕 (broth), or 국 (soup) in the restaurant name.
One of the best places to get your haejang guk fix is in Myeongdong at Michelin-rated Hak Dong Gwan. But, only the most dedicated and resilient night-dwellers will get a chance to slurp down their famous gomtang: You'll have to last until they open, at 7am.
Diane Sooyeon Kang is a freelance writer, photographer, visual storyteller, and owner of MAHT Studios. She has more Instagram accounts than she can manage, but you can follow her food adventures at @akoreangirleats.