The East Coast of the US is insanely long: more than 2,000 miles of weaving sprawl hiding all kinds of beauty and strangeness and stuff in New Jersey. And while the odds are good -- assuming you live east of the Mississippi -- that you've hit at least a few spots on the seaboard, it's unlikely you've explored the whole thing. Or better still, spent enough time with it to gain its trust and, maybe after a night of too many beers, convinced it to spill all of its deepest, darkest secrets. Which is totally not what we did to uncover these 10 fascinating facts about America's East Coast.
Recommended Video
Debatable: It's Fine To Recline Your Seat On a Plane
Most of the country's shark attacks happen off the coast of Florida
Where: Volusia County, FL
The stretch of coastline between New Smyrna and Daytona Beach (from which this author originates and made his daring escape) is by far the shark-bite capital of the nation, with 176 attacks since 2000; that's five times the number of the first non-Florida spot on the list, Maui County, Hawaii. Sadly, it's still not the biggest reason to avoid Daytona (see: spring break, Daytona 500, Bike Week, etc.).
There's a 45ft yellow submarine stuck in the mud off Coney Island
Where: Coney Island, NY
Quester I was built in the 1960s from what is rumored to have been metal salvaged from the famed Civil War-era ironclad, the Monitor. Its purpose was to raise another sunken ship filled with artifacts somewhere off the Port of New York. Instead, it tipped sidewise and got stuck in the mud. For the last four decades, it's upper half has been visible above the waterline. Now it's home to blue crabs and birds. No Beatles were found in the wreckage.
One of the best nude beaches in the US is in Miami
Where: Haulover Beach, Florida
This .4-mile stretch of coastline is the premier "clothing-optional" beach on the East Coast. Sure, you're probably more likely to see some pasty-ass tourists than you are South Beach models (as is the case on most nude beaches), but hey, there's sun, sand, and naked people -- so quit your griping.
There's an island of wild horses off the coast of Maryland and Virginia
Where: Assateague Island
Many believe the horses of Assateague are the descendants of domesticated European horses who were shipwrecked on the island. It's more likely they were put there by owners in the 17th century to escape taxation. Either way, the horses have since reverted to a feral state. They are dangerous to approach and will get sick from human food, so don't try to go all Black Stallion when you're camping on the beach.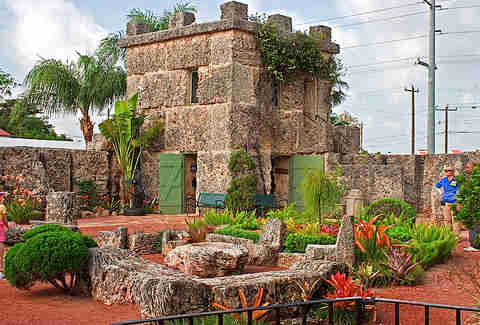 An eccentric in Florida built an insanely intricate castle from coral
Where: Naranja, Florida
Edward Leedskalnin, a Latvian immigrant, reportedly spent 28 years in the early to mid-20th century building (all by himself, mind you) the Coral Castle: an immense series of structures made from multi-ton blocks of limestone. He dedicated the project to his beloved 16-year-old fiancée, who left him a day before their wedding. No one knows how the 5ft-tall, 100lb Leedskalnin moved the stones; he refused to let anyone watch him work. When asked, he merely said he had learned the secret construction techniques of the ancient Egyptians; although local legend says he used magnetism and supernatural powers. Leedskalnin himself claims that magnets helped him recover from a near fatal bout of tuberculosis.
Savannah, Georgia might be the most haunted place in America
Where: Savannah, Georgia
The East Coast is full of ghost stories, but Savannah is particularly famous for its paranormal happenings. The site of what is now the Moon River Brewing Company, originally built in 1821, is among the creepiest. The basement is occupied by a malicious spirit named Toby, while the second floor is roamed by Mrs. Johnson: an old lady who reportedly wanders around turning on and off lights while touching people's faces.
While you're in town, might as well visit the Pirate's House too -- it's the oldest bar in Georgia. A tunnel in the basement of this tavern was used to drag sleeping drunkards out to the waterfront, where they were put on boats against their will. When they awoke, they were at sea. And that's how pirates were made.
You can drink on a disappearing island in Florida
Where: Ponce Inlet
Each day a little island near New Smyrna appears and disappears. It's a popular spot for boaters and sunbathers. The inlet is lined with some of the most beautiful homes you'll see, but the tiny island's appeal is that it has nothing on it. So find a friend with a boat. Get a tan. Throw a party. Reflect on the transience of existence as the sand collects and disperses, on and on, forever.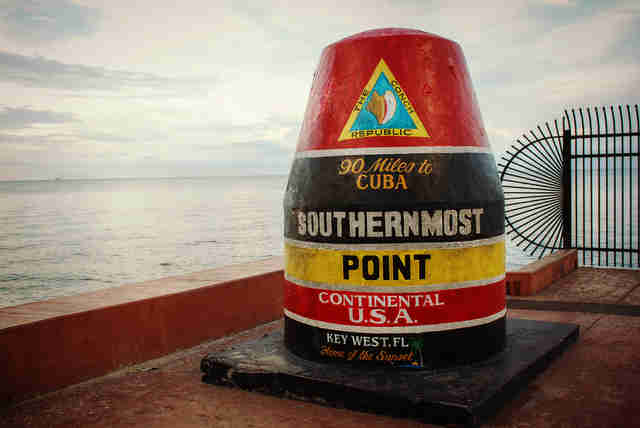 There's a buoy marking the "southernmost point of the US"
Where: Key West, Florida
It's not really the farthest south -- that honor belongs to Ballast Key, a privately owned, $15 million island you're not allowed to visit -- but it's good enough for your new profile selfie. There used to be just a sign marking the spot but now there's a big buoy, because why not.
Nazis attacked the East Coast, and there's evidence
Where: All along the Atlantic Coast
Naval battles were common off the East Coast US during WWII, as German U-boats attacked American merchant ships. It was the closest the war came to the mainland US; surprisingly, few even know it happened, even though 5,000 sailors died off the coast by 1942.
A ton of U-boats were sunk, especially off of North Carolina in a stretch called "torpedo alley." And off the coast of New Jersey is U-869, the final submarine to be downed in the war -- actually, after the war was over; the captain was either unaware or dedicated to continuing the fight. Today, scuba divers can visit the wreckage.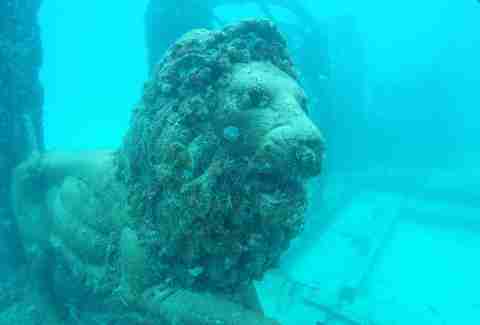 There's a three-mile-long man-made reef/cemetery modeled after Atlantis off Florida
Where: Key Biscayne, Florida
Located 40ft beneath the water off the coast of Miami, the Neptune Memorial Reef was built as a place to scatter the ashes of loved ones. The project is still in development but once completed, it will be the largest artificial reef in the world at more than 40 acres. In addition to scuba-diving family members paying their respects, the reef hosts a ton of marine life, which has grown exponentially over the last few years.
Sign up here for our daily Thrillist email, and get your fix of the best in food/drink/fun.
Joseph Neighbor is a New York-based writer and editor.