Shark Bites Florida Man Standing in Shallow Water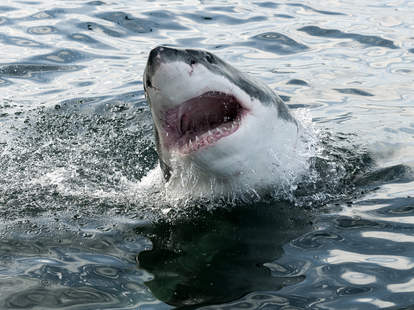 Now's the time of year when those beach dreams begin to approach reality. But if your dream involves Florida (and if it does, really?!), you'll want to make sure you look before you dip your toes in the water -- unless you want to risk being bitten by a shark.
That's exactly what happened to a man in Marco Island, FL on Sunday. First responders told the Naples Daily News that the man, in his early 60s, was standing in waters under 2ft-deep when a shark bit him several times. And this, just weeks after a bobcat was spotted pulling what looks like a shark out of the ocean in South Florida. Because Florida.
Jessen Carsten told responders on Residents' Beach he thought the creatures swimming near him and his family were small dolphins. But obviously, he was wrong. And the animal in question is estimated to be three to four feet long.
"It happened so quick he didn't even know what hit him and he just saw blood start pouring out, and that's when his family helped him back onto shore," first responder Sergio DeLeon told NBC-2. "It looked like multiple bites actually at least two or three bites," DeLeon said of Carsten's lower leg injuries. 
Witnesses called emergency services at 4:30pm, and, according to Marco Island Rescue Department division chief David Batiato, gave emergency service operators different accounts of what went down. Marco Island Police, EMTs, and firefighters rushed to the beach, taking Carsten to a hospital. He was treated and released just a few hours later.
While it's unclear exactly what happened, one thing's for sure: there's definitely something in the water in Florida. And it wants to bite you.

Chloe Pantazi is an editorial assistant on Thrillist's travel team. Yes, that's a British accent. No, she doesn't watch Doctor Who. Follow her on Twitter at @ChloePantazi.