Presented By

This Legendary London Nightlife Hub Has a Bar to Suit Every Taste
Shoreditch has been a good time for centuries.
Presented By

London is among the most vibrant cities on earth. A sprawling landscape as dynamic as it is diverse, there's a neighborhood for every type of taste. Finding one that suits you is as easy as considering your mood and the hour of day. And when you're feeling up for world class nightlife, Shoreditch should sit atop your shortlist.
The district's status as the hipster hub of Hackney might seem like a 21st Century advent, but it's been the epicenter of the city's artsy East End for centuries. Shoreditch is where Shakespeare staged his first plays. In the Victorian era, the area housed countless theaters and music halls. Today you can tap into that proud past by visiting any number of legendary locales.
Ready for a night out worthy of the history books? We've got you with this guide to Shoreditch's legendary nightlife scene. Even within the neighborhood, there are a ton of options to appeal to different needs, so we've broken things down by way of what you're seeking to see—and to hear. But whichever side of Shoreditch you visit, you can be sure that a jolly good time awaits.
Easier to love than it is to pronounce, this cozy cocktail parlor strikes up an enviable balance between style and playfulness. The former can be observed in tufted banquettes and a polished copper bar; the latter in a drinks menu honoring Pokemon characters. Its dimly lit, down-home vibe appeals to a more laid-back clientele, as it's the ideal place for a proper chat. Grab a smattering of fresh empanadas from the succinct food list to fuel your conversation with a special someone.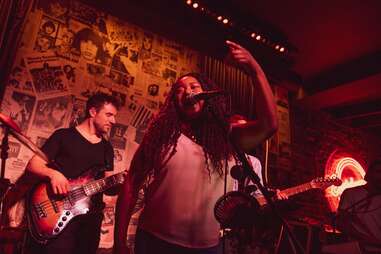 This outsized outpost occupies two floors and features live sets of eclectic independent music nightly. The main level—an open space bound by exposed brick and built around a raised stage—is reserved for larger acts. The bar, backdropped by cubbies stacked with both booze and vinyl, boasts a respectable collection of spirits to be artfully rendered into cocktails. Head downstairs and you'll find quainter confines, primed for DJ sets and jazz trios. When you're ready for a break between performances, enjoy the surprisingly scrumptious made-to-order pizza. It's a showstopper in its own right.
In a neighborhood renowned for exceptional cocktail bars, this award-winning temple of tipples stands out in the crowd. Quite the feat when you consider that the bar is audacious enough to rock a wordless title in an age of SEO. Locals just call it "Shapes," but whatever you call it, you must experience it if you value laudable libations. Here, you're destined to drink it all in. The Bauhaus shrine is a feast for all five senses, meaning the drinks are colorful and clean and the decor is similarly precise and minimal. It's singular in its approach and all-encompassing in its aesthetic. And, quite frankly, it's unlike any other cocktail bar on earth.
The Star is essentially a microcosm of Shoreditch, itself—a million different personalities rolled into one. On the first floor, you'll find a familiar neighborhood pub: craft beer on draft, an assortment of gin and tonics at the ready, street food on serve, and sports on the telly. Downstairs is the Workshop, where nightly spectacles range from raucous sets of rock to DJ-led electronic dance parties. It even has a dedicated karaoke room. And a special late license means they can serve you booze until 4 am from Thursday through the weekend.
Best Natural Wine Bar: Oranj
What began as an online delivery service has evolved into one of the city's hippest brick-and-mortars for natural wine and a fine dine. As you might have guessed, there's plenty of orange-tinged juice to enjoy here, but the menu goes far beyond the basics to include a panoply of varieties and styles from around the globe. The stripped down interior plays host to a variety of events and tastings, including a rotating chef series. So no matter when you book, you're bound to be greeted by inventive dinner pairing options. There's also craft beer and even cocktails (both non-alcoholic and full-strength) to sustain the interest of those who don't identify as oenophiles.
Despite an unassuming and nondescript exterior, Bull in a China Shop hides a veritable trove of treasures within. The truncated bar is an ode to quality over quantity; behind the stick you'll spot around 30 rare whiskies, primarily Scottish or Japanese in provenance. In fact, when it comes to the latter, this spot contains one of the city's broadest collections of rare and vintage bottlings. Tending to it all is a staff of brilliant craftspeople, who whip up sours studded with matcha tea syrup and Old Fashioneds finished chamomile and charcoal. It's not the sort of environment that screams, "amazing rotisserie chicken," but, alas, looks can be deceiving. The poultry platter served here, brined with ginger and glazed with whisky, is as good as any you'll find in London.
Remember those colorful ball pits from childhood? Well, now you can enjoy that same experience as an adult—which means there will be cocktails and artisanal pizza added to the mix. As aptly named as a venue can be, Ballie Ballerson is a massive bar filled with over a million mini-orbs for your enjoyment. As if that weren't thrilling enough, the neighborhood hotspot also offers a popular bottomless brunch on weekends. It welcomes more than 25,000 satisfied "ballers" each month.
The Crown and Shuttle is a wonderfully British watering hole holding nearly 140 years of history within its well-worn walls. The address first opened as a pub back in 1885 and was home to some seedier enterprises throughout the 20th Century. After extensive renovation, it was reopened in 2013. But thankfully, the building's Victorian charm remains intact; think exposed brick facades, bowed, wooden shelving. History aside, you'll also encounter the decidedly modern trappings of a proper gastropub here: over 20 craft beers on draft, a full menu of cocktails, spritzes, and wines, and gussied-up burgers in beef, chicken, and vegan iterations. The Crown and Shuttle also earns some bonus points for maintaining one of the best beer gardens in town.