Presented By
Get a Taste of the Good Life on This Stunning, Old-School Italian Island
A timeless island is being re-energized by a new generation.
Presented By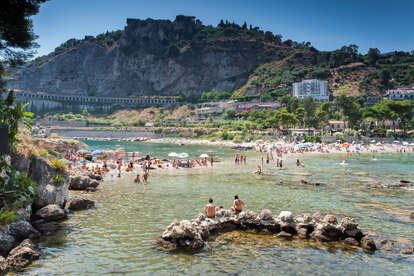 Soak up the sun on Isola Bella, a tiny island in Taormina

| Michal Baran/Moment Open/Getty
Soak up the sun on Isola Bella, a tiny island in Taormina

| Michal Baran/Moment Open/Getty
Note: The US State Department has issued a Level 3 travel advisory to reconsider travel to Italy, and the European Union is currently banning travelers from the US. For more information about Sicily's response to COVID-19, click here. For now, use this guide as inspiration to satisfy your wanderlust safely from home.
An island all the way down off the tip of the boot, Sicily is just far enough removed from the trodden tourist paths (Rome, Florence, Venice) that only regular visitors to Italy -- and those with ample vacation days -- tend to make it there. But that's part of what makes it so special. When you speak of crowded sites on Sicily, you're talking hundreds of visitors, not tens of thousands. There are no faux gladiators, no overpriced gondolas -- this isn't Disney-fied Italy, served up on a tourist platter. Just the truest essence of Italy at its wildest.

This is a place at once timeless and charging forward with momentum, as a new generation of siciliani reinvigorates the island's magnificent old bones. Popping up everywhere are world-class cocktail bars, Michelin-starred restaurants subtly preparing the freshest seafood, boutique hotels full of modern art in centuries-old spaces, and age-old wineries redefining what "Etna wine" means to the rest of the world. This blend of Old World tradition and new energy is why we chose the beaches and ever-changing landscapes of Sicily as one of the 20 Places We're Dreaming About in 2020. Below you'll find a full seven-day itinerary complete with the best things to do, places to visit, hotels to stay in, and things to eat and drink on a trip to Sicily.
Know before you go
This triangle of land off Italy's boot has a quintessential Mediterranean climate, so even on the hottest days you'll feel a breeze blowing in from the sea. There's really not a bad time to visit. But to eat the best (i.e., when local produce is in abundance) and find perfect beach days, aim to go between May and early October. Once the temperature drops below 70, you'll find that most Sicilians close up the beach chairs and don their puffy jackets. And though Sicilian driving might give you a near heart attack (it's something of a contact sport), you'll want a car to navigate your way across the island -- bus and train services are spotty at best. Just be sure to get rental insurance.
MORE:Find out which Sicilian beach made our list of the most beautiful beaches in Italy
Traveling may be on pause, but that doesn't mean your dreaming and planning has to be. With The Marriott Bonvoy Boundless™ Card, earn 6X Points at 7,000+ hotels participating in Marriott Bonvoy™ and 2X Points on all other purchases, including future flights. For the journey ahead, carry a card that's here for you now.
Day 1: Palermo
Start in Palermo, the island's capital city, where the Arab-Norman influence of centuries ago is still most keenly felt through its architecture and food (couscous, chickpeas). Stay at the Quintocanto Hotel & Spa, a former 17th century palazzo turned 25-room boutique hotel right in the heart of the historic center, near the Contemporary Art Museum and the bustling markets. Take a walk through town along the UNESCO-designated pedestrian path to the exquisite Palatine Chapel, "the most beautiful religious jewel ever dreamed by human thought," according to Maupassant. Sign up for a street food tour through the city's markets with Linda Sarris, a New York chef who now calls Palermo home. To cool off, pop outside the city to the coastal Mondello neighborhood where locals post up all summer along the crystal-clear waters and white-sand beaches.
Days 2-3: Salina, Aeolian Islands
Head along the northern coast to the port town of Milazzo and take a ferry to Salina, one of the seven islands in the Aeolian chain. Here, the volcanic hillsides are covered in caper bushes, prickly pears, chestnut trees, and olive groves. Explore the villages that dot the island, from Pollara on the far west coast -- where Il Postino was filmed, and perfect for catching sunset -- to Lingua on the southeastern tip, where regulars line up for granita at Da Alfredo.
Splurge on a couple of nights at Capofaro, a sprawling luxury estate and malvasia vineyard overlooking the sea, where you can stay in a recently renovated lighthouse from the mid-1800s, organize boat trips around the island, or plant your flag on the private pebbled beach. Or opt for the Principe di Salina, a family-run boutique hotel where a sparking pool, 12 stylish rooms, and wide-open terraces give the feeling of luxury without the accompanying price tag.
Days 4-5: Taormina, Catania, and Mount Etna
On the way to Catania, stop in the hilltop town of Taormina, a Mediterranean playground straight out of Central Casting. Linger along the pebbly cove around Isola Bella (literally "beautiful island"), stroll the cobblestone streets, and visit the ancient Greek theater whose stage perfectly frames a view of gurgling Mount Etna looming over the Ionian Sea. Stay for aperitivo on the wide terrace at the Belmond Grand Hotel Timeo, flanked by bougainvillea and fragrant citrus trees. Or make a dinner reservation at Cuti Lu Dissi, a small restaurant just outside the tourist fray built on the best of Sicilian ingredients. Opt for the linguine loaded with sweet gamberi rossi (creamy red shrimp) and shavings of local truffles, or the tuna tartare packed with capers and fresh mint.

From here you can head straight to Mount Etna to check into Monaci delle Terre Nere, a dramatic wine estate and luxury country hotel built on the Etna hillside where "slow food" is the mantra. Or try out Locanda Don Uzzo, a newly opened B&B with five rooms that occasionally hosts wine tastings. If you prefer to head straight to downtown Catania, try the Asmundo di Gisira, right off the fish market (a must visit) and the Duomo Sant'Agata, a modern art-focused property whose rooftop offers sweeping views of the Baroque downtown, the port, and a straight line to Etna. In Catania, don't miss the ragu-stuffed arancini at newcomer Uzeta Sicilian Bistro, or at OG Savia. For aperitivo, load up on bubbles, oysters, and all the mortadella you can handle at Pamocha or opt for a perfectly balanced cocktail from the power team at Oliva.Co.

The Sicilian wine scene is flourishing, and nowhere more than on Mount Etna, where the high elevation and volcanic soil produce beautiful nerello mascalese and carricante grapes. Most wineries offer tours and tastings, but often require a reservation. Go deep on natural wine at Azienda Agricola Frank Cornelissen, a cult favorite. Or visit any of a number of vineyards where the next generation of winemakers are striving to redefine what "Etna wine" means to the rest of the world: Benanti, I Custodi, I Vigneri, Barone di Villagrande, Murgo, Tenuta di Fessina, Feudo Cavalieri.
Day 6: Siracusa, Noto, and Ragusa
As you drive south from Catania, the black lava stone that defines the city slowly fades to white limestone as you head toward Siracusa. By now you've realized that the diversity of the Sicilian landscape is astounding, and 30 minutes in any direction completely changes the view. In Siracusa, stop by the ancient theater, where in summer they perform live Greek tragedies, then spend time wandering the old town of Ortigia, a small island connected by a bridge, where you can pick up the ultimate deli sandwich at Caseificio Borderi. Continue on to the Baroque town of Noto, made famous (among Americans) in modern times by Caffè Sicilia, of Netflix Chef's Table renown. There you will find the best gelato and granita in all the land.

Then on to Ragusa, known for its perfectly creamy ricotta. Check into a.d. 1768, a brand-new hotel in Ragusa Ibla where a spry young woman has transformed a historic palace into a 10-room property, punctuated with modern art, that elegantly honors the spirit of the original building. For dinner, book a table at Il Duomo, the two-Michelin-star masterpiece of chef Ciccio Sultano. If your budget doesn't stretch quite that far, you can visit the chef's I Banchi for breads, pastries, and Ragusana specialties such as scaccia, a stuffed flatbread reminiscent of lasagna.
Day 7: Caltagirone
If you opt to spend all your time in Sicily on the sea, eating granita for breakfast and washing down plate after plate of seafood with a crisp Etna Bianco, you'd have still done your vacation exactly right. But swing farther inland to the town of Caltagirone to get to the heart of the ceramics industry and load up on brightly painted souvenirs to carry home. One producer, Maremoro, just renovated a luxury Baroque apartment so visitors to the town can linger just a little while longer in style. Don't miss the Scalinata di Santa Maria del Monte (aka the Ceramic Steps of Caltagirone): This 142-step staircase, built in 1608, is constructed of thousands of hand-painted ceramic tiles. During the last two weeks of May (and again at the end of July), the steps are decorated with flowers and candles to form a giant floral mural spanning the length of the staircase.
MEET THE WRITER
Jennifer V. Cole is a freelance writer and editor based in Catania, Sicily. She was previously an editor at Travel + Leisure and Southern Living, and is the author of Chasing the Gator with chef Isaac Toups of New Orleans.

When was the last time you were in Sicily?
I first visited in 1998 and returned regularly every few years afterward. I've been living in Catania since late 2018.

What drew you to Sicily?
It's an incredible amalgamation of sun, sea, mountain, food, wine, and generous hospitality. You arrive as a tourist, looking to bask on beaches and eat and drink all the things, and after a short while you're truly welcomed as family.

What was the most surprising thing about Sicily that you didn't expect?
The camaraderie and inclusiveness of the wine community. There is a whole new generation of winemakers across the island who are revitalizing the viticulture, actively supporting one another, and readily welcoming newcomers into their fold.

What's a favorite anecdote from the time you've spent there?
A couple of years ago, at the suggestion from my friend (and writer) Brett Anderson, I went to a small seafood restaurant called Viri Ku C'è on the southern coast in Scoglitti. There's no menu, just a giant case of seafood fresh from local fishermen, and you eat whatever they bring out until you cry uncle. The day I went (solo), that meant about 25 antipasti of every creature you'd find in local waters, a couple of pastas, a bottle of wine, and amaro -- I waved the flag before they brought around the whole roasted fish -- all for about 50 euros. I was the only woman in the dining room and every table at one point invited me to join their group. It was pure Sicily: seafood in abundance, a view of the sea, chivalry, and the charming ability to flirt (without being skeevy) that Sicilians seem to be born with.

What's the number one can't-miss recommendation for a visitor?
Don't leave Sicily without eating gamberi rossi, the medium-sized local red shrimp that are most often served raw with a drizzle of olive oil and a squirt of lemon. They are creamy, delicate, and rich -- the brightness of the Mediterranean sun and the complex salinity of the sea in a single bite.

How easy is it to get around Sicily for English speakers?
In Sicily, outside of luxury properties, many people don't speak English. But the locals are never shy about communicating with visitors -- Italian gesticulations are real, and conversations often take on a charades-like quality. Sicilians have a persistence and patience with language that doesn't seem to exist in many other places, such as Paris, and not speaking Italian will never get in the way of building rapport, being fed, or getting to the next breathtaking vista.

What's your top piece of advice for someone going for the first time?
Embrace the chaos: Nothing will go exactly as planned, efficiency simply doesn't exist, and driving is like a dance that requires you to just jump in and constantly improvise. It's wild and disorganized, and that's part of the charm.

Next big trip you have planned in 2020?
I hope to get to Morocco, India, and Oman this year.

Ultimate bucket list destination you've always wanted to visit?
I've long wanted to visit Iran, a land of rich food traditions, stunning landscapes, and historical and cultural sites that span millennia.