Meet Sid Williams-Heath, Who's Advancing Inclusion in Small-Town Florida Through Art
Here's how this executive director is creating a safe and influential space for the LGBTQIA+ community (and beyond) in Pensacola.
Theater and the arts have always been driving forces for social progress, diversity, and inclusion—and not only on the stages of Broadway. In the Floridian city of Pensacola, a panhandle town that's emerging as a hotbed of arts and culture all its own, progress is being paved thanks to the leadership and vision of community-minded individuals like Sid Williams-Heath, the executive director of the nonprofit Pensacola Little Theatre and the Pensacola Cultural Center in which it resides. The historic downtown building has been an anchor for artistic expression for decades—a sentiment that's only strengthened in recent years with Williams-Heath creating a space of inclusion and empowering diverse voices.
Thrillist: Can you tell us about yourself and your background?
Sid Williams-Heath: I'm from a very conservative town in Mississippi. I studied public relations and journalism, and worked at the Savannah College of Art and Design (SCAD) for almost six years. Halfway through, I got based in New York City while still working for SCAD. It was a great way to instill being an advocate for the arts, especially from a nonprofit perspective. New York is where I met my husband, who had gone to dental school there, and he had always had an inkling to return home to have a practice in Pensacola. Us both being from small towns, we realized that being the gay dentist in town isn't the easiest thing, but Pensacola had a resurgence in the decade he was gone, and it was a different city from when he left. I didn't really have a personal connection to Pensacola, but we gave it a chance and it's been fantastic—just a fabulous, unexpected city.
What made Pensacola feel like home for you?
Being with a human who was born here and knows the history, you get that history. Love brought me here, but you don't have to be here long to know that you're part of the growth right now. There's such an investment in vibrancy and diversity, and making this a really attractive place, whether that's people like my husband who left or people who didn't have Pensacola on their radar. There are entities who want this to be an inclusive and all-encompassing place for people, and that's why I'm here, and will stay here.
How did you become a part of the Pensacola Little Theatre?
I really wanted to set some roots here. I was at a cocktail party when a girlfriend said there's this 110-year-old building that houses theater and ballet, and, for the first time in forever, they're hiring a new executive director. I applied and got an automated email that they weren't accepting applications. Fortunately, even though I'm not from here, my husband and his friends connected me to a couple of people to at least weasel my way into an interview. I was able to take over the theater and all the things within, and we've grown a ton since then. We have to really invest in these stories and make sure people know it's in their backyard.
Can you talk about your role with the cultural center and your mission for it?
I'm the executive director of the entire cultural center. It's something I was afraid of admitting at one point, but I absolutely have a gay agenda. From the board members that we have to the staff members, I have diversity at the top of my agenda. It's easy as a theater to say "We'll put on Sister Act because that'll attract the Black community," but I want to make sure that all our programming is accessible to all communities all the time. It's less trailblazing and more normalized. Everyone feels like they can show up and not feel weird—making sure that not only the programming that we have is for a diverse crowd, but the people offering it are representative of that same diverse community as well.
Wherever you are on your journey, Target wants you to celebrate pride in your own way. From limited-edition collections by queer- and female-founded brands—like swimwear from Humankind and underwear and activewear by TomyboyX—to partnerships with six designers from the LGBTQIA+ community, Target takes pride in celebrating all that you are.
How has the Pensacola Little Theatre evolved through its long history?
We as a theater bought the old county jail and courthouse, which is now the cultural center, in the late-'80s. Even with the leadership then, it's always been a progressive theater. Through renovation from 1988 to 1996, at any given moment, we had 20 nonprofits in one building. In November of 2021, with COVID in mind and the nature of society, half the world thought culture was a bad word and half thought it needed to be pushed more, so we did this rebrand that instead of the Cultural Center, we're just the Center. There are so many things you can find in one building: You can find your stage, your gay film festival, your community at civic events. We wanted to encourage people to find their center at the Center.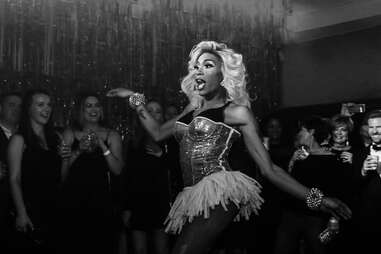 What have been your proudest accomplishments at the theater?
Speaking to the LGBTQ community, there was this lovely and small film festival in town that was not housed at the theater—for their first six years, they would have this film fest migrating. When I got here, I asked if they'd be interested in being at the Center full-time. We wrote grants and got them state-of-the-art equipment to enhance that programming. We also have children's days, for the younger gay community or their parents. It's my organization that's been able to open its doors to things like Stamped (Film Festival) to really grow their mission and programming.
What new projects do you have coming up?
From a theater standpoint, our next big production will be A Chorus Line, which is the most Center thing I can think of—it has dancing, acting, women, gays, it has people in between who don't care what their affiliation is. And then we open next season as big and loud and proud as we can with Rodgers and Hammerstein'sCinderella. We've been wanting to do it, and it will be the biggest thing in every way that we've ever done. One of my favorite things that we do every year is called Cabaret. It's a celebration of art: It's got drag queens and sketch artists, we've got culinary and cocktail art, all this art in one place. We had a holiday-themed cabaret this year to celebrate all the holidays we missed during COVID, so we had a 12-foot birthday cake for America with a Hamilton drag queen popping out, a sultry Valentine's room, a Christmas and Kwanzaa and Hanukkah room, a New Year's ball drop every hour, a Halloween glow stick party, and everywhere that you turned there was art.
As a member of the LGBTQIA+ community, can you talk about how that plays a role in your vision for the Center?
I had a family who, even though it wasn't easy, they've received me and my husband very well. But had I had this type of safe haven, lord knows what I could have done, or other kids who were having it much harder than me could have done. There's a huge gay community, old and young, with very different stories. But there's this one space, because of thousands of people who make that space with their stories, giving this safe environment to everyone. People come and have that comfort and ease, and I didn't have that place growing up. If there's a driving force for me, it's that people feel comfortable there.
What are your hopes and goals for the future, at the theater or beyond?
As part of this big renovation, we're putting in a fine art gallery that's completely dedicated to showcasing minority works. We're also adding a rooftop performance space and bar, right on the water; it's a great space for artists of all different kinds to come out and have cultural programming while making sustainable revenue. The whole renovation is taking it from a historic building to an iconic staple of the community.
Matt Kirouac is a travel writer with a passion for national parks, Disney, and food. He's the co-founder and co-host of
Hello Ranger
, a national parks community blog, podcast, and app. Follow him on IG @
mattkirouacofficial
.