Follow a Decadent Steakhouse Lunch with a Siesta in Madrid
Sleep off multiple courses at Leña in the adjoining Hyatt hotel.
If you find yourself entering a serious food coma at Dani Garcia's Leña Madrid, there's an antidote for that: a nap at the adjoining Hyatt Regency Hesperia Madrid. Luckily for food comatose locals and visitors, you can sign up for a curated package, The Chispa Experience, so you don't have to awkwardly lay down on the cold floor of a hotel lobby and suffer. When the meat sweats are calling (and believe me—they will call at Leña), it's time to surrender to a supremely Spanish tradition: the siesta.
Leña Madrid is kind of like a secret, life-sized, underground butcher case with a meat-centric menu, like the posh steakhouse of your carnivore dreams. On my first visit, I consumed a Caesar salad with aged beef slices, a burger made from meat ground in-house and in front of me, a perfectly sliced charcoal-grilled shoulder of Iberico pork, mac and cheese, mashed potatoes, creamed spinach, and rum baba drenched in Zacapa XO aged rums.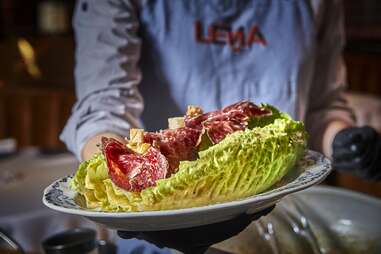 I came, I saw, I conquered the menu. It was like Thanksgiving, only I wasn't wearing elastic-waisted pants and my bed wasn't located steps away from the dining room. I was sweating profusely when I blurted to my dining companion, "I wish I could go into a hotel room and nap." A waiter overheard me and chimed in to mention a three-hour nap package in tandem with the connected Hyatt hotel, which consists of a multi-course lunch menu and a hotel room for three hours to—yes—rest.
In Spain, lunch serves as the biggest meal of the day, filled with several courses, including wine. And it's perfectly appropriate to follow it up with a big old nap. In fact, some shops and businesses will even close for the afternoon, so deeply ingrained is the idea of a large meal and the ability to sleep it off. Let's normalize this stateside.
The Chispa Experience was conceived to bring back the idea of the siesta. "It isn't rare in Spain to hear customers say 'Me echaría una siesta ahora' in Spanish, which means something like 'I might as well take a nap right now,' after an indulgent meal," says a rep at Hyatt Regency Hesperia Madrid. Siesta is still a popular pastime, especially during the hot summer months.
"Our attention levels drop and we tend to feel sleepy after a lavish lunch so taking some time to rest and sleep is a great way to recharge your energy before continuing the rest of the day," the Hyatt rep adds, noting that locals are especially happy to experience one of Madrid's most sought after lunch experiences, take a break, and enjoy in a nap in an air-conditioned room. "It is also great for those with a busy, hectic schedule, seeking a seamless intuitive experience that helps them stay energized."
If you're in town for a jam-packed visit, this could be a great, indulgent break—or a way to pass the time before shops open up around 5 pm.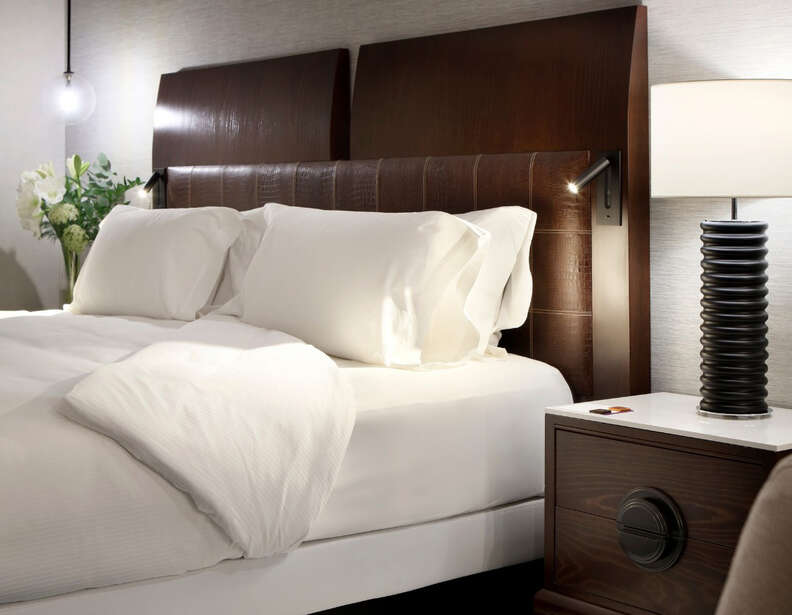 In case you're wondering if eating really makes you sleepy, and whether napping is a the best way to address this, I spoke to Dr. Alex Jadad, co-author with Tamen Jadad-Garcia of Healthy No Matter What: How Humans Are Hardwired to Adapt, and food scientist Brian Chau.
"Anecdotally, some people get into a state of indigestion because the body slows down the metabolism," cautions Chau. But "others," he says, "do feel better from napping after eating large meals." Still, it's important to give yourself some time before you crawl away to your hotel room for a snooze. "Generally speaking, the body needs two to three hours of digestion before sleeping," he says.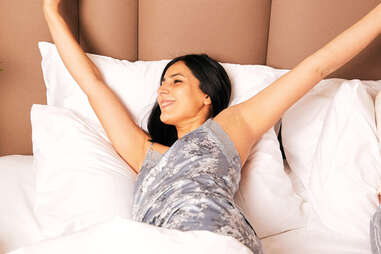 Jadad is a little less hesitant. "Sleeping after lunch, or napping, could be very beneficial," he says. Plus, he explains, napping can help regulate blood sugar levels and reduce fatigue and drowsiness. "It can give your brain a boost—improving your ability to think, decide, and solve problems."
However, he advises, "Just make sure you wait at least 45 minutes after your meal, that your nap isn't too long." And, he adds, "it is best not to nap after 3 pm, as it can mess up your nighttime sleep."
Sleeping post-feast is more of a personal choice and if it works for you, by all means, have at it. And what better place to nap after a lengthy meal than Madrid, where the Hyatt has its rooms siesta-ready?