Totally rational airline charges man $1,200 for in-flight Wi-Fi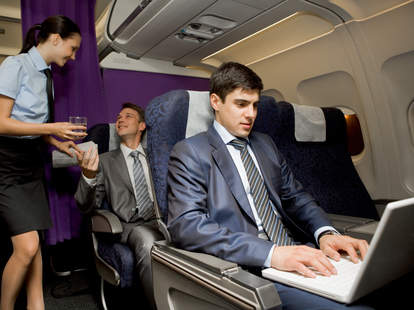 $35 for a checked bag, $50 for legroom for people who couldn't be in the Lollipop Guild, and $7 for a beer -- airlines are nickel and diming passengers every way possible. Well, one guy got hit with what's more like a truckload of nickels and dimes last week when Singapore Airlines charged him $1,200(!!!) for using in-flight Wi-Fi. Suddenly, death by a thousand fees doesn't seem so bad.
On landing in Singapore on Wednesday, Jeremy Gutsche checked his phone to find he'd have to pay $1,171.46 for the handful of emails he sent during his flight from London. Gutsche mentioned in a post on Trend Hunter that one of the work emails included a 4MB attachment that took an hour to upload, thanks to the airline's "painfully slow" connection.
Though Gutsche, who calculated he'd visited just 155 webpages, said he was aware that he would be charged per megabyte used, he didn't expect the astronomical bill. "I bought the $30 package, slept through most the flight, and really didn't think I'd end up a thousand bucks past the limit". He probably wishes he were still asleep.
According to Singapore Airlines' website, the airline charges its passengers a $28.99 access fee before they connect; after that, WiFi costs $9.99 for 10MB of data. Which means Gutsche must've somehow used 1,144MB... on 155 pageviews.
Next time, save the Grape Lady loop for when you're at home.