The World's Longest Flight Is so High-Tech You Won't Even Get Jet Lag
Swimming with whales off the coast of Tahiti and slurping soba noodles in Japan rank pretty high on the list of must-do travel experiences. But for most, a root canal-sans-novocaine sounds more appealing than a 19-hour plus flight to get to these locales.
Let's be real: long haul flights are the worst, a Venn diagram of awful between inevitable stretches of boredom and endless painful hours cramped between strangers. God forbid if you got a middle seat. (After all these years, my family trips back and forth to Australia over the years still trigger nightmares.)
Self-driving cars are a reality, and we've been carrying tiny computers in our hands for years -- it's about time air travel tech has caught up. Enter the new A350-900 ULR (Ultra Long Range) plane, the Rolls Royce of commercial planes giving jet lag a run for its money.
Courtesy of Singapore Airlines
What makes the plane so special?
Built for the new Singapore Airlines flights from Singapore to Newark (officially named the longest flight in the world) and Singapore to Francisco, the plane is designed to fly over 20 hours non-stop. In short, it's tricked out with features to combat jet lag in a major way.
One of the most obvious upgrades to standard aircraft I noticed immediately when I stepped inside for my 19-hour flight: The seating. The plane only offers Economy Plus and Business Class. Yep, this plane trades the cattle car mold of many aircraft for a bearable -- dare I say pleasurable -- flight. By the time I landed in Newark, I was so comfortable in my business class slippers and blanket that I could have stayed on the plane a few more hours.
Okay, it's roomier. Is that it?
Not so fast: "We have anti-jet lag cabin pressurization, which lowers the effective altitude from 8,000 feet to 6,000 feet," says Yung Han Ng, vice president of product innovation for Singapore Airlines. "That means more oxygen for everyone on board." And more oxygen means less grogginess.
That's just the start. The plane's advanced airflow management and purification system renew cabin air every two minutes while regulating cabin temperature. Translation? I didn't have that grimy-haven't-showered-in-a-week feeling when I finally landed. These new technological features just blended into the flight experience—I didn't even realize they were happening.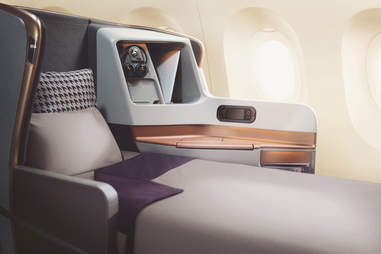 Courtesy of Singapore Airlines
Sleeping is just so easy
On long-haul flights, sleep helps you avoid cabin fever and helps you adjust time zones. The cabin is four decibels quieter than competing aircraft, and up to eight decibels quieter towards the front of the plane. So sleeping comfortably without headphones or earplugs on a flight is an actual possibility.
On my 19-hour flight from Singapore, I was able to lay completely flat and sleep for almost half of the flight. This was a game changer -- I transitioned into the new time zone more seamlessly, also helped by coinciding my sleep with my destination.
Even the meals are designed to trick your jet lag-addled mind
The updated technology and sleek, spacious design will wow the airplane nerds everywhere, but Singapore Airlines also placed importance on the flight experience as a whole. The airline partnered with Canyon Ranch, a 40-year-old wellness brand, to introduce health-conscious meal options designed to help the body fight jet lag and make you feel better on arrival.
My three-course meal option from Singapore to Newark included prawn ceviche and lavosh, followed by citrus-braised pork shoulder and French apple frangipane tart for dessert. To further trick the mind, each meal service coincided with the meal times in Newark, my destination. Even though my brain craved Kaya toast back in Singapore, in the air, I was served filling Hainanese chicken rice -- easing my body back into a different routine.
More and more airlines are getting hip to the aircraft's tech, with new long haul flights like Qantas' non-stop London and New York to Sydney set to open in 2022. As more A350-900 ULRs take flight, accessing hard-to-reach corners of the world on everyone's bucket lists will be easier and more appealing.
Katie Lockhart is a Thrillist contributor.