Presented By
One of the World's Best Food Cities Is Also Becoming the Most Sustainable
This multicultural food heaven is setting an example for a sustainable future.
Presented By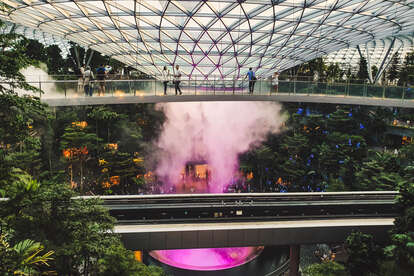 In Singapore, even the airport is extra-sensory

| Vuitton Lim/Unsplash
In Singapore, even the airport is extra-sensory

| Vuitton Lim/Unsplash
Note: The US State Department has issued a Level 3 travel advisory to reconsider travel to Singapore. For more information about Singapore's response to COVID-19, click here. For now, use this guide as inspiration to satisfy your wanderlust safely from home.
Do you travel for food? Do you live for that perfect back-alley oyster omelette that is not only perfectly crispy but also tells the story of the Southeast Asian diaspora in one bite? How about 'Gramming a caviar-spiked short-rib whilst sipping a painstakingly made martini? You can do it all in Singapore. This city-state is home to some of the world's best street food -- yet it's also an epicenter for some of the most boundary-pushing, high-end restaurants and innovative cocktail bars in the world.
Originally a small fishing village that gave way to British colonization, and later, large-scale Chinese and Indian immigration melding with the Indigenous Malay, Singapore's growth and cultural flux can be taken in at every turn. From each neighborhood's unique personality and architecture to the bustling coffee shops and boutique artisans, Singapore's urban-density-to-rich-history ratio makes it the ultimate destination for those of us who just want to walk around and see where the city takes them.
Today, Singapore is taking bold steps to lead the way worldwide on conservation and sustainability. As an island with a population of over 5 million, where 90% of produce is imported along with much of the nation's water, conservation isn't an abstract -- it's existential. Go to Singapore now to see the world's urban future taking shape, seen most obviously in huge, eye-popping urban green spaces that run on solar-powered "SuperTrees," or a 130-foot indoor waterfall -- the world's largest -- that uses recycled rainwater. But conservation is also at work on the ground level -- rooftop farming, hotels with zero carbon footprint, and food waste inventively repurposed in cocktail bars.
Between the history, sustainability and innovation, and top-tier food, Singapore was a shoo-in for a spot among our 20 Places We're Dreaming About in 2020. Below you'll find a four-day itinerary complete with all the best things to do, places to eat, and parks and neighborhoods to explore to make the most of your visit.
Know before you go
Singapore is a year-round destination with largely the same weather (hot and humid) no matter when you go. Spoiler alert: If you aren't used to humidity and heat, you're going to learn to truly live for that first blast of A/C when heading back indoors. The wet season from September to February can live up to its name, so if you want to avoid sporadic downpours, plan to visit after February and before September.
Day 1: Breathtaking Gardens by the Bay and classic Singaporean eats
Start off with the quintessential Singaporean breakfast on the go: kaya toast (best with soy and a boiled egg) and kopi coffee -- a traditional Malaysian coffee that's brewed with butter and sugar that has as many variations as there are kopi shops. If you think you've seen someone drinking brown liquid out of a bag, that's probably kopi. Want to make your kopi iced to beat the Singapore swelter? Ask for kopi-o peng. While there are no shortage of kopi shops, there's no place like the cult Toast Box (now 65 plus locations strong) for Singaporeans.
Now that you're nicely caffeinated it's time to hit up the essentials. Spying Singapore's unique architecture is one of those must-do tourist activities that even a local will gladly come along for. Head to Marina Bay and hit up the SkyPark Observation Deck to take in the sprawling views of the bay and Singapore's city skyline, or get a seat on Singapore Flyer, one of the world's largest ferris wheels at 550 feet.
Next, stroll through the massive urban green space, Gardens by the Bay, and take in the grove of SuperTrees -- towering, solar-powered arboreal structures that generate power for the gardens -- as you make your way to the Cloud Forest and Flower Dome. These giant domed structures are an otherworldly experience (and refreshingly temperature controlled, which is crucial on perpetually hot days) where you'll take in the more than 250,000 species of plants covering a man-made mountain draped in cloud. Part botanical gardens and part startling climate change commentary, lapping the treetop canopy walk of the Cloud Forest biome lets you admire diverse species of rainforest plants and orchids while learning about the staggering effects our current industrial systems pose to their longevity.
Round off a day of the classics with a trip to Keng Eng Kee Seafood for Singapore's namesake chili crab and lime soda, but be prepared to get messy (don't be afraid to ask for gloves) before finishing the day with a Singapore Sling at the iconic and newly reopened Raffles Hotel. They might even let you crank their mechanical shaker for the 'Gram.
Traveling may be on pause, but that doesn't mean your dreaming and planning has to be. With The Marriott Bonvoy Boundless™ Card, earn 6X Points at 7,000+ hotels participating in Marriott Bonvoy™ and 2X Points on all other purchases, including future flights. For the journey ahead, carry a card that's here for you now.
Day 2: Eat your way through the famed hawker stalls
Singapore is a city where it actually makes more financial sense for locals to eat out than to cook at home. And eat out they do, on transcendent broth-poached chicken and garlicky rice, ultra-rich pork rib bak kut teh soup, crispy fish head bee hoon, or the Chinese-Malay cuisine known as Peranakan. The hawker food stalls are a tradition deeply ingrained in the culture -- many stalls are run by families of hawkers now into the third generation of feeding Singapore.
Try Maxwell Food Centre in Chinatown, where stalls sling prepared foods that reflect Singapore's Chinese influence. Tian Tian Hainanese Chicken Rice is one of the most famous hawker dishes thanks to Michelin and Anthony Bourdain's endorsement -- but the line is often long, and since the original team is no longer intact thanks to a spat, many locals feel it's lost its luster. Ignore the hype, skip the line, and head to the end of the row for Uncle Sky Singapore Hainanese Chicken Rice for a tastier, under-the-radar bowl of one of Singapore's most iconic dishes. Plus, you'll be supporting a great cause. While the stall itself is modest, once a week Uncle Sky provides free chicken rice to any elderly Singaporeans in need of a hot meal, and even uses a network of friends to deliver to those who are unable to leave their homes.
Another option is Tekka Centre in Little India for Whampoa prawn noodles, ice-cold chendol, and mee goreng. This is a mixture of purveyors and food stalls from Singapore's Indian population, not to mention home to some of the best Mamak in the city: A unique style of cuisine born of the mixture of Muslim Indian and Malay that's as Singaporean as it gets in the form of flaky roti canai, fish head curries, and fragrant mounds of banana leaf-wrapped rice.
Beat the afternoon heat with a trip to the National Museum of Singapore or burn off lunch with a 10-minute ferry ride to the island park Pulau Ubin for cycling and strolling through the mangrove trees -- you'll feel a world away from the bustling city. Then it's back in the city for the evening: Get to know Singapore's famous cocktail culture at Native for tipples made with hyper-regional ingredients, go OG with Jigger & Pony, or feel like Gatsby at Atlas Bar.
Day 3: Get to know Singapore's diverse neighborhoods
You have options when it comes to finding the Singapore neighborhood for you, and they're another great way (in addition to eating) to experience Singapore's three major cultures and religions. The largest of the three is Singapore's (predominantly Christian) Chinese population, experienced through bustling Chinatown, where you'll find temples alongside modern boutiques (plus the endlessly explorable Maxwell Food Centre).
About 15% of Singaporeans are Muslims from South Asia (mostly Malaysian as well as Indonesian), and you'll see that influence in the Arab Quarter, anchored by the impressive Masjid Sultan Mosque, which you can visit and tour. Just a block away, take a walk down Haji Lane for ultra-cool vintage shops and brightly colored murals. Vibrant, colorful, and historic -- but also hip and newly energized by a younger crowd -- the Arab Quarter is a great place to shop and rub shoulders with merchants who will be more than happy to draw you into conversation.
Little India is a showcase for Singapore's ethnic Indian population -- itself incredibly diverse, with a mix of languages, religions (Hindu being the largest portion), and classes represented. The aforementioned Tekka Centre is a main draw, but there is more to explore, including Hindu and Buddhist temples. Walk down Serangoon Road and take in the historic, colorful, Instagram-worthy markets and restaurants.
Outside of these three centers, Tiong Bahru may be Singapore's trendiest 'hood and is worth a stroll to find modern galleries, scenester vinyl stores, art deco tea houses, lust-worthy décor shops, and the hip bookshop, Books Actually.
For more exploration, take a drive to Brass Lion Distillery, where you can make your own bottle of Singapore's favorite spirit, gin, or have a cocktail on a boat cruise with the Floating Donut Company. Go high end for dinner at one of Singapore's famous home dining supper clubs like FatFuku -- where you try family recipes in an intimate private meal. You can also dive into some of Singapore's best Chinese cuisine at TungLok Signatures, or experience elevated Peranakan at Candlenut.
Day 4: Spend a day at the... airport
Get one last street food bite with a stop at Haig Road Putu Piring for gula melaka-filled sweet rice cakes wrapped in banana leaves, alongside coffee. Amble through the rest of the market stalls for tastes of regional fruits before making your way to the airport. Go early. Yes, really. 2019 saw the addition of a giant nature-themed entertainment complex linking the terminals, making Jewel Changi Airport quite possibly the coolest in the world. It's an architectural wonder that draws visitors who aren't even flying anywhere, and you'll find the world's largest indoor waterfall (that uses recycled rainwater), art installations and performances, more than 311 shops, and an IMAX theater.
MEET THE WRITER
Hillary Eaton is a food and travel writer based in Los Angeles. You can find her featured in The New York Times and Stuff or read her work at Food & Wine, Bon Appetit, Playboy, Travel + Leisure, Los Angeles Times, and beyond. Follow along with her food and travel adventures on Instagram: @hilleaton
When was the last time you were in Singapore?
Having been a handful of times, this past July was my latest visit to Singapore.
What drew you there?
The intersection of cultures -- from the Indigenous Malay to the Chinese and Indian immigrant groups, and how that's fused together and grown into such a uniquely Singaporean culture and culinary scene. It's palpable and molten and alive.
What was the most surprising thing about Singapore that you didn't expect?
I knew Singapore was small (especially coming from a place as spread out as Los Angeles), but I didn't realize just how small it really was until I got there. The size makes it so easy to get around and do so much more in a day than you can when you're on a trip in a more spread out city like Paris or London. I also wasn't expecting such a metropolitan city to be so amazingly green. It lives up to its name of being "a city in a garden."
What's a favorite memory from one of your visits?
There are very few distilleries in Singapore, even though spirits and cocktail culture is so big there. One of my favorite memories on a recent trip was getting to see Compendium Spirits in action. A project originally started by a biochemist who wanted to create a truly unique spirit, Compendium distills gin from a house-fermented mead that can taste like everything from rojak (a local dish of sweet and savory fruits and vegetables) to chendol (a green rice jelly dessert drink) to produce a spirit with true terroir. When so much of the spirits industry claims to be craft, it was amazing to see something truly one of a kind in the making. Plus, it tastes amazing!
How easy is it to get around Singapore for English speakers?
Singapore is extremely tourist friendly and it's very easy for English speakers to get around with either a cab or their subway system, the MRT. While the official language is Malay, English is the most prominently spoken language. Make sure you download the app Grab onto your phone to make it easier to get around. There is no Uber in Singapore and many cabs will not pick you up unless booked through the Grab app.
Next big trip you have planned in 2020?
My next big trip is to Brazil's Paraná region to see the largest waterfall in the world, Iguazu Falls.
Bucket list destination you've always wanted to visit?
When I'm not traveling for food it's always for nature and something active. As cliché as it is, hiking Everest is really high on my bucket list.