Set amongst fragrant cedar and Douglas firs on the banks of the lower Columbia River in Stevenson, Washington, Skamania Lodge looks almost like the Pacific Northwest's answer to the Overlook Hotel (minus the ghosts and, you know, unpleasantness). Just 45 minutes from Portland, it strikes the balance of being close to civilization, yet remote enough to feel like a world of its own for a weekend of woodsy serenity.
At the lodge, recently renovated rooms feature fireplaces and mountain views, with two onsite restaurants and a spa. As for outdoor offerings, hiking trails criss-cross the property, a 9-hole golf course and an 18-hole putting course span the backyard, and zip line tours will send you flying through the surrounding trees.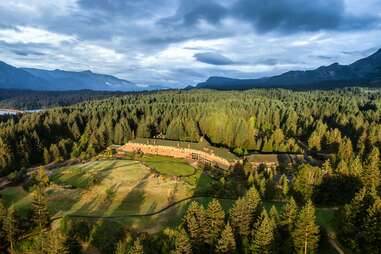 But it's the four treehouses that really make Skamania destination-worthy. With names like "Mountain Buttercup" and "Angels Rest," they sit as high as forty feet in the air. Set a little ways off from the lodge, they all hang within eyeshot of one another, but spaced out enough that they still feel private. (In other words, you can go all in on the in-room complimentary guitars, or bicker over the provided board games, and no one will complain about the noise).
Along with a modern bathroom, small kitchenette, and enormous windows, each comes with its own private porch—a roomy platform nestled among the branches overlooking the lodge's golfing greens—with an attached Yeti cooler, so you can stock up on cold bevvies. To keep the coziness going, there's a complimentary s'mores kit, fluffy bath robes, and super-sized gas fireplaces that can be enjoyed both in the room and on the porch (plus air conditioning).
All this coalesces into a supremely romantic atmosphere, and it's definitely a splurge: The treehouses go for $1,200 a night (rooms in the lodge start at $218). But it's quiet and comfortable and sumptuously appointed, and we wouldn't blame you for spending your entire stay up in the trees… were it not for all the spectacular beauty and day trip options nearby.
And even amongst the boundless beauty to be found in Oregon, the Columbia River Gorge stands apart. Aside from the Columbia River itself, which meanders through the lush evergreen hills, you'll find the famed Multnomah Falls, just one of many waterfalls to be found along the Old Gorge Highway.
Scattered about are plenty of opportunities for kayaking, fishing, stand-up paddle boarding, and hiking—including the Pacific Crest Trail, which lets out just around the corner from Skamania so that you can emerge from the woods and be in front of the fireplace in minutes.
A stay at Skamania is certainly not cheap. But if you're looking to splurge on a rejuvenating trip worth writing home about—whether for an anniversary, a honeymoon, or just a stand-out weekend for that special lumberjack-type in your life—there's hardly a better place to do it than from a little cabin suspended in the trees.
Nick Hilden
is a travel, fitness, arts, and fiction writer whose work has appeared in the Los Angeles Times, Men's Health, the Daily Beast, Vice, Greatist, and more. You can follow his weird adventures via
Instagram
or
Twitter
.