Welcome to Hashima Island: once the most densely populated place on Earth (w/ 13k people per sq km), its population is now a solid zero, after being totally abandoned in '74 and, for a time, forbidden to set foot on. And, while tour boats can now take peeps to the sliver of the island with no urban ruins again, getting anywhere close to the crumbling monoliths is strictly prohibited... Unless of course, you're Google.
Recommended Video
This Exhilarating Ride Takes You on a Mountain Adventure
Before we begin our present-day virtual walking tour, let us pause and reflect upon how nice-looking Hashima Island (just 9mi off Nagasaki) was waaaay back in the day .
Now it looks like this. Technically there are no streets, so the Google dude who was there this past Spring basically traversed the 16-acre island on foot, taking 360-degree pics and being careful not to let a six-story concrete structure fall on him.
Most of the island's supported by man-made sea walls, which make for some swell, albeit slightly underused, parks.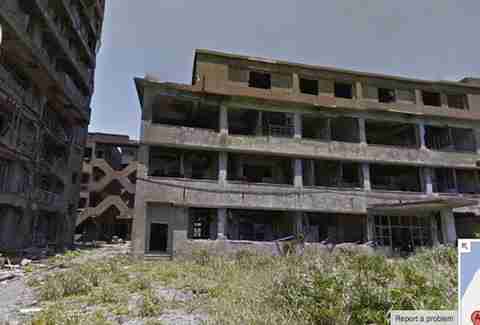 Japan's first multi-story concrete buildings were built here in 1916 by the island's then-owner Mitsubishi, who weren't makin' bitchin' Monteros just yet, but were harvesting all sorts of coal from the ocean.
Part of the reason literally almost every structure on the island was built with concrete was to withstand typhoons... throughout eternity.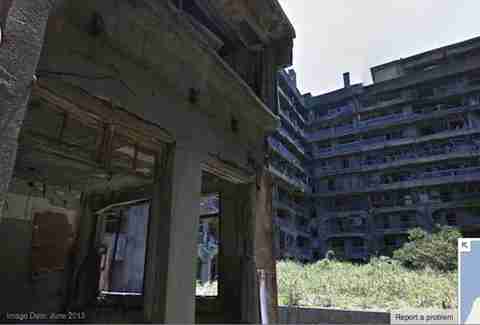 Apartments overlooking the courtyard are going for a lot less these days.
If it reminds you of the island from Skyfall, that's because it inspired the island from Skyfall (we mean the villain's lair, not Great Britain).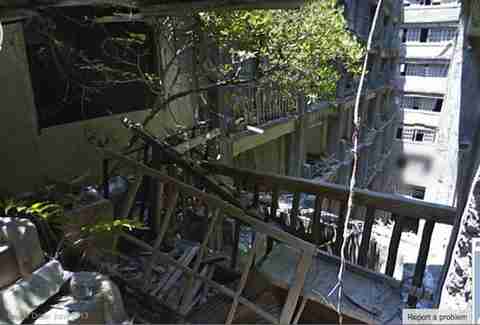 The path of the Street View map was quite thorough yet did not venture down there because of zombies for some reason.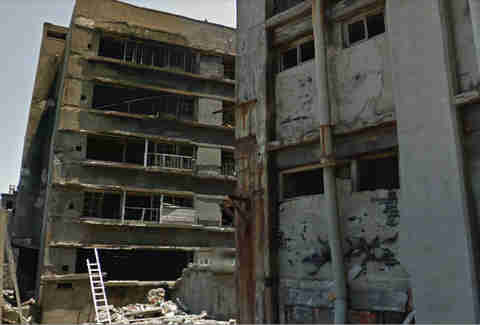 Wowowow -- that ladder is totally broken.