Miami to erect giant penis building Downtown
Clearly affected by years of feeling inadequate compared to other major American cities, Miami appears on the verge of constructing a giant phallus, right in the center of town.
SkyRise Miami, a new 1,000ft structure to be built Downtown overlooking Biscayne Bay, is the latest development in masking Miami insecurity. It'll have an exclusive restaurant, two clubs, an observation deck, a drop ride called SkyPlunge, a simulator movie theater, a bungee jump that hurls visitors 550ft down, and countless jokes for as long as it stands.
Seriously. It really looks like a penis. And it will cost an estimated $340 million to erect. SkyRise's developer Jeff Berkowitz is even pumping $30 million of his own funds into the project, and believes that the skyscraper will annually entertain 3.2 million visitors, who'll fit the rest of the bill.
Though the project was approved this June, it has faced criticism from other architects. Charles Corda, probably jealous he hasn't developed a skyscraper this tall, penned this article calling the tower a disaster. But voters in Miami have shown support for the bulging building, for which construction's set to climax in 2017.
"Miami is a world-class city. And I think an iconic structure Downtown will firmly cement Miami on the global stage", Berkowitz told USA Today. "It's going to be Miami's Eiffel Tower."
Except the Eiffel Tower doesn't look like a huge wang. Or maybe it does. Whatever.
Check out the pictures for yourself below, and watch an overly dramatic video introducing the behemoth 'scraper.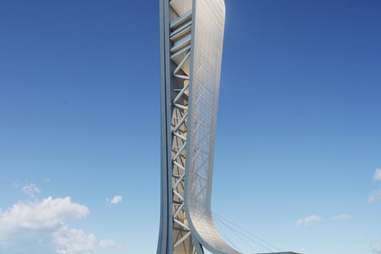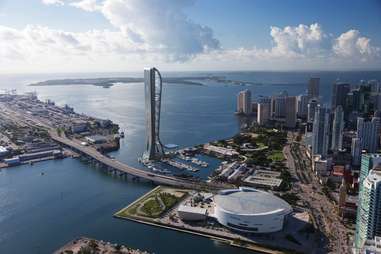 Chloe Pantazi is an editorial assistant on Thrillist's travel team. Yes, that's a British accent. No, she doesn't watch Doctor Who. Follow her on Twitter at @ChloePantazi.