Sleep inside an enormous wine barrel, not just because of one
If you've ever wanted to sleep in a wine barrel (don't lie, of course you have), then the Dutch Hotel De Vrouwe van Stavoren has some good news for you: their rooms are gigantic vino casks.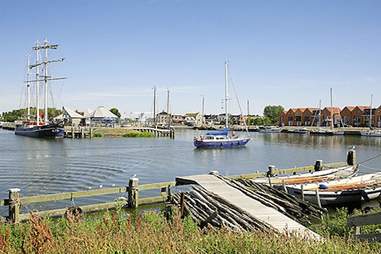 The hotel's located in Stavoren, a formerly bustling port that one might actually call "tired", in the northern reaches of the Netherlands. It's pretty, but you came for the wine barrel hotel rooms... you lush.
Before they were fancy hotel rooms, they were vessels for fancy wine at this Swiss winery.
Now, they're built into the main floor of an overarching hotel structure, and the 14.5k liters of vino have been replaced by a front door, two porthole windows, a pair of twin beds, and room enough to stand in the middle.
<sub>Photos: De Vrouwe van Stavoren Hotel</sub>
Because the barrels are literally built into the actual hotel, they exit into a space that's got a normal-dimension bathroom and a super classy-looking sitting room... because without all that additional stuff, you might get sour grapes.