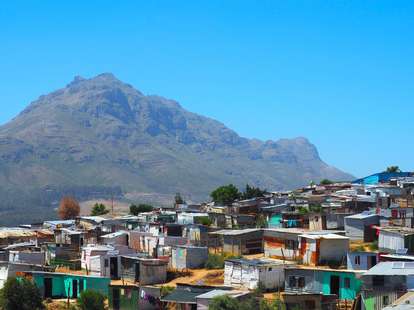 You'll Feel Guilty Taking Slum Tours. But There's Good With the Bad.
It was the most surreal case of culture shock I've ever had: hopping into a van in Cape Town's clean, pristine Waterfront district, and 20 minutes later getting out in a slum packed with makeshift homes of aluminum and tarp.
The jarring contrast is simply reality in South Africa. These shanty towns, known as townships, were formed to enforce segregation during apartheid. Dangerous and poverty-stricken, today they're often described as a no-go area -- that is, unless you pay to come during the day with a tour guide. Which, like many tourists in this beautiful country, I had.
Slum tourism is a worldwide travel trend that's growing right alongside the world's exploding urban populations. In Mumbai, tours of the sprawling slum Dharavi skyrocketed in popularity after Slumdog Millionaire. In Rio de Janeiro, some 50,000 tourists a year indulge in favela tours. In Nairobi, sightseeing visits of Kibera give you the chance to skip through Africa's largest slum after returning from Kenya's national parks.
Not surprisingly, residents can come to feel like wildlife themselves. A New York Times op-ed recounts one man's experience of feeling like a "tiger in a cage," as tourists snapped photos of him through his kitchen window in Kenya. And if you're the person on the tour, you might be paying hundreds of dollars to see how people with nothing live.
So-called poverty tours claim to raise awareness while injecting much-needed cash into local communities. When people in Vancouver, British Columbia, decried walking tours of its poverty-stricken Downtown Eastside neighborhood last year as voyeuristic and exploitative, the tour operators countered that the tours were meant to support the community in part by highlighting businesses that hire locals. For all but the most oblivious traveler, slum tourism is a moral minefield where one man's sustainable tourism can be another's poverty porn. As I learned on my own tour, it's a way to make lifelong memories -- and leaves you wrestling with questions about how your best intentions connect to people's lives.
The touchy enterprise of visiting slums
The ethical debate is relevant especially in South Africa, considered the birthplace of modern slum tourism. Township tours were first organized in the 1980s for white government workers, becoming commercial post-apartheid. The business is a cornerstone of South Africa's economically important tourism industry, which accounts for 9% of its GDP. It's estimated that one in every four visitors takes a township tour. Last year, that would have been some 2 million people.
I signed up for two township tours in Cape Town to draw my own conclusions. The first, for which I paid about $40, was in Langa, where the bulk of companies are based. It's considered the safest destination for its compact size and because tour operators take extra measures, such as transport in vans with tinted glass and power locks (the turnoff is emblazoned with signs declaring it a "smash and grab hotspot") and local guides who are often former or current residents. But there have been more than a few reports of tourists getting robbed in Langa over the last decade, so it's not easy to feel at ease.
My guide, Chippa, working for a company called Siviwe Tours, was a jolly guy of Xhosa descent, part of the second-largest ethnic group in South Africa after the Zulu. In Xhosa, Langa means "sun." Chippa talked about how township tourism shaped where he grew up for the better -- creating jobs and encouraging self-sufficiency. He was a popular sight on Langa's streets; kids ran up behind him, clutching a chicken foot, a township snack known as "walkie talkie" in one hand, and clamping onto his legs with the other.
I asked what the policy was on taking photos. "If you're close up, ask," he said. "But far away is OK. Children you always can. For them it's like candy, no problem. Just show them the picture!"
The most famous slums have become bustling attractions
Soon our group was trailing through a former beer hall, where families live back-to-back in narrow units resembling storage facilities. We were welcomed into a young woman's home, five of us stuffing into a humbly furnished yet obviously cared-for space. A box on the wall provided pay-as-you-go electricity. Despite the cleanliness, gigantic flies hovered and the air smelled sour. The toothy scraps of an unidentifiable animal jaw cooked on a burner opposite the bed.
Langa was a tourist attraction in the truest sense, right down to bumping into other groups in garbage-strewn lots. Foreigners sporting backpacks and zoom lenses played with kids, took photos with them. Our group could only stand agape when we happened upon two boys hurling bricks at each other; Chippa broke up the fight with a knuckle-rapping.
The last stop, a shack belonging to a man going by the nickname Shooter, felt like a refuge from the streets. Shooter is famous in Langa for the care he's put into his home. It's neat, tidy and filled with MacGyver-esque whatnots: a hair dryer diffuser turned into a ceiling light, a blender that's now a table lamp. Around his home are photos of visitors dropping by -- Skrillex, Mos Def, pro athletes, even a German lesbian couple he stays in touch with.
We had an in-depth chat about apartheid and his experiences living in the township. "I'm happy when people come to my house," he said. "I'm proud of it. White people used to be scared to come here. Now they come from Netherlands, America, all over the world."
There was definitely a strong effort to give the tour balance. Afterwards, we walked through a section of Langa with traditional homes and garages (fenced off, of course). "This area is not all bad news," said Chippa. "The media's portrayal is not altogether true."
How much good are the tours doing?
It's the sort of experience that rattles your moral compass. Afterwards, my tourmates weren't sure how to process what they'd been through, or their role in it. "I get the feeling that we were more uncomfortable than they were," said an Irish woman.
"I thought I couldn't come to South Africa, go to the beach and ignore this," said a Dutch guy, from another tour group. "I didn't like going into people's homes. But maybe this is helping them and everybody they know."
I later requested to find out if those who are visited on the tour are paid for welcoming guests, but the tour group did not answer. Dr. Fabian Frenzel, who has extensively researched slum tourism, said tour providers often don't compensate residents but offer "pay back" in more complex ways, such as boosting civic pride, safety, and visibility by promoting poor areas as tourist attractions.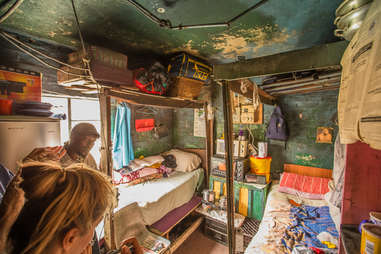 "We tend to think of tourism primarily as an economic transaction," Frenzel wrote in a blog post he referred to. "But slum tourism actually does very little to directly channel money into slums: this is because the overall numbers of slum tourists and the amount of money they end up spending when visiting slums is insignificant compared with the resources needed to address global inequality."
Non-profit organizations such as Uthando -- which operated the second tour I went on -- are often more transparent with funds than profiting tour companies. Uthando has directly funded several community projects around Cape Town townships, which are also its tour stops. But founder James Fernie is adamant that what he offers is not a "township tour, but a South African cultural tour."
"This isn't about walking into somebody's house," Fernie explained, when I asked him about how his non-profit was different than the Langa tours. "Our clients are more socially aware travelers who are uncomfortable with that and want to learn about South African history and current issues in a different way."
Tourists find powerful emotional experiences -- and give back
The first stop on this second tour -- for which I paid $75, almost double the Langa tour -- was a child care center in Khayelitsha, Cape Town's largest, fastest-growing slum. More than a hundred kids are cared for in well-lit brightly painted rooms while their parents work, ensuring they aren't left home alone. When we stopped by, they sang the Barney theme song and offered high fives.
Upon leaving, the tour group was deeply quiet, understandably emotional from the kids' energy and joy. Fernie explained that a Swede had a similarly moving experience on a recent tour and donated 170,000 rand, or almost $13,000. Just two weeks earlier a couple also donated half a million rand after a visit.
"Over the years I've had tremendous ethical problems with bringing people to these education centers," Fernie told us. "But we've been very fortunate. Very wealthy tourists have come and then decided they wanted to help... We have to use the resources that we have."
We visited a community garden, one of a widespread collective across townships called Harvest of Hope, and a senior citizen's group. With the help of a translator, we talked to the elders.
It was a genuine chance to connect that doesn't happen nearly enough as a tourist, or in daily life for that matter. We told them about our lives and they talked about Khayelitsha's history, apartheid, and so much more. At the end, the room erupted in handshakes and hugs.
The experience stays with you
There's nothing black and white about poverty tourism. Some visitors will take away something meaningful away or nothing at all -- not even the neighborhood names -- like an Australian woman I met lining up for Robben Island later, who could only express, "Oh, how sad it all was."
Apartheid is over, but townships are still in abominable shape. The shadow minister of tourism states that townships offer a "great economic opportunity" in South Africa -- to amp up tourism to increase revenues, rather than addressing systemic poverty at the source. This is the same government that has faced accusations of corruption, with nationwide protests in April calling for the president to resign.
"The real needs of people in these communities need to be addressed," said Fernie, Uthando's founder. "If not, there will be a second revolution and this time there is no Mandela. There is a tremendous sense of urgency in what we have to do."
As awful as the thought is, tourism might be the only way these neglected areas get the attention they are so desperately in need of. At least, for the time being.
Sign up here for our daily Thrillist email and subscribe here for our YouTube channel to get your fix of the best in food/drink/fun.