Small American Cities With the Coolest Architecture
Sean Pavone/Shutterstock
Sean Pavone/Shutterstock
When we recently named the 10 American Cities With the Coolest Architecture, we stuck to all the biggies -- Chicago, New York, Philadelphia, San Francisco. We had a couple of sleepers on there (Santa Fe, Detroit), but for the most part, they were all very well-known and well-traveled cities that absolutely SHOULD be on a list of top-10 cities for architecture in America. But that comes at the expense of some smaller cities that have incredible architecture but don't get the same recognition as other more towering metropolises. So now we're giving a little love to the small cities with badass collections of buildings that will make any history buff or name-dropping architecture nerd swoon.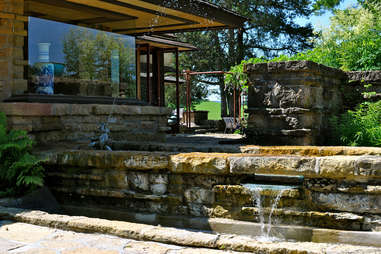 Spring Green, Wisconsin
No list highlighting American architecture would be complete without some kind of mention of Frank Lloyd Wright. And while there are many cities in California and throughout the Midwest that can proudly boast of their FLW building stock, Taliesin in Spring Green, Wisconsin is by far the most storied, originally built as a love nest for Wright and his mistress (who later died in a gruesome arson/mass axe murder on the property). The design of Taliesin was consistent with the design principles of The Prairie School, evoking the natural lines of the area's deep river valleys and mimicking the limestone outcroppings of the land. It now operates as a museum, located on the same grounds as the Frank Lloyd Wright School of Architecture.
Other architectural achievements of note in or near Spring Green include the classical American Players Theatre, an outdoor amphitheater situated on 110 acres of woods and meadow, and House on the Rock, a marvel of obsessive imagination that resists any kind of easy description. Put it this way: in fantasy writer Neil Gaiman's novel American Gods, he characterizes House on the Rock as a direct portal into the mind of the gods, and there is probably no better way to describe this overwhelmingly labyrinthine tribute to kitsch and madness. It is truly an unsung world wonder.
St. Augustine, Florida
St. Augustine, Florida is the oldest continuously occupied, European-established city in the United States, founded in 1565. Because the city was founded by the Spanish long before the pilgrims landed on Plymouth Rock, St. Augustine looks more like a centuries-old European city than an American one, right down to the Spanish-style architecture spanning centuries of construction. There are dozens of points of interest throughout the city and National Historic District, but definitely put Castillo de San Marcos (the country's oldest fort), Flagler College, the Lightner Museum and City Hall, and the Memorial Presbyterian Church on your short list.
Hot Springs, Arkansas
I made a joke about bathhouses before and you know what? I'm going to make it again. The bathhouses along National Historic Landmark Bathhouse Row -- the collection of historic bathhouses, associated buildings, and gardens that comprise Hot Springs National Park -- are not the kind of bathhouses you immediately think of when you hear the word "bathhouses." Although, somewhat related, they were used by folks like Al Capone as a treatment for various ailments (*cough* SYPHILIS *cough*) -- "taking in the waters" was thought to cure any number of illnesses and afflictions. It doesn't, but a soak in the hot mineral water piped into the buildings from the natural hot springs sure is lovely, as are the turn-of-the-century neoclassical, Renaissance Revival, Spanish, and Italianate buildings with grand entrances and outdoor fountains.
Deadwood, South Dakota
Historic Deadwood is located in the Black Hills of South Dakota and yes, this is where many visitors to Custer State Park and Mount Rushmore and the Badlands are shuffled off to be relieved of their money in the form of commemorative tchotchkes and casino tithes. But while there may be a certain kitsch factor here now, once upon a time this was very much the Wild West, a lawless gold-rush town that has retained much of its 19th-century character thanks to preservation efforts that have faithfully restored over 80 gaming halls, inns, and stores from the late 1800s that are in uniquely American West architecture styles. Preservation efforts have been so significant, in fact, that the entire city is on the National Historic Register.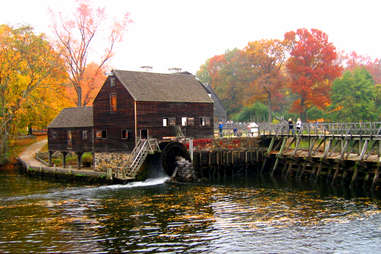 Sleepy Hollow, New York
In Sleepy Hollow, they don't just embrace the folk legends of the town's ghoulish history: they live them, with a full embodiment of all things Headless Horseman year-round (and you KNOW Halloween here is some next-level shit). There is a palpable creepiness about the place, and really, that's just because it seems so perfectly imbued with the spirit of Halloween. For those who hold Halloween most holy, think of it this way: if your greatest desire is to be in a place where every single day of the year is Halloween, THAT PLACE EXISTS AND IT IS HERE. For a proper tour of the architecture, it is imperative to hit all the majestic-yet-somewhat-unsettling landmarks: the Old Dutch Church of Sleepy Hollow, the original Sleepy Hollow Cemetery, the Philipsburg Manor, and in nearby Tarrytown, the castle-like, Gothic Revival Lyndhurst mansion. A walk (or terrified run???) over the stone bridges of Rockefeller State Park Preserve is also in order.
Columbus, Indiana
You've probably never heard of Columbus, Indiana, and that's fine, because it's never heard of you either. HA! Anyway, just because you haven't heard of it doesn't mean it's not significant; nicknamed the "Athens of the Prairie," Columbus is considered by many to be one of the best architecture cities in the United States. "How can that possibly be true if I haven't even heard of it?" you ask, dumbfounded. The answer is one J. Irwin Miller, industrialist and patron of modern architecture (as well as diligent civil rights activist), who established the Cummins Foundation to pay all the architects' fees for new public buildings throughout Columbus through his role as chairman of the family business, Cummins, now a Fortune 500 manufacturing company.
Because of this, Columbus has structures designed by the likes of I.M. Pei, Eero Saarinen, Richard Meier, and Skidmore, Owings & Merrill, with many interiors designed by Alexander Girard. So significant is the architecture here that, in 1991, the American Institute of Architects declared Columbus sixth in the nation for architectural innovation and design.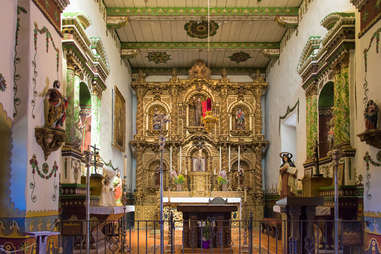 San Juan Capistrano, California
San Juan Capistrano is the site of the Catholic mission for which it was named, Mission San Juan Capistrano. The ruins of the 1776 mission are still largely intact and are located in the city, including the "American Acropolis," the mission's Greco-Roman-style "Great Stone Church." The residential and commercial housing that sprung up around the mission echoes the mission's Spanish style, and historic buildings include adobe homes from the 18th century, including the Montanez and Rios Adobes located in the Los Rios Historic District, the oldest neighborhood in California.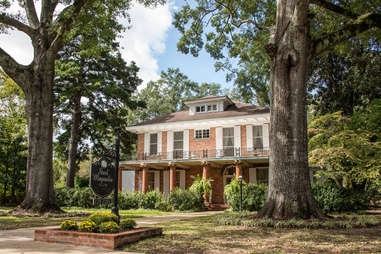 Natchitoches, Louisiana
There is New Orleans, and there is the rest of Louisiana. And then there is Natchitoches ("nack-a-tish"), settled four years before New Orleans and thus the only city in the state that can claim "we did it first" with the cast-iron-lined balconies to prove it. As Louisiana's original French settlement, it is home to the only three examples of authentic French Creole townhouses outside of New Orleans. There are also examples of Spanish Revival, Victorian, and Art Deco architecture throughout the Historic District. Southern-history enthusiasts will enjoy touring the Oakland, Magnolia, and Melrose Plantations, all National Historic Landmarks significant for their antebellum architecture. The colorful buildings of Downtown can be seen from the meandering Cane River, which is lined with live oaks and pecan trees. And if the photos look familiar to you, that's probably because Natchitoches was the filming location for the 1989 armadillo-cake classic, Steel Magnolias. If it's a much, MUCH slower-paced New Orleans that you want, look no further than Natchitoches.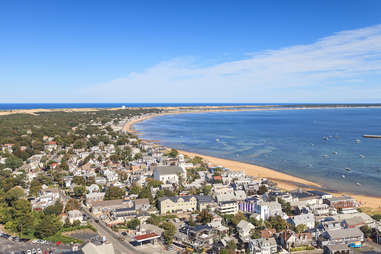 Provincetown, Massachusetts
There is Cape Cod architecture all over Cape Cod (hence the name), and it's a pretty tough job to pick just one charming Cape Cod town over all the other charming Cape Cod towns to represent the charmingest and Cape Codiest of all the charming Cape Cod towns. Luckily, there's Provincetown, the longtime LGBTQ- and family-friendly haven at the tip… just the tip (LOL)... of the Cape. P-Town is pretty much New Englandian/Cape Codian perfection, with mid-19th-century Revival-, Georgian-, and Federal-style homes lining the streets in cheery pastels with lush lawns overgrown (in a meticulously planned sort of way) with perennials, annuals, cutting flowers, herbs, and lots and lots of hydrangeas in the signature shade of Cape Cod blue.
Taos, New Mexico
If you want Southwestern-style adobe architecture, there is no state better than New Mexico to find it. And if you're looking for OLD Southwestern-style adobe architecture, there is nowhere better than Taos. The Taos Pueblo has been occupied for nearly a millennium -- that is one thousand years -- and has been inhabited for all of that time, making it one of the oldest continuously inhabited communities in the country. It is a UNESCO World Heritage Site with about 150 people who live inside year-round.
Taos itself has recently become a trendy ski haven and is also known for the Taos art colony, established over 100 years ago. The rest of the town is filled with that same Southwestern adobe architecture -- check out the Taos Plaza and the Taos Downtown Historic District -- though the Pueblo is by far the oldest of the lot. And, for a nice little aesthetic contrast, Taos also happens to be the landing place of preference for architect Michael Reynolds' Earthships, passive solar houses made of natural and recycled materials designed and built by Earthship Biotecture in and around Taos.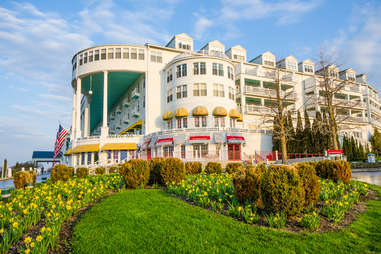 Mackinac Island, Michigan
Mackinac Island is a 3.8-square-mile island located in Lake Huron, nestled between the coasts of Michigan's Upper and Lower Peninsulas. The island is a National Historic Landmark where cars are banned, with horse-drawn carriages and bicycles being the sole transit options.
The island's crown jewel is the magnificent Grand Hotel, a massive Victorian-style resort built in 1887, which is situated on a bluff overlooking the lake and the expansive, meticulously landscaped hotel grounds, with the longest front porch in the world at 660ft. But the Grand Hotel is hardly the only thing grand about Mackinac Island: the summer colony exploded in popularity during the 19th century, and has painstakingly preserved countless Gothic Revival, Italianate, and Queen Anne structures as charming-to-the-core B&Bs and summer homes for Michigan's most fortunate. The fully restored Fort Mackinac, built in 1780, will also quicken the pulses of history and military buffs in ways charming B&Bs might not.
Sign up here for our daily Thrillist email, and get your fix of the best in food/drink/fun.
Nicole Rupersburg reiterates what she said last time: she lives in Las Vegas, where the identical tract housing is made from cardboard and spit and everything else is casinos. Even thousands of miles away from Detroit, she still has Chicago envy. She is also starting to have New Mexico envy. Check out her IG, @eatsdrinksandleaves, where she posts lots of pictures of mountains.