Thrillist Snow Guide: Alta/ Snowbird, UT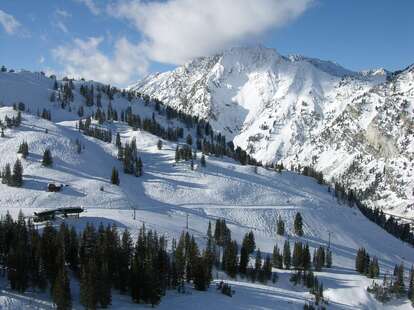 Alta Ski Area
Alta Ski Area
These sister resorts in Utah's Little Cottonwood Canyon -- just a stone's throw from Salt Lake City -- are among the most accessible ski fields in the country. And they're also, like, best friends -- they never fight. Alta's 2,200 acres of old-school slopes, with long, straight runs that cut down the fall line include one of skiing's most notorious, Alf's High Rustler, but remains off limits to snowboarders. Snowbird, on the other hand, rocks 3240ft of vertical drop, 2500 skiable acres, and 85 trails for both skiers and riders. The good news is, you can ski both on one pass. And after a long day on the hills, there's plenty of après to go around -- just don't expect to rage all night. Here it's all about the snow, son.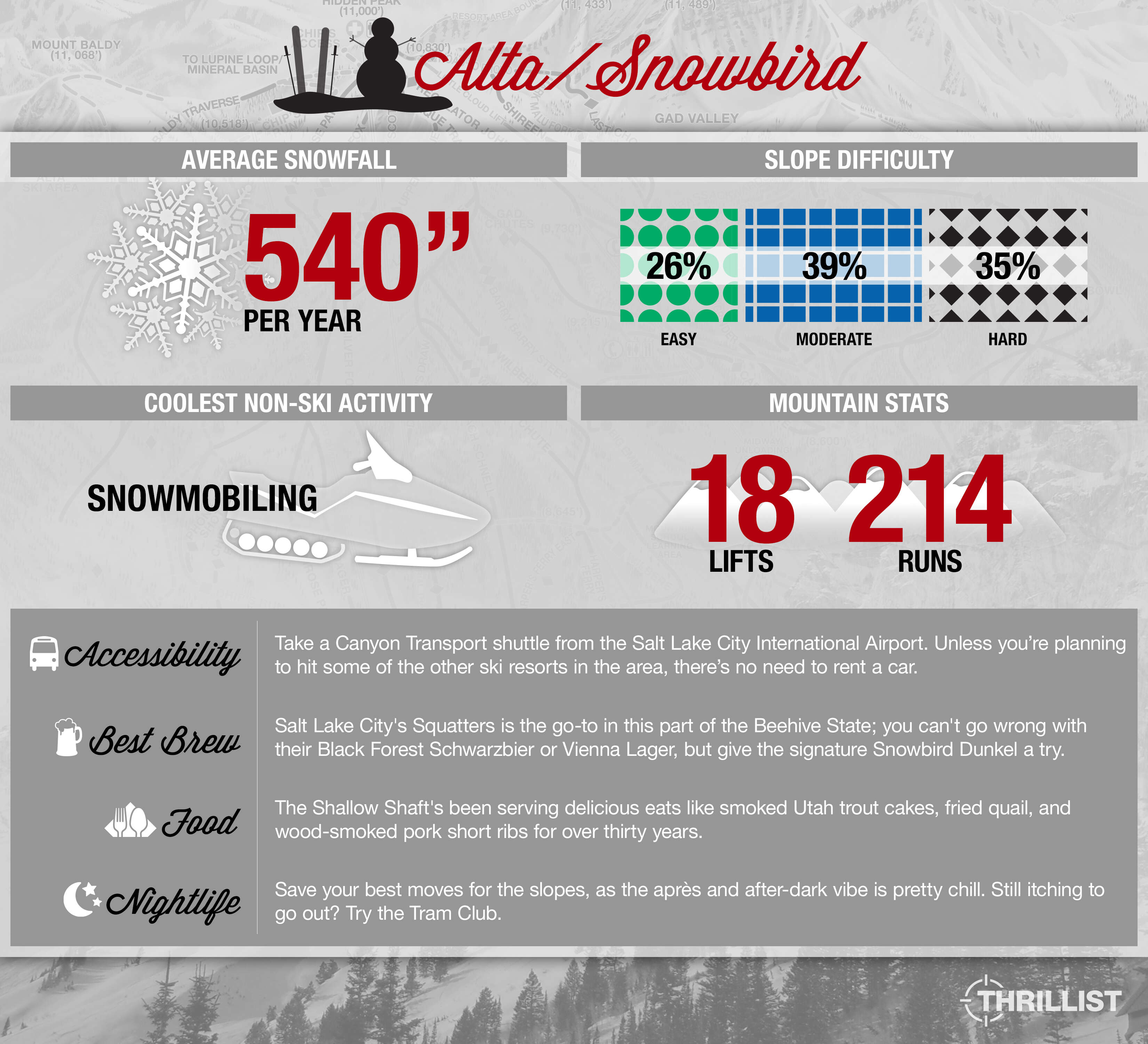 When to go: The Alta/ Snowbird season usually begins mid-November, and runs through late May. Care to be put to shame by some ultra talented mountain mites? The IFSA (International Freeskiers and Snowboarders Association) North American big mountain competition for youth takes place here April 11-12.
How to get around: The village is pedestrian-friendly, so no need to sit on a rental car or worry about shuttles if you're staying slope-side. Free shuttles operate between lodges and restaurants.
Three runs not to miss:
1. For the intermediate skier at Snowbird, hit Lupine Loop in Mineral Basin. To get there, take the Peruvian Chairlift, then hit North America's only ski tunnel, which takes riders 600ft through the mountain and delivers them to Mineral Basin. Once there, expect spectacular scenery and a challenging green run.
2. Off the Supreme lift on a powder morning at Alta, hike out to So Long for its amazing views over the ridge dropping into Big Cottonwood.
3. For the expert skier, hit up Mach Schnell. It's one of the longest, steepest runs at Snowbird, and since it's at the end of the Cirque and doesn't see a lot of sun, it stays in great condition for days.
Bonus: There's a special run at Alta -- not always open right after the storm -- but a place where the snow stays fine because the sun never hits it. Ask a local how to get to the Castle Apron!
Dining: Serious ski food's available, from carb-heavy mountain staples to classier sit-downs. At Alta, head to the Saloon at the Goldminer's Daughter for great pizza and nachos. If you're staying at the classic 1948 Peruvian Lodge, packages come with full board. You'll find the same deal if you're staying at Rustler Lodge for a buffet breakfast and gourmet dinner, with lunch available at an additional cost. At Snowbird Center (one level down from the Tram loading area), grab lunch at Seven Summits -- it used to be members-only but is now open to the public and offers killer views. Gastropub grub and more stunning scenes are served up at The Aerie Restaurant. Three guesses as to what the big draw to the Steak Pit is... and tasty Mexican's on the menu at El Chanate.
Local brews: Started in Salt Lake City, Squatter's Beers are the brew go-to at all of the nearby Utah resorts. While some favorites (like the NW-style Full Suspension Pale Ale and Big Cottonwood, a dry-hopped amber ale) are required drinking, try an even-more-local flavor with the just-released Snowbird Dunkelweizen, a nod to your new favorite hill. Last year was Alta's 75th anniversary, so look for extra bottles of Alta Anniversary Ale to belatedly celebrate.
Après: At these hills the after-slope vibe is truly casual and easy going. Over at Alta, head to the Peruvian Lodge (locals call it the P-Dog). Here, you can gaze at the taxidermy on the walls as you sip your suds. Or go classic at the Sitzmark Club in the Lodge, where they've been serving thirsty skiers fireside since 1939. At Snowbird, the Tram Club has the most action, and is a good place to shoot stick. Wildflower Lounge, in Iron Blosam Lodge, is also a solid move. There are a handful of nondescript lounges, but for live music and a bit more fun, TC's your go-to.
Nightlife: This isn't the place to be a rock star. There are a few quiet places to keep drinking post après, but nothing nightclubby. At Alta? You'll need to head back to your favorite joint, the Peruvian Lodge, or the Eagle's Nest Lounge at Rustler's Lodge. It's equally mellow over Snowbird-way, but try El Chanate for margs and tequila shots. Then backtrack to the Tram Club, or check out the Aerie Lounge for great (though pricey!) vino and cocktails.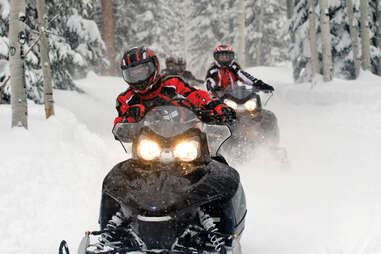 Other thank skiing/ boarding?
Soak: Escape the throngs of kids on the slopes with a dip in the Cliff Spa's rooftop pool and hot tub, which is for adults only (wink, wink).
Shoe: At Alta, try your hand at Nordic skiing or snowshoeing, with rentals available at the Alta Ski Shop.
Snowmobile: Blaze through Mineral Basin's 5000 acres of groomed trails and powder-filled meadows on a scenic tour at Snowbird.

Where to stay: At Snowbird, The Cliff Lodge is a swanky ski-in/ ski-out property with a spa and aforementioned adults-only rooftop pool, while The Lodge at Snowbird peddles hotel rooms and condo-style digs just a short walk from the Tram. The Inn also offers studios and condos in Snowbird's pedestrian village. Switching hills, the Alta Lodge (Alta's first ski lodge) has convenient ski-in/ ski-out access, while Alta's Rustler Lodge is your go-to luxe option. The comfortable Goldminer's Daughter, meanwhile, is the move if you're trying to save some cash.