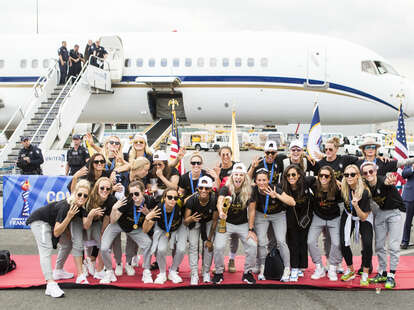 When people consider the lives of professional athletes, their minds go straight to the perks: fancy houses and cars, slick endorsement deals, stadiums full of cheering fans, and an endless amount of free sneakers. But while competing at the highest level obviously comes with a due amount of glory, it also comes with a whole lot of travel—and we're not just talking private chartered jets.
Whether they're playing for club or country, commuting to work as a pro soccer player can often mean hustling through a crowded airport to catch an early morning transatlantic flight after going 90 minutes under the lights the previous night. For Lindsey Horan, Sofia Huerta, and Kristie Mewis—US Women's National Team stars and prospects for FIFA Women's World Cup 2023 in Australia and New Zealand—it also meant squeezing in a photo shoot with hard seltzer brand Truly one sunny April day in St. Louis, all between beating the Republic of Ireland 1–0 and jetting off to their home clubs across the world later that afternoon.
And that's where we caught up with them. After sweating it out on St. Louis University's well manicured pitch posing for shots with what is now the first-ever Official Hard Seltzer of the US Women's and Men's National Soccer Team, the three sat down with Thrillist to dish on the ups and downs of a life on the road and what they've learned along the way.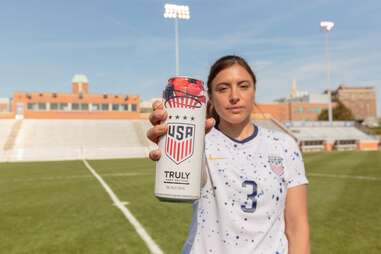 Let's get down to business. What's in your carry-on?
Kristie Mewis: I always bring compression socks because my ankles swell so bad, it just makes me feel better when I get off the plane. And I like to travel in a hoodie because you can put the hood up to rest.
Sofia Huerta: I always have something downloaded on my iPad, just so I'm preoccupied during the flight. Being from Seattle, some of the flights we have to take are so long, like six hours. I want to be doing something, so I'm not just bored.
Lindsey Horan: I always have my IPad. I binge watch shows whenever I travel.
Mewis: I like to have feel-good shows on the plane, or ones you don't fully have to pay attention to so you can kind of doze off or play on your phone. But then again, if there's a good docuseries or something like that—yeah, having extra stuff downloaded is so important.
Huerta: On the plane, obviously they serve you water, but that doesn't come as frequently as you'd want it to, especially on long flights. So I always have a water bottle. Water bottle, iPad, obviously you need a charger just in case your phone is running low.
Mewis: I always have some sort of snack just because you never know if you're going to get delayed and sit on the plane for a long time. I like to have something with chocolate in it and then something salty, because I feel like you always just want something salty when you're flying.
Horan: I always have snacks. I think people know this and use it to their advantage… but number one is probably gum. Must be spearmint.
Mewis: I also like to bring some sort of skincare, whether it's just more moisturizer or some spray. Just something, because I feel like my skin gets so gross on flights, especially longer ones. So I'll always try to wipe my face with something and just reapply something to make me feel healthy. Lately, I've also been traveling with turmeric pills, an anti-inflammatory supplement, because I just get really swollen.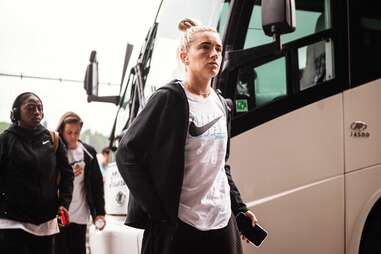 Aisle or window?
Huerta: Aisle. Because I go to the bathroom so much, I can't do that to other people. And you can put your leg out a little bit.
Mewis: Aisle. I just like to be able to get up when I want. I'm so restless, and I don't sleep that much, so I like to be able to stand up by my seat whenever I want. I hate the window, I feel trapped.
You've just boarded a long-haul flight. Are you eating the inflight meal?
Huerta: On long flights, I usually don't eat because I'm sleeping the whole time. I think it depends; if I prepped well and I ate before, I probably won't need to eat the meal. But if I'm starving and I'm like, it's free food, why not?
Mewis: I'm not a sleeper, I'm so bad. I'm so envious of you. I get bored, so I would eat the meal just to kill 20 minutes.
Where do you come down on drinking airplane coffee?
Huerta: I won't drink the coffee on the plane, but I'll get a coffee for the flight. It doesn't taste very good on the plane. I need that vanilla, know what I mean? Can't be doing it black. I need an iced vanilla latte with almond milk.
Mewis: I had her try my cold brew with oat milk the other day and she was like, "Yuck."
Huerta: Horrible, horrible.
If you have a whole row to yourself, do you automatically flip up the armrests and stretch out?
Mewis: That's the best, when you have a whole row. Just put your legs up. I think putting your legs up just makes you feel so much more comfortable. For me, I am not a neck pillow person—they're so annoying to travel with, honestly. A lot of people have blow-up ones now, and they'll be blowing them up on a plane [laughs]. I'd rather crinkle up my sweatshirt and lean on that.
Huerta: I can sleep on planes, the noise just makes me sleep easily. But I've done it before. It's good for recovery purposes to have your leg up rather than just jammed in between. And when you go to sleep and then you wake up and your arm's just like, totally done? That's the worst.
Are you checking a bag or carry-on only?
Mewis: I try not to check a bag, but when we go away with the national team, we're gone for 10 days, so we have to check a bag. But I try not to—smaller bags are obviously way easier.
Huerta: I always check, but I have not had a bad experience yet. I've never lost a bag. Have you?
Mewis: I've lost a bag, but it got back to me in two or three days. I haven't had the whole scary thing where they lose it entirely or anything like that.
Huerta: That would be horrible, losing the bag.
Mewis: And even if they give you money to buy new stuff, you have to prove what was in there! It's like, how do you even do that? That sounds like a nightmare.
Do you get to the airport early or right in time for the flight?
Huerta: I get there right in time. If I have a bag, obviously, I have to be there an hour before. But if not, I'm going right when we're boarding.
Mewis: The best thing I've done is get TSA Precheck and Clear, so I fly through. Oh, and Global Entry—I have every little thing that you could have. It's a game changer.
What's your favorite place you've traveled to, for soccer and not for soccer?
Horan: I've lived in Denver, Portland, and Paris, and honestly, Lyon is one of the most beautiful places I've lived. Definitely one of my favorites. People are so nice here, the city is very calm, [the] food is amazing—the jet lag traveling from France is the only thing.
Huerta: We were just talking about this! For soccer, it was with the youth team and I went to Japan. That was amazing. With no soccer… obviously, Mexico is nice to visit—I love going to Mexico.
Horan: Favorite place I've traveled with the USWNT? Probably when we went to London and played at Wembley.
Mewis: I loved Rio de Janeiro. We went there when I was, I think, 16 or 17. And then, for not soccer, I went to Ibiza and I loved it.
Huerta:Ibi-tha.
Mewis:Ibi-tha [laughs]. I'm obsessed with Love Island, so that's probably why we chose to go there.
What are your favorite and least favorite airports?
Huerta: Sydney airport's nice. Least favorite? Kansas City. Kansas City is so bad.
Mewis: There's literally nothing there.
Huerta: I don't like the Orlando airport, either. It's like everyone's going to Disney World.
Mewis: I hate Chicago, too, because everything's delayed. Houston's not bad, everything's updated—they have the iPads and stuff.
Huerta: "The iPads."
Mewis: The cool iPads! I like London's airport because they have all the designer stuff there. The international ones are awesome, because they have a lot of shopping.
What's your packing routine?
Huerta: It depends on…
Mewis: My mood.
Huerta: Exactly. How much I've procrastinated and how lazy I'm feeling.
Mewis: Sometimes, if I'm feeling good, I'll actually pack. But if I'm lazy and over it, I just throw crap in there and hope I packed everything. We travel so much, everything has just become second nature to me. I can't even think of things I do, because we travel so much.
Huerta: One thing I do now that I love so much is I have chargers that stay at home and chargers that come with me on the road. It actually is low-key so nice, because if you lose a charger, you're still secure when you get back home. I just put my travel chargers in one drawer. If I'm going to travel, I bring them out.
Mewis: I literally love that. We travel so much, everything has just become second nature to me. I can't even think of things I do because we travel so much, but I need to do that.
What's the absolute best thing about traveling with the USWNT?
Horan: The best thing is probably the fact that you're playing for the US National Team—we're lucky we can do what we do. We've obviously worked so hard to be here, but to be in this team and be a part of something so incredible, it's the best thing in the world.