Make Like a Queen on This Hot Solo Travel Trip to Spain
Why commit to just one pintxo bar or one beach when this town has so many options to flirt with?
There's a town in Spain so lovely, so ideal for solo travel, it's literally fit for a queen—a solo queen, no less. After her husband (you know, the king) Alfonso XII died in 1885, Queen María Cristina began visiting San Sebastián on the regular, solidifying the town as her go-to summer retreat. If you too want to make queen moves, or if you like pintxos, Txakoli (a crisp white wine), the freshest fish you'll ever eat, an architecturally striking Old Town, sun-drenched beaches and hiking trails, San Sebastián knows how to show you a good time. Pintxo bars, after all, are meant for socializing or for fun crowd watching.
This super chill, breezy coastal city in Northern Spain is a stone's throw (if you can pitch 12 miles) from the French border. While the town is Spanish, Basque Country is like a world of its own, with its own distinct culture and language (Euskara), one of the oldest languages in Western Europe. Not to worry, you can speak Spanish here, too.
Bigger European cities can be daunting, but San Sebastián is a truly walkable town with urban beaches at your fingertips. Donostia-San Sebastián train station spits you right out in the city center, where everything is a 15-minute walk or less. A dream for the solo traveler, as you can quickly ditch your carry-on at your hotel and be out and about (say, at Playa La Concha) in less than five minutes by foot. Here are a few solo-specific reasons why you should extend your trip to San Sebastián.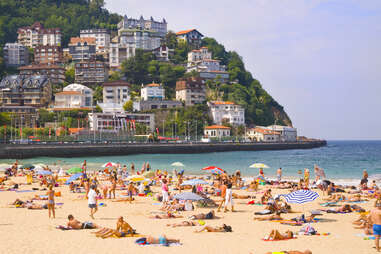 Have urban beaches at your fingertips
It bears repeating: Here, there's no getting in a car and driving half an hour to a beach. The whole town seems to be built on a long stretch of beautiful beaches. Playa La Concha is the more laid back beach situated in front of hotels, restaurants, and shops. Directly on the sand here is La Perla, a seawater therapy center in a stunning Belle Époque building, where a two-hour pass cost 22 euros.
The city also serves as the country's most iconic surf town. Zurriola Beach, in the Gros neighborhood, is the place to ride some waves. Take surfing lessons at Zurriola Surf Eskola and enjoy a txokotone (which is like a chocolate panettone) at The Loaf Boaker. It's so chill, you'll find surfers walking around the streets barefoot in their wetsuits, grabbing post-fun-in-the-sun snacks.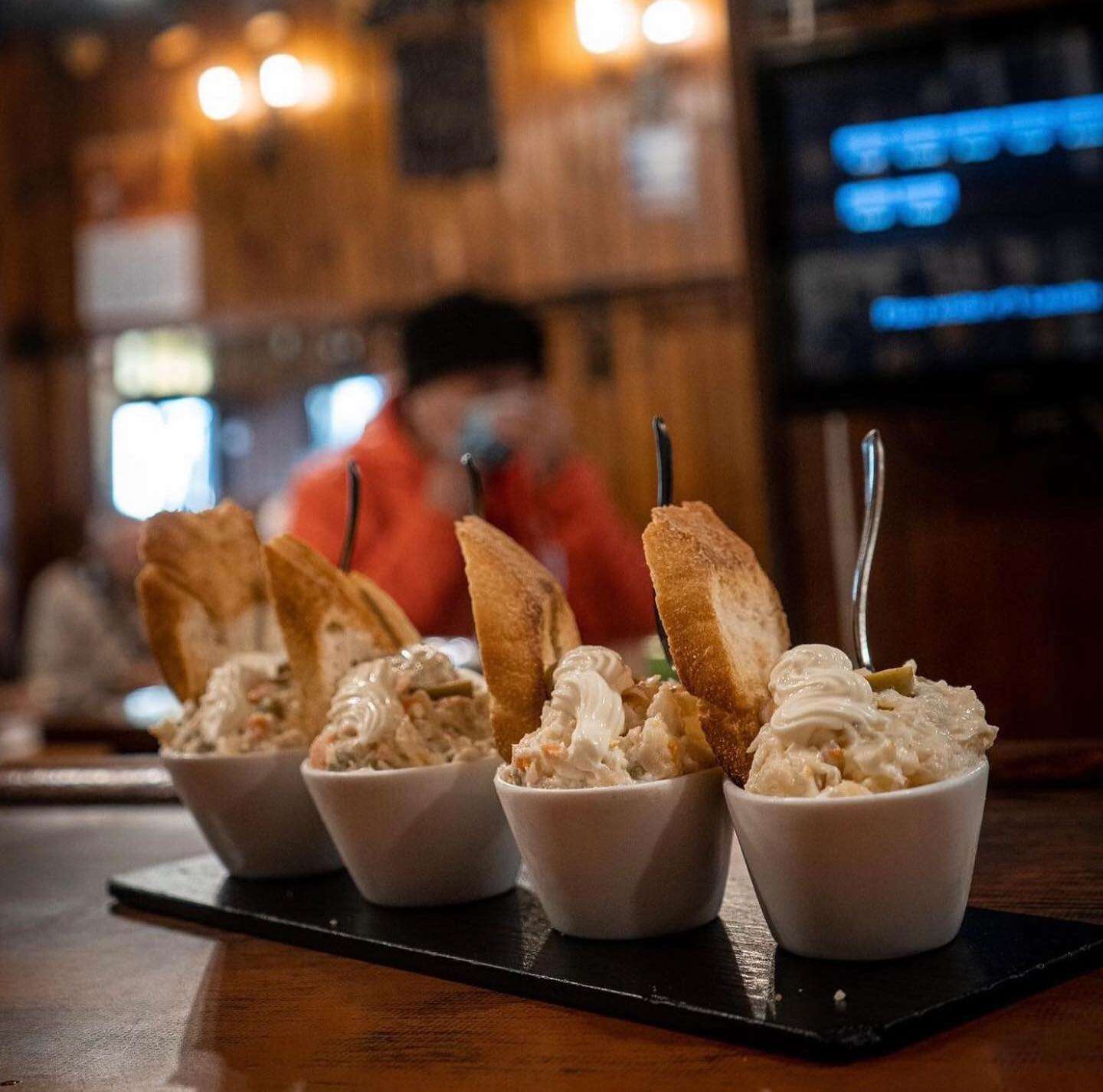 Go on a curated pintxos crawl
One word to learn and learn well is pintxos. The small, affordable, and easy-to-eat bites consist of deliciousness atop bread or served skewer-style—and there's no shortage of pintxos bars in San Sebastián. The word doesn't just signify the snack, though; it's also a cultural tradition, where locals and tourists spill out onto the streets for eats, sips, and conversation. Bar Casa Vallés allegedly invented this writer's favorite pintxo, the Gilda. Named after Rita Hayworth's salty and sexy character in Gilda, this delectable treat is made of skewered guindilla peppers, Cantabrian anchovy filets, and manzanilla olives.
Why settle down with just one spot when you can hop around to several joints? That includes Juantxo Taberna for the most incredible tortilla bocadillo (a traditional Spanish potato omelet between bread), Paco Bueno for perfectly battered and fried prawns, Tamboril for mushrooms and stuffed peppers (and anything they do with hake), and Bar Txepetxa for made-to-order anchovies with different toppings.
Every bar will offer caña (a small beer), Txakoli (the white wine of the area), Rioja (red wine… because you're not too far from Rioja), and Sidra (a refreshing Basque cider), and the sips are never more than three to four euros.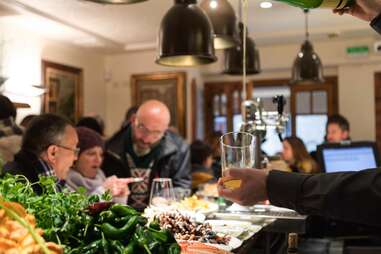 Feast on a whole dining scene that rivals bigger cities
Ganbara is also one of the best pintxos bars in the city, but the accolades don't stop there. Up top, you'll find the vibey pintxos bar atmosphere, but the real secret is scoring a table downstairs in the wine cellar, where delicately grilled hake top seasonal dishes.
The city is also home to many Michelin restaurants, but one in particular to write home about is Arzak. This three-Michelin, family-run restaurant has been around since 1897 and now focuses on modern Basque cuisine.
For something different, Geralds Bar, a noteworthy outpost from Melbourne, is a nice mix of Spanish and Italian cuisine. And don't miss out on the rotating cheese plate from Elkano 1 Gaztagune, a specialized shop that prized chefs flock to for the best cheeses in the area.
Sleep like royalty
Whether solo and on a budget or solo and living large, there's a bounty of options. Colo Colo Hostel starts at 30 euros a night(!) and offers digital check-in, pod-like beds with noise-canceling headphones, and a hip common area where coffee is always flowing.
Marisol Guesthouse is a solid in-between hostel and boutique hotel, as it feels more like a breezy beach-house with modern accents.
If you came here to live it up, splurge at Hotel Maria Cristina, the hotel named after the reigning queen. Overlooking the Cantabrian Sea and Urumea River, the hotel's striking Belle Époque architecture will have you stepping back in time. And you'll never want to leave once you feast your eyes on the welcome amenity: a Gilda pintxo enhanced with caviar.
Take a funicular to an old school amusement park on a mountain
Take the funicular up to Mount Igueldo, home to a super old-school amusement park. Built in 1912, the theme park still manages to charm both kids and adults after all these years. Yes, it does get busy, but since it's on top of a mountain, it's actually less crowded than you'd think. Once you're up there, ride Montaña Suiza, a steel railway roller coaster, over the Atlantic ocean. It's a very unique way to see the city.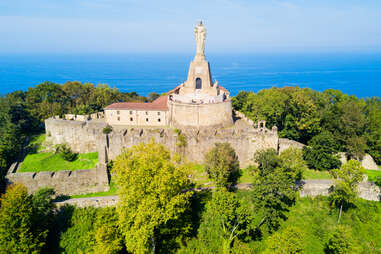 Hike to a medieval fortress
Dust off the sneakers and work off the pintxos with a hike to the most picturesque part of the city. In the Old Town Port Area, you'll find a scenic trail that leads up to Monte Urgull. The summit is crowned by the 12th-century medieval Castillo de la Mota fortress. History aside, it's one of the most beautiful spots for panoramic views of San Sebastián.

How to get to San Sebastián
San Sebastián is easily accessible via multiple transportation options. Although San Sebastián Airport (EAS) is a small airport, many travelers fly into Bilbao Airport (BIO) in Spain or Biarritz (BIQ) in France.
Taking the train, though, might just be the easiest (and most scenic) option, as it runs from most major cities in Spain. It only takes only about five hours from Madrid, and lands you right in the center of town.
Once you arrive, getting around is a breeze, as everything is within walking distance and taxis are readily available. If you need to get around by public transportation, Dbus provides a great service that connects the city center, beaches, and the Ondarreta neighborhood.
And helpful tips once you arrive
Something to keep in mind: It's always a good idea to have euros handy—this is especially true when visiting pintxos bars, as most of them only accept cash. Paying in euros will help you blend in better with the local scene, and it makes the process quicker and smoother in these fast-paced environments.
Additionally, it's important to double-check the opening times of attractions and restaurants, as the city's rhythm changes with the seasons. Some establishments may close once the temperatures drop, so it's best to plan ahead to avoid any surprises.