Just you and the Pitons.

| Courtesy of Jade Mountain Resort
Just you and the Pitons.

| Courtesy of Jade Mountain Resort
Want to Make the Most Out of Your Next Vacation? Ditch Your Friends
Whether you're into zip-lining through the trees or snoozing on the sand, there's never been a better—or cheaper—time for solo travel.
If you're planning a trip to St. Lucia's Jade Mountain Resort, odds are it's with a special someone. With each private treehouse-like room boasting an infinity pool overlooking the jagged, majestic Pitons, the resort has gained a reputation as one of the most romantic spots in the world. The suites have sundecks, whirlpool hot tubs, and one open wall letting in the stars at night. And that infinity pool? Nobody said you had to wear a swimsuit.
And nobody also said that you couldn't visit alone. In fact, now they actually want you to. In 2021, the hotel launched a "Singlemoon" deal, and while portmanteau may be a little misguided, the concept is anything but. Gifted a half-bottle of Champagne upon arrival, it's a chance for a solo traveler to unabashedly experience the luxurious property, plus get a few perks of their own, treats like a spa package featuring a manicure, pedicure, and massage, and the option to learn new skills from a list including scuba diving, mountain biking, and chocolate-making. And through it all, they can maybe even learn something about themselves (if they want to). Namely: Who needs other people?
While the concept of pampering oneself on a solo vacation is nothing new, the post-pandemic solo traveler is now a demographic to be courted, if not wooed (we'll have a glass of that Champagne, thanks). And Jade Mountain isn't the only one that's launched a package like this in the past few years. Over in St. Barths, Hotel Barrière Le Carl Gustaf has their own version—called the Alonemoon—which includes a $250 voucher to Fouquet's restaurant, a yoga and meditation class, and two spa treatments incorporating products from Biologique Recherche. And if you'd rather skip it all and simply hang out on Shell Beach, you can do that too. That's the beauty of solo travel: Nobody's going to stop you.
You've probably heard that post-pandemic, solo sojourns have been booming. Whether it's because people no longer want to wait around for family and friends to get their act together, have realized that planning a trip when there are still COVID concerns is easier with less people (read: one person), or just need a little space to breathe, the number of those opting to travel the world on their own has multiplied. And the stats back it up. Google Trends data from 2021 shows that searches for "solo travel" had risen by 761.15% over the year, and in 2022, 16% of Americans took a solo trip. 2023 is on track to surpass it, with 25% of Americans considering going it alone.
Honestly, when it comes to a fulfilling vacation, other people just muck it up anyway.
The benefits of solo travel have long been known, and touted. Going forth into the world alone builds confidence, fuels a sense of adventure, and goes far in bridging cultures. Out there alone, there's complete freedom: We see new worlds, learn new languages, and taste new foods, all on our own terms. Personally, solo travel can help us push our limits to do things we never would have thought possible. And even if something goes disastrously wrong, it can be a growth opportunity.
With a solo trip, you can also dream big. An informal text poll of my friends asking them where they would travel solo right now resulted in immediate answers. One would take the train down the west coast of Italy, another would bum around Stockholm. One would go to Monument Valley, another would geek out in Egypt, and another would "just go to Iceland and stare at puffins." (How on trend—Iceland is a top solo travel destination.)
And like with the Singlemoon and Alonemoon packages, hospitality businesses are seeing the value in the single trekker more than ever before, and they're showing their appreciation via extra incentives. So while the question, "Is solo travel right for me?" might come with an easy answer, the real question becomes, "What kind of solo traveler am I? And, what deals can I score?"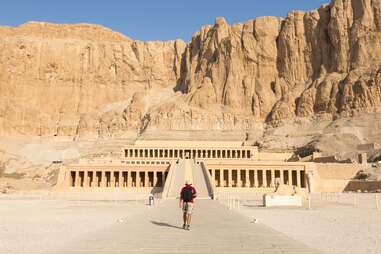 Choose your solo travel adventure
Are you the type that enjoys cruising the open seas? While past travelers were penalized for cruising solo by way of a solo travel supplement fee, more and more cruise lines are offering designated accommodations for the lone wolf, either retrofitting older ships or creating a whole singles section on new vessels. Cruise companies like Oceana, Norwegian, Royal Caribbean, Holland America, and Cunard all have this option, sometimes referred to as "studio cabins." And even if your liner of choice doesn't, you can still keep an eye out for solo deals. Currently, solo travelers on Aurora Expeditions can book without paying extra fees for select 2023 Arctic expeditions where you can do things like see the polar bears of Svalbard or bask in the Northern Lights from an open-air deck. (If you're interested, the offer ends June 30, 2023, so get clicking.) Hurtigruten also has similar limited-time deals.
Maybe you're more of a city explorer? Hotels like Omni Boston Hotel at the Seaport, which opened in September 2021, offer rooms specially designed for the individual traveler. Though cozy, images of Omni's stylish Artist's Tower rooms show ample space for storage and places to work remotely. Elsewhere, Airbnb just announced that, somewhat in a nod to its roots, they've now added a private rooms option.
What if you're into wellness? Inherent to the concept is going solo, with places like the multi-location Canyon Ranch and The Art of Living in North Carolina specializing in personal discovery though self-care. Body Holiday in St. Lucia offers a "September Solos" theme month honoring the solo traveler, where guests can either stay in a single Garden room or pay a single occupancy rate for their own double room.
Or maybe you're into pure fun. In that case, consider booking the Adult Summer Camp package at the Standard Spa in Miami Beach, with programming like curated dinners, astrology readings, live music, wine tastings, fitness classes, arts and crafts, watersports, and more, all led by a team of camp counselors. That happens August 24 to 27 of this year, and requires a three-night minimum.
But it's more likely you're part of the largest-growing contingent of single travelers: those who like to globetrot solo, but also in a group.
Out of your comfort zone, but not alone
At first it seems contradictory: Why, if you're trying to travel solo, would you book a group tour? That one's easy. With a group tour planned by experts, you're able to go to destinations far beyond your scope of knowledge without having to manage all the tricky logistics. All you have to do is show up ready to make memories.
For some, traveling with a tour feels safer than navigating the road solo. And then there's the fact that sometimes, the only way you can partake in a particular adventure is with a group, like gorilla-trekking in Rwanda. This is an option many are taking: According to Solo Traveler World, 70% of single adventurers book a tour to destinations they're not confident in going to themselves, and over half go that route because all the planning is taken care of.
Rest assured that a planned itinerary doesn't necessarily mean that you'll miss out on those lost-in-translation moments, the moments that make travel magical. "I think the misconception of group tours would be that your time is constricted, everything's organized for you, it's a canned experience, and not organic," says Radha Vyas of Flash Pack, a company specializing in group tours for solos in their 30s and 40s.
"That's the opposite of what happens on a decent group travel trip, because group travel gives you access to things that traditional solo travel can't—you just wouldn't be able to afford the kind of experiences we can negotiate," she continues. "For example, we've partnered with a private island in Finland, where you can snowmobile, cross-country ski, and learn cold water therapy from a specialist. They have a local chef who cooks amazing Finnish food, and it's the best place to see the northern lights, because there's no light pollution."
A tour group worth its salt will also have local guides on the ground that make it easier to venture off the beaten path thanks to insider knowledge, adds Vyas. Should knowing the right way to visit tribal communities be a travel goal, linking up with a group is definitely something solo roamers should take into consideration. "We can access these local experiences that will be very hard to find on TripAdvisor or Booking.com," says Vyas.
Adventure tour operator Explore Worldwide, which offers trips all over the world including cycling in Vietnam and visiting festivals in Mongolia, tells us in an email that 66% of all new bookings are solo travelers. The company also finds that "solo" doesn't necessarily mean "single." Says managing director Michael Edwards, "Solo travelers are in various stages of life. Their friends or partners are doing different things, or it's hard to get people together on the same date."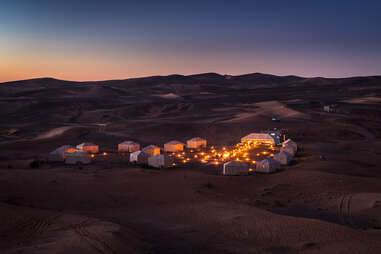 But sometimes, perhaps the goal, if only incidental, is to make friends. Based on a recent survey from Contiki and OnePoll, 35% of respondents said they have traveled solo or would travel solo in the future with the express intent of making memorable moments with new people. And this is exactly what Flash Pack focuses on. Vyas and her husband, Lee Thompson, identified a gap in the market: adventure-seeking millennials who wanted to see the world, but perhaps in a more pampered way than they would have in their 20s. "It's people that had a bit of money to spend on adventure, but wanted to do it in style and comfort and didn't necessarily have a lot of time to do it."
Vyas was also interested in the idea of travel being an antidote to loneliness, something she saw firsthand as she got older and those in her friend group started getting married. "I had family members, female family members especially, who were in their 40s and 50s and were struggling to make new friends as their social circles started shrinking," she recalls. It was a guiding force in creating her company's vision, which they call "community travel" rather than group travel. Unlike other tour groups where anyone can join, Flash Pack requires that you be a solo traveler. And as they say on their website, they obsess over group dynamics—which means if you choose to book with them, you absolutely must play well with others.
Vyas has found that coming out of the pandemic the conversation around friendship and loneliness is much different than it was just a few years ago. "Before COVID, we were capitalizing on all the trends: our lives playing out more behind screens, loneliness rising in cities, and friendship groups declining," she says. "Post-COVID, what I've noticed is that everyone really understands that meaningful connections like friendships are as important to your mental and physical health as exercising, looking after your gut biome, and having a good night's sleep."
While building a friendship in your day-to-day life might take months of making sure your schedules align for dinners or activities, traveling together is like one heavily concentrated shot. "You could go and have an amazing adventure and create memories in ten days," says Vyas.
Those memories could include ziplining in Costa Rica or paragliding in Rio, sleeping under the stars in the Philippines or snorkeling in Bali. "Somehow travel just fast-tracks friendship like nothing else," says Vyas.
But also, if you want, there's always that private infinity pool in St. Lucia.
Vanita Salisbury is Thrillist's Senior Travel Writer. She is happily well acquainted with all things solo.