Which Domestic Airline Has the Widest Economy Seats?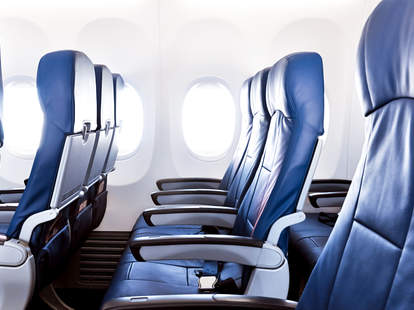 Less is more -- or so goes the thinking for most airlines when it comes to how they treat passengers in the cheap seats.
But as numerous airlines squeeze even more seats into their planes, at least one US carrier's making the flying experience a little comfier: Southwest Airlines announced Tuesday it'll offer the widest Economy seats of any US airline next year, when it rolls out its new fleet of Boeing 737-800 jets. 
The leather blue seats will measure a roomy 17.8 inches, adding almost an entire inch to the current seat width of 17.1 inches. While that might not sound like a lot, Bloomberg reports the seats will be considerably cozier than those on airlines like Alaska Airlines (where you get 17 inches of butt space) and United Airlines (where you get 17.3 inches). And if you've got any junk in the trunk, you'd know: it's always a plus to have more cushion for... your cross-continental flight.
Oh, hey, and they look like this:
Source: Southwest Image Library
In addition to more wiggle room, Southwest's improved seats -- which were designed by B/E Aerospace and unveiled yesterday at Hamburg's Aircraft Interiors Expo -- come with a moveable headrest and extra space to stow your carry-on; they're also super lightweight, and help make the plane more fuel-efficient by collectively reducing each aircraft's weight by 200 pounds! That's a Jonah Hill circa 2011-level of weight loss right there.
Before you get too excited, though, seat pitch will unfortunately stay the same, which means legroom and seat reclining wars will continue to go on. But at least, by mid-2016, there'll be wider Economy seats on Southwest's 737-800s, and by 2017, on its 737-MAX jets. 
It's one small step for Southwest, and one giant leap for customers' butts.