When you get to be about 28, your friends separate into two distinct groups: the guys who are either married or well on their way, with mortgages and possibly children, and the fun ones. With every passing year, the first group gets larger while the second one dwindles. It's as inevitable as death and Motley Crüe reunion tours.
But don't let the peer pressure force you to settle down. No, 30 is actually the time to do just the opposite and say, "Screw you guys, I'm going on Spring Break!" Sure, your friends' wives will immediately cast you as "that guy" and probably never let your buddies hang out solo with you ever again, but who cares?
As someone who's been to more Spring Breaks than weddings, I can tell you with total certainty: there's absolutely nothing better than living like you're 21 when you're 30, at least for a week. After successfully going on Spring Break for more than a decade, here are some tips I picked up along the way.
Recommended Video
This Amazing Frito Pie Is the Ultimate Texas Comfort Food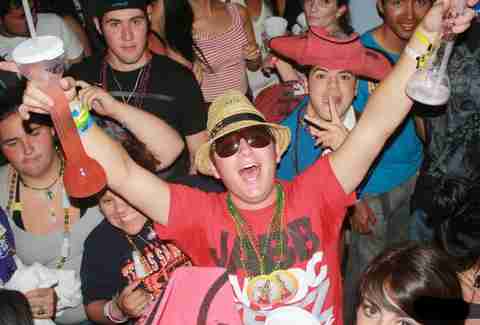 Make younger friends
If you're the type of guy who thinks of himself as the old man on the porch drinking PBR and telling anyone born after 1990 to get off your lawn, stop reading now. This isn't for you. Hands down, the best way to go on Spring Break at this advanced age is to get invited, which only happens when you have younger friends who still go.
That isn't to say you should hang out at college bars and try to pick up dudes "just as friends" -- that's even more awkward and 10 times creepier than hitting on college girls. But if you've got a job where you work with younger people, or have a younger sibling or cousin, make them your friends now. Then, when the subject of Spring Break inevitably comes up, start imparting your years of wisdom and see how long it takes them to figure out that bringing you along is probably a pretty great idea.
Talk to dudes
Lacking any younger friends, you still opt to go on Spring Break by yourself, or with another buddy around your age. And while your first inclination might be to use all the useful tips you picked up from The Game, more often than not you'll just come off looking like a random old dude who crashed Spring Break to hit on college coeds. Which you are, but nobody should know that.
But you know who DOES have an in with those coeds? The dudes.
Remember, you're not going on Spring Break to make lifelong friends who will someday be your groomsmen; these guys are 20, a lifelong friend is pretty much anyone who's a solid anchor at Flip Cup. Make some bro talk, buy a few rounds, show them you're cool, just don't even THINK about asking them if they know any women. Once you find the right group, just party with them and eventually the ladies will come around.
Get your social media game on fleek
That's cool you have a Facebook account. So does most of Leisure Village, and college kids now actually shun it in favor of Instagram, Snapchat, YikYak, and others. If you're not on at least two of those, you've officially given away your age and probably should have dropped your cash on a nice trip to Spring Training with your married friends.
Don't even mention that you have a Facebook account (or jokingly call it THE Facebook), and if you do have one, set it so nobody other than friends can find you. The last thing you need is someone getting bored, looking you up on their phone, and seeing you're from Northside High, Class of 2002. Or that you have a LOT of friends with kids. Just stick to telling them your Instagram so they can tag you in those beer pong pics with the 19-year-olds in bikinis. You can upload those to Facebook when you get back.
 
Make yourself younger
Yes, that means lying about your age. But we don't need to tell you that. What it also means is familiarizing yourself with what college-aged people are into, so that you're not aging yourself with references to Nirvana and Snoop Dogg. None of these people even saw Jurassic Park in theaters, so any pop culture reference you make from before 2010 must always be in the context of when it was brought up on Family Guy.
This also means be able to party late. In your mind, you probably remember your college self drinking six nights a week until 4am and never having a hangover. You conveniently forget that even college kids take days off too. That said, you're gonna need to channel that embellished inner-college self; you're not that much older now, but "calling it a night" at 1am after a full day of drinking -- though it might be the responsible, adult decision in real life -- is exactly the kind of choice you need to avoid on Spring Break.
Lie, lie, lie
You're in grad school. And not older than 26. If you went to grad school, it's a pretty easy lie. If you can't pass for 26 to a bunch of people who are drinking 24-hours a day, you need to invest in either some sunscreen or a gym membership.
Or, just say you're in law school; nobody's gonna ask any questions about that when they're trying to enjoy themselves. If you get the odd kid who's "thinking of going to law school" and tries to pick your brain, just say "Don't. It's a waste of time, and really brutal, and you'll have no life your first year." Because that's exactly what anyone who's actually in law school would say.
Do not, however, lie about big things like your name or where you're from. You'll inherently forget to answer to your "new" name, and if you're traveling with anyone, they will 100% drink too much and forget to call you "Topher."
 
Don't say too much
You may be highly impressed with yourself -- that you have an advanced degree, worked for five years on Wall Street, spent a year in Australia, and have a black belt in Tae Kwon Do -- but hang around one group too long and people will start to put the numbers together. Yeah, maybe you're a multi-tasking wunderkind. Or maybe you're just an old dude lying about his age. So keep your bragging to a minimum, there, Zuckerberg.
Remember your advantages
The 8-10 years or so you have of partying and ineptly trying to pick up women has taught you something. Mostly that you're inept at picking up women, but also stuff like how to pace yourself when you're drinking, and when to suggest to a woman she should probably not have that third shot of Old Crow.
You've also probably got something most kids there don't: money. Which means you have a nicer room that's NOT filled with half of Phi Delt and -- if you're in a country where booze is cheap -- you can afford things like bottle service and private tables at big clubs. Basically, you're the poor man's version of the rich old guy at the clubs who's always surrounded by strippers. But, of course, you're much better looking.
 
Bring something to the table
Did we say buy alcohol for people who aren't old enough to legally purchase it, or bring some sort of illicit substance with you that college kids might ask for? No, we did NOT. Nor would we ever give you that kind of advice, because that is the most surefire way to end up sharing a jail cell with three cartel hitmen and a family of rats. That said, it's never bad to have something that people want and can't readily get.
Avoid these phrases
You may think you're imparting wisdom on a younger generation, or just throwing around self-deprecating terms, but the more you talk about how you're older, the more they'll think of you that way and the less you'll fit in. So aside from associating specific dates with ANYTHING, never under penalty of death say any of these things:
"Just can't party like I used to"
"When I was in school…"
"Everyone just looks so YOUNG"
"You guys just don't get it"
"I'm too old for that s**t"
"That last time I went on Spring Break..."
"My friend's kid..."
"When you're older…"
"I don't drink well liquor"
"Doesn't work if I'm using condoms"
Know when it's time to dip
The internet is one mother of a cockblock. Hopefully you've decided to go to a foreign resort where WiFi is $14 an hour and people are using those precious minutes to upload pool-party selfies. But if you happen to be stateside -- or at a resort where the internet is free -- and by day two somebody asks you, "Wait, so are you 26 or 30? Because I was looking you up online and…" It is time to go. Immediately. Those resorts are small and as soon as your secret's out, you're finished.
But don't worry, your married friends still have a bed for you down the road at Spring Training.