10 Spring Break Destinations, TOTALLY EXPOSED
oneinchpunch/Shutterstock
Spring Break is an American treasure -- sure, the French might get 200 vacation days a year, but they definitely don't have an entire week dedicated to 100% hardcore shenanigans. We took a look at 10 monster Spring Break destinations and broke down everything that's awesome about them, and some of the stuff that's not awesome but that ultimately won't matter because Sprang Breeeeeak can overcome any obstacle.
1. Panama City, FL
How many bars are there? There are +/- 20 bars in Panama City. That includes Dave & Buster's, which comes highly recommended by Peter Pan. There's also Club La Vela, which claims to be the largest club in the US (it has 48 bar stations inside, so they might be right about that).
How's the beach? It's on the Gulf coast, which means calm, cerulean water and decent stretches of beach. It's not tropical, as South Florida is, but Panama City has softer sand and gentler water than East Coast beaches, such as Daytona.
Who goes there? Around 100,000 spring breakers come through annually. Colleges to look out for? Florida State, University of Florida, Auburn, Ole Miss & many others.
What's it notable for? Being a beach wilder than Daytona.
The Warren G Factor (they had to regulate): After Fox News presenter Sean Hannity did an exposé, the town proposed three, and passed two, new laws, so you can no longer drink on the beach without ID, and the bars now close at 2am. On the plus side, that means Panama City is so awesome that someone apparently considered it the most decadent place in America!
2. South Padre Island, TX
How many bars are there? There are only six bars and four liquor stores on the whole island, which means a lot of the party ends up on the beach, where it's legal to drink. The party should be on the beach anyway -- there are plenty of bars back home.
How's the beach? Similar to Panama City (READ: also on the Gulf). Calm blue waters and olive-colored sand.
Who goes there? Hotness hotbeds University of Texas, SMU, Texas Tech, Texas A&M, and pretty much the rest of whole damn state's college kids descend here (around 60,000 students annually).
What's it notable for? Okay, they didn't get Spring Breakers, but they were the featured destination in an episode of the Travel Channel's Spring Breakdown.
The Warren G Factor: During the first few days of Spring Break 2013, Johnny Law made more than 100 arrests. To date, South Padre Island averages 25 arrests a day during the holiday, so party responsibly.
3. Cabo San Lucas, Mexico
How many bars are there? There are 48 bars in Cabo, including the Baja Brewing Company, where you can sip eight different microbrew cervezas.
How's the beach? Outstanding. Majestic rocky outcroppings straddling the azure sea, and plenty of lovely sand.
Who goes there? Cabo increasingly attracts a broad swath of students. That said, no one school could claim it as their spot -- most show up via package deals, so it's more groups of friends than solid blocks of state schools.
What's it notable for? Being safe! While many parts of Mexico remain risky, the US State Department considers Cabo one of the safest Spring Break destinations in the country. Also, Sammy Hagar owns a bar here. So really you're never safe, from Sammy Hagar.
The Warren G Factor: Technically it's illegal to drink in public places (the beach, the street), but it's almost universally tolerated unless you act the fool.
4. Daytona Beach, FL
How many bars are there? There are +/- 96 bars. Not a bad number.
How's the beach? In Florida, the East Coast has tougher, greener water, and more rugged beaches. It's still a beach in Florida, but it's not as pretty as Panama City.
Who comes here? While Daytona is no longer in its Spring Break heyday, it still attracts +/- 70,000 kids a year.
What's it notable for? It's one of the few places you're allowed to drive a car on the beach, thanks to the hard-packed sand. Also, it's where the kids from Final Destination 2 were headed. Well, not finally headed.
The Warren G Factor: Alcohol is strictly prohibited on the beach and the cops have no pity for fake IDs or those they suspect of providing minors with booze. You can drink on the enormous pier though, and you're allowed to say "Beers on the Pier!" if you want to.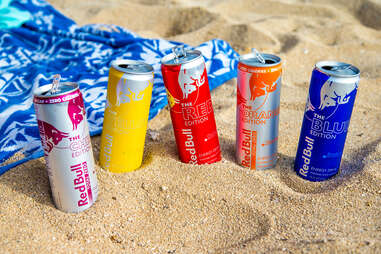 No Matter Where You Go, Don't Fall Asleep

Whether you hit Padre or Panama City, sleep is for the weak. So grab yourself a Red Bull Edition and keep your head off that pillow/sand dune. Choose the taste of Cranberry, Blueberry or Tropical Fruits, or bathing-suit-friendly zero-calorie Orange or Wild Cherry -- either way, it's guaranteed to be the one good decision you make this week.
Choose your wings here

5. Lake Havasu, Arizona
How many bars are there? There are a couple of spots in town and only two liquor stores, so come prepared, drank-wise. Unless you want to check out the Desert Bar, which is solar-powered and tré funky with handmade barstools and an abandoned church steeple (open from noon to sundown).
How's the beach? Well, it's a lake, so it's not really about the beach, it's about the awesomeness of your houseboat. But no matter, Lake Havasu is literally an oasis -- a shimmering, rippling pool in the middle of parched orange earth.
Who goes there? University of Arizona, Arizona State, both regulars in America's top party colleges polls.
What's it notable for? Last year, there was a combined double rainbow and UFO sighting. You probably won't be looking up at the sky though.
The Warren G Factor: Drinking on a boat is fine, as long as you're not driving it. If you have to, hire a Designated Captain.
6. San Juan, Puerto Rico
How many bars are there? There are +/- 60 bars in San Juan. But you should check out the ones in Old San Juan, for both the colorful Colonial architecture and short walking distance between cold drinks.
How's the beach? These are some of the best beaches in the world, surrounded by majestic royal palms and sand as white as snow.
Who comes here? Everyone looking for a more exotic trip without having to go through rigorous customs or exchange rates.
What's it notable for? Rum. Tons of rum. You can take a tour of the nearby Bacardi factory if you want to get some culture in.
The Warren G Factor: Unlike the rest of the US, the drinking age in Puerto Rico is 18.
7. Nassau, Bahamas
How many bars are there? A ton, though Señor Frog's is the Spring Break king, with 75% of their revenue coming from sales of fun-juice. The more mature nightlife scene, centered around the Atlantis Casino and its nightclub, is more established, but you can definitely do a proper sprang-breaaaaking here.
How's the beach? The Bahamas has absolutely crystalline water. It's so clear it might as well be a window into paradise.
Who goes there? It's not a traditional SB destination, but it's surged recently. According to the American Embassy, "over 200,000 U.S. citizen teenagers and young adults travel to The Bahamas for Spring Break each year."
What's it notable for? Three different Bond movies were set here, and a fourth was filmed here, with Nassau doubling as Greece.
The Warren G Factor: The Bahamas is relatively safe and the cops have a reputation for not being crooked. But keep a wary eye open.
8. South Beach, Miami
How many bars are there? It's South Beach. If there are enough nightclubs to satisfy Drake and all his old friends, then you'll probably enjoy yourself too.
How's the beach? Be prepared for a crowd, for toplessness and the occasional shutterbug-flanked celebrity. The beach itself is beautiful, but its clout makes it a glam time, so get your thong and glitter and head over, if that's what you're into.
Who goes there? It's an up-and-comer as far as Spring Break destinations go, but you already know all the famous people who end up there. Drake, and all his old friends.
What's it notable for? See above.
​The Warren G Factor: It's technically illegal to drink on South Beach, but the cops don't seem to mind as long as you don't bring glass bottles. And though 18 yr-olds can't drink, they can get into the clubs.
9. Punta Cana, Dominican Republic
How many bars are there? There are nearly 100 bars, clubs and wet hotel lobbies. Tourism has been the town's only major industry since the 1970s.
How's the beach? The beach is said to look just like a Bacardi bottle, with lazy, dangling palms. The stretches of shore are wide and the water is relatively calm.
Who goes there? Punta Cana is still relatively unspoiled despite rapidly increasing March tourism. This place is for Spring Break pioneers -- someone who wants somewhere popular, but not packed.
What's it notable for? Just being pretty, though nearby Higüey is home to a 500yr-old cathedral housing the painting "Virgen de la Altagracia." Valuable info if you're, you know, feeling guilty about something you did on Spring Break.
The Warren G Factor: Open container, beach-drinking and most other laws are pretty relaxed. Just stick to the resorts in this town and you'll stay out of trouble.
10. Cancun, Mexico
How many bars are there? So, so many, but the biggest is The City. It's the largest bar in Latin America and is often filled with more than 5,000 people. It's like its own little super-fun township.
How's the beach? The beach is beautiful. Unlike Cabo, Cancun has sand as smooth as silk and the water is a striking cyan.
Who goes there? Cancun has long been the place to go to in Mexico for Spring Break, and is still a favorite among Northeastern colleges.
What's it notable for? About a dozen years ago, the producers of the Real World released a feature length reality film called The Real Cancun. Set during Spring Break, it won the Razzies' Worst Picture and Worst Excuse for an Actual Movie awards, which means you should rent it immediately.
The Warren G Factor: Cancun is relatively safe, though there might be a bit of a plainclothes police entrapment problem involving various things that you're not going to get into any way.