Florida Is About to Unveil the Biggest Waterfront Playground In the Southeast
Florida's never had anything like this.

| Rendering courtesy of St. Pete Pier
Florida's never had anything like this.

| Rendering courtesy of St. Pete Pier
St. Petersburg, Florida, has had a pier since the late 1800s. It was like most piers: a long, empty boardwalk with a building at the end. In its most recent form, you'd make a righthand turn off Bayshore Drive onto the one long road that led out past the Museum of History, past a big parking lot on your left, another big parking lot on your right, out over the water til you deadend at the pier head, where there'd be a couple of restaurants and shops, the sort that locals only went to if they had company in town, and that was it.
The much-talked-about St. Pete Pier will finally be unveiled to the public on May 30, 2020. St. Pete has had this project in the works for a decade; it's cost upwards of $80 million.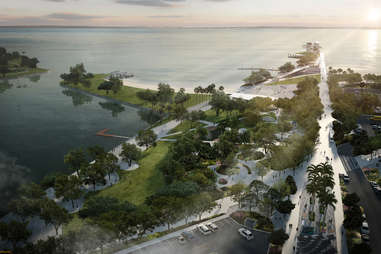 The new St. Pete Pier will span 26 acres; the largest waterfront park in the Southeast. Once you pass the Museum of History (which has been there for 100 years and is very much worth a stop) the first thing you'll come upon is an open-air market. There'll be 17 vendors to start with, all local, selling an eclectic assortment of goods from booths that are shaded from the sun by solar panels. Past that, the park area begins: leafy trees, waterfront seating, performance spaces where you can relax and watch free shows, and lots and lots of public art. Walk a little farther, look up, and you'll find Bending Arc -- a colorful aerial net sculpture, 76 feet high and 428 feet across, that billows overhead above the pier and changes shapes with the wind. You could spend an entire afternoon laying underneath it and watching it move.
"I think this is going to be our new Millennial Park, our new Central Park. and we're a city of parks," said St. Petersburg Mayor Rick Kriseman. "This new iteration is completely different … from the moment you make that turn off of Bayshore into the pier district, you're gonna have different experiences that take you along the way before you ever get to the pierhead itself."
There will be two main restaurants, plus a pavilion between the splash pad and the playground where you can get burgers and hot dogs and the like. The pierhead itself will have a grab-and-go on the ground floor where you can get snacks or a light breakfast, and on the rooftop you'll find a tiki bar with what Kriseman says is the best view of downtown St. Pete from anywhere in the city.
You'll find a Discovery Center and open-air Wet Classroom, a fishing deck, and access to prime spots for kayaking, swimming, "coastal thicket"-lined biking, beach volleyball, and ecotours along the waterfront. There will also be a massive splash pad outfitted with LED lighting and music, and a $1 million playground that's "unlike any playground that I've seen in the state of Florida," Kriseman said.
"I think the kids in our community are absolutely going to love it," the mayor said. "And that was one of the things that was really important to us in this new pier iteration, we wanted something that was not only for our tourists who are coming to visit us, but we wanted locals and families to really take advantage of this district. That wasn't something we've ever really seen before; as active and thriving as our downtown is, if you've got young kids or grandkids there hasn't been as much for them to do. There will be now."
Between visitors and residents, the most recent iteration of the pier had been getting around 300,000 visitors per year. That number is now expected to jump to something more like 1.5 million. There will be concerts, festivals, and other activities scheduled for every weekend of the year. The majority will be free.
"Whether you have $5 or $500,000 you can go out there and enjoy it; if you don't want to spend any money, you don't have to," Kriseman said. "It's like, wind me up and let me go, here! We're incredibly excited about this pier."