8 'Star Wars' Filming Locations That Make for Amazing Vacations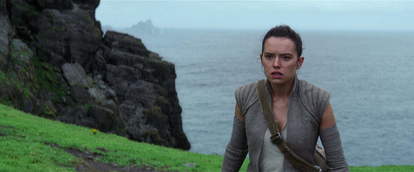 No movies more famously transport their audiences to locales far, far away than the Star Wars franchise. Now at seven* installments and counting -- and with Star Wars Episode VIII: The Last Jedi barreling toward us -- the films have been shot on a ton of green-screened sound stages... and some of the prettiest freakin' places on this planet. It's not everywhere on Earth, after all, that can stand in for remote moons in ancient galaxies. (Weirdly the prequels were great at finding amazing filming locations. Perhaps to distract from the scripts.)
Dodge pre-Last Jedi anxiety and meander along the craggy, wind-battered trails of an Irish island; look high up in wonder at the world's tallest trees; or explore pre-Columbian ruins in Central America. George Lucas may not be able to direct dialogue to save his life, but he sure knew how to scout out rad places for a film shoot.
* All right, yes, eight when you count Rogue One, and negative 1 million when you count the cultural black hole that was the Holiday Special.
Villa del Balbianello, Italy

| Circumnavigation/Shutterstock
Villa del Balbianello, Italy
Appears in:
Attack of the Clones
(2002)
Attack of the Clones
might be one of the worst
Star Wars
movies, and Hayden Christensen and Natalie Portman may have had the worst chemistry in the history of film. Still, it has its moments, especially on mute. For instance: the balcony scene with Padme and Anakin in the lake retreat of Varykino.
The Varykino scenes were mostly shot in the glacial lake retreat of Lake Como, Italy. Villa del Balbianello in Lenno is famous for its awe-inspiring panoramas of Lake Como and intricately designed terraced gardens. A bit of CGI rendering may have been added to goose the villa's interiors, but it's still a stunner that has appeared in other films, such as 2006's Casino Royale.
Open for guided tours of its exquisite gardens, Villa del Balbianello offers enthralling views. Slip into a lazy rhythm and take your time.
How to get there: Take a water taxi from the commune of Lenno.
Redwood National and State Parks, California

| elenaburn/shutterstock
Redwood National and State Parks, California
Appears in:
Return of the Jedi
(1983)
Return of the Jedi
introduced us to the ass-kicking alien teddy bears known as Ewoks, who in the final moments got their act together and helped the Rebels repel the Empire from their native forest moon of Endor.
The Ewoks might've been a shameless George Lucas merchandising grab, but it turns out they totally knew how to pick their spots: The Redwood parks in California are some of the most gorgeous natural places on this or any other planet. It's been said that both the Tall Trees Redwood Grove in the Redwood National Park and the Avenue of the Giants in the Humboldt Redwoods State Park were used as filming locations for the sanctuary moon and the epic battle sequence.
The parks, home to the legendary herculean redwood trees, are abound with walking paths, backcountry hiking trails, and campgrounds. Consider setting up camp and roughing it for a few days and nights. California's weather is absolutely perfect for sleeping outside and watching pieces of the Death Star trickle down through the atmosphere.
How to get there: Rent a car and drive up from San Francisco or Sacramento. Both cities are about six hours away.
Royal Palace of Caserta, Italy

| trabantos / Shutterstock.com
Royal Palace of Caserta, Italy
Appears in:
The Phantom Menace
(1999)
The royal residence of Queen Amidala in
The Phantom Menace
is one of the most impressive locales in the
Star Wars
universe. The Theed Royal Palace in Naboo is spectacular with its sea-foam green domes, marble columns, and grand towers set on a lofty cliff trimmed with thundering waterfalls.
Its real-world counterpart may not be as extraordinary, but the Royal Palace of Caserta is still magnificent and certainly worth a visit. It's a UNESCO World Heritage Site, for one. And it's the largest royal residence in the world by volume, featuring a Versailles-inspired garden, several beautiful fountains, cascading waterfalls, 1,200 splendid rooms, and 34 stairways including the Royal Staircase.
For less than $20, visitors can tour the royal apartments, walk the painting galleries, see the Palatine Chapel, and explore its enormous gardens. Take a languid pace, and breathe in the crisp air of the rural idyll.
How to get there: The palace is about 30 minutes away from Naples, a quick day trip. Rent a car or join a guided tour.
Matmata, Tunisia

| Anton Kudelin/Shutterstock.com
Matmata, Tunisia
Appears in:
Star Wars
(1977)
Star Wars
fans have a deep-rooted fondness for Luke Skywalker's home planet of Tatooine. It was, after all, where Luke's life of adventure started. So a visit to where it all began amounts to a true movie pilgrimage.
Impressively, the home Luke shared with Uncle Owen and Aunt Beru still stands, in a small Tunisian Berber town. Hotel Sidi Driss in Matmata served as the filming location for their home, and it's still a place worth crossing the hot desert for. The troglodyte (i.e., cave-based) hotel is also open for business, so a stay here is an option if you don't mind the modest accommodations.
As a perk, the town is a known magnet for travelers, thanks to its traditional troglodyte structures. Tour a troglodyte house, stop by the small museum, and visit with some of the locals. If there's time, also stop by the town of Tamezret, about 6 miles away.
How to get there: Take the train or a bus from Tunis to Gabes then catch a louage or group taxi to Matmata.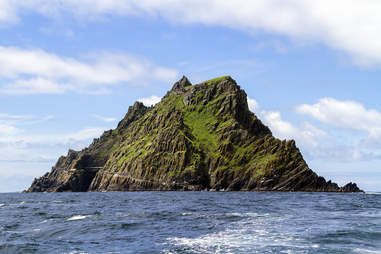 Skellig Michael, Ireland

| Austin Griffith/Shutterstock
Skellig Michael, Ireland
Appears in:
The Force Awakens
(2015)
Who could forget that last scene from
The Force Awakens
when Rey finally finds the missing Luke Skywalker on an island in the oceanic planet of Ahch-To? Everything about that moment was epic, including the rock island she had to climb to get to him.
That location is a craggy rock jutting 715 feet out of the Atlantic about 8 miles off the southwestern coast of Ireland. The untrammeled Skellig Michael, the largest Skellig island, is a UNESCO World Heritage Site and home to the ruins of an abandoned Gaelic Christian monastery from the 8th century. Mobs of puffins and gannets now live there, a spectacular sight in their own right.
A tour of this island is not for the faint of heart, as visitors are required to climb a steep and winding ancient stone staircase -- the same steps Rey had to climb -- to reach the monastery's beehive cells. The ruins and the vista from the top are ample reward.
How to get there: Several tour operators offer landing tours from May through October, weather permitting.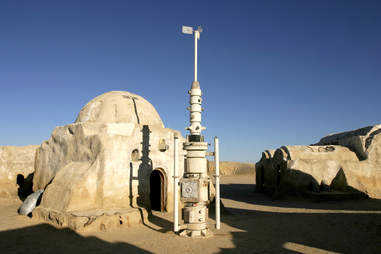 Mos Espa, Tunisia

| acceptphoto/Shutterstock.com
Mos Espa, Tunisia
Appears in:
The Phantom Menace
(1999)
The general consensus is that
The Phantom Menace is the worst Star Wars movie
ever. That might be true, but it also had some pretty dope sets, some of which are still open to visitors today. Take the site of Mos Espa, for example, created solely to be used as one of the shooting locations for its spaceport city namesake.
Not far from the famous hill of Onk Jemal outside the small oasis community of Tozeur, Tunisia, the abandoned movie set of Mos Espa is fast losing its battle with the harsh desert elements. So pop by Anakin and Shmi Skywalker's home city while you can to get Instagram snaps and tag that #SkywalkerLife.
If you're really feeling like driving under twin suns, head to the city of Tataouine -- not to be confused with Luke's desert planet of Tatooine. It's about five hours by car from Tozeur. From there, the Mos Espa filming locations Ksar Ouled Soltane and Ksar Hadada are short hops away.
How to get there: Rent a four-wheel-drive car and drive yourself, or take a private day tour, to visit Mos Espa and the other two locales.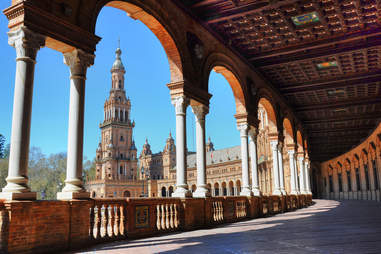 Plaza de España, Spain

| egallardo/shutterstock
Plaza de España, Spain
Appears in:
Attack of the Clones
(2002)
The Royal Palace of Caserta provided the interior shots for Naboo's Theed Royal Palace. But it was the intricate, ornate Plaza de España in Seville, Spain, serving for the exterior shots of the city of Theed in
Attack of the Clones
.
Nestled inside Seville's Maria Luisa Park, Plaza de España is a terrific example of Spanish Regionalism, boasting an excellent blend of Renaissance Revival and Moorish Revival with traces of Art Deco and lots of natural elements. Although its 1928-vintage building is now mainly used as government offices, it's still wildly beautiful and it still holds that unmistakable beauty of Moorish architecture.
Meander about in the square; take a quiet, romantic wooden boat ride in the river; and admire the gorgeous tilework of the building's Provincial Alcoves. Later, see the manicured gardens, ponds and tiled fountains of Maria Luisa Park.
How to get there: You really can't miss this sprawling plaza if you find yourself in Seville.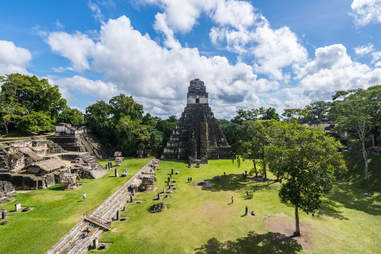 Tikal, Guatemala

| K_Boonnitrod/shutterstock
Tikal, Guatemala
Appears in:
Star Wars
(1977)
Once home to the headquarters of the Rebel Alliance and the site of one of the most significant battles in the Galactic Civil War, the jungle moon of Yavin IV plays a major part in the
Star Wars
universe. There's little surprise, therefore, that George Lucas would pick an equally important site to serve as filming location.
In the rainforest of Guatemala is the ancient Mayan city and UNESCO World Heritage Site of Tikal. Tikal's most notable landmarks are the Temple of the Great Jaguar (as known as Tikal Temple I) and the Temple of the Masks (Temple II). Beyond those two, there's so much more to see. The site encompasses more than 200 square miles of verdant land, and is imbued with many temples and complexes, as well as several altars, Stelae, and tombs.
As the site is massive, it's worth at least half a day's trip. However, some visitors stay from sunup (6am) to sundown (6pm) for the photogenic, picture-perfect panoramas.
How to get there: There are buses, taxis, and minivans from Flores and Santa Elena to Tikal.
Sign up here for our daily Thrillist email and subscribe here for our YouTube channel to get your fix of the best in food/drink/fun.

Michelle is Los Angeles-based writer, editor, and photographer with a bad case of wanderlust. Her dream, next to traveling the world, is to own her own funky, boutique hotel with a small animal sanctuary so she can spend the rest of her days chilling with cats and hedgehogs. Follow her on Instagram.