Stock Up Now, Because Extra Passport Pages Are Going Away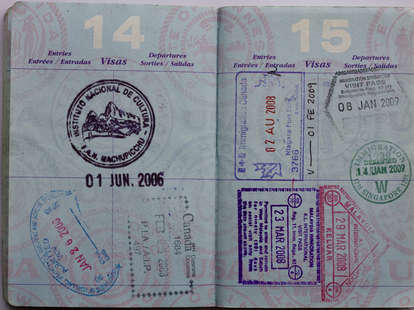 If you proudly filled your passport with stamps during your Paris study abroad (read: skipped class and hopped around Europe for a year), you already know that for $82, you can add more pages to your US passport.
But as of Dec. 31, 2015, you'll be SOL. And that's not the French word for ground. It's an acronym for a swear.
At the end of this year, the State Department is doing away with adding pages to US passports entirely. So if you fill your pages up, you'll have to get a new passport altogether. After Dec. 31, all passports issued by the State Department will have 52 pages (called the jumbo book) that last for 10 years, or until there's no space for stamps. After that, frequent travelers simply have to apply for a new passport.
In the meantime, you can stock up on visa pages; according to Allied Passport & Visa, you have until Dec. 18 to send in documents requesting the extra stamp room. As for visas from Brazil, China, India, or the US, they'll still be valid before their expiration dates; just show your old passport (with any valid visas you need to use) along with your new one. Visas from other countries will expire along with your old passport, though.
So whether you're on page 15 or 30, you might want to order more sheets now. And if not, while your visa's renewing, there are always plenty of places you can go overseas without a passport.