Travel Plastic-Free With This Handy New Map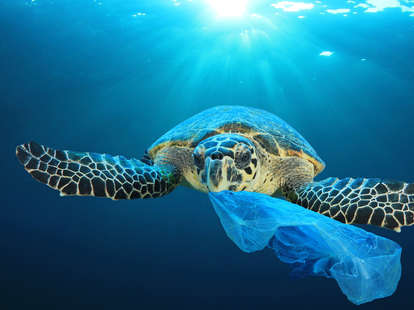 Summer travel is great for many things, but it is not great for the environment. (Traveling is generally not great for the environment.)

Case in point: Attendees at Full Moon Party in Thailand are notorious for filling the surrounding waters with trash. The Philippine resort island of Boracay had to shut down completely for six months while it shoveled out the mountains of plastic refuse left behind by tourists. Its environmental rejuvenation is now setting the tone in sustainable travel -- as are destinations across the globe, from Puerto Rico to Machu Picchu.

If, like me, your anxiety is triggered by single-use plastics, a fun new Internet Thing will help make your travel planning a little more sustainable. Shrinking your individual carbon footprint isn't always at the forefront of everyone's minds during the planning stage of the trip, but Orbitz has rolled out an interactive map of the US tracking which states, cities, parks, and hotels have banned plastic straws, plastic bags, or both. It includes national parks as well as state ones, and chain hotels as well as boutique. It also includes mentions of plans that are in the works, even if they haven't been approved yet.
The map shows that beach communities are likelier to ban plastics than are non-beach cities, but you'd kind of expect these bans to be concentrated on the coasts anyway. California has the only state-wide ban on plastic bags, with New York to follow in March 2020. Eleven states currently contain at least one city-wide ban on plastic bags, and six states have bans for plastic straws. Seven states contain cities that are leading the way with a ban on both; Washington DC has banned both, too.

"You don't have to sacrifice sustainability just because you're on vacation," said Orbitz Brand Director Carey Malloy. "Even if you are traveling to a destination without a ban on plastic bags or straws, you still have the option to help reduce waste. Las Vegas is a great example of a destination with many hotels committed to waste reduction even without a city-wide ban."

Dozens of the biggest properties on the Las Vegas trip have plastic straw bans. And several states contain a dozen or more city-wide plastic bag bans: Florida, New Jersey, Maine, Washington, Oregon, and New York. Massachusetts, meanwhile, has worked around its current lack of a state-wide bag ban by prohibiting them in more than 100 cities -- waaaay more than any other state in its position.

Remember how we can't even tell how big the Great Pacific Garbage Patch actually is? But it's at least twice as big as Texas? Not ideal! Bookmark this map as another trip-planning tool to add to your travel arsenal. Along with a reusable bag.
Sign up here for our daily Thrillist email, and subscribe here for our YouTube channel to get your fix of the best in food/drink/fun.