This Whimsical Portland Hotel Is Like a School of Magic You Can Sleep In
School may be out forever, but you can still check in here.
Is that a secret stairwell?

| Flickr/Mark McClure
Is that a secret stairwell?

| Flickr/Mark McClure
Driving along 33rd Avenue in the Portland neighborhood of Concordia, you'd be forgiven for mistaking the lengthy Italian Renaissance-style building for a school. The warm, tan exterior walls and long wings extending outward from the arching colonnaded entrance give off a familiar, scholastic air. But instead of students and teachers wandering the long halls, now it's guests in pajamas.
Part of McMenamins—a collection of Pacific Northwest hotels, brewpubs, movie theaters, music venues, and restaurants known for their whimsical artwork and decor—the Kennedy School is a former elementary school turned funky, fantastical hotel. Founded by two Portland natives, the McMenamins brand rehabilitates old, historic properties like schools or farms into eccentric, art-filled hotels.
The Kennedy School is one of the best places to experience this signature McMenamins ambiance, feeling like a school out of a fantasy novel. Think Hogwarts meets Portland's weird and quirky vibes. With colorful, hanging lanterns and light fixtures that dangle in the air, warm wood tones, low-lit hallways, imaginative artwork that seems to spring off walls, and aura of secrets and mystery, it does seem like a place where the line between reality and fantasy blurs together.
Transformed classrooms-turned-guestrooms still have their original blackboards. Class photos adorn the hallways for decoration, with workbook sheets repurposed as wallpaper. Vibrant artwork inspired by stories from the buildings' past adorn walls, doors, headboards, and other surfaces. The rooms in the newer English Wing each have a literary theme like One Hundred Years of Solitude by Gabriel Garcia Marquez.
Where the teacher's lounge once was, you can soak in a heated outdoor pool tiled in colorful ceramics and surrounded by plants. And for once, going to the principal's office is a good thing, because that's where the reception is located.
McMenamins also produces craft beer, wine, and even spirits, so each location has plenty of bars. Roaming the halls, you'll find four bars tucked into different corners of the school, including one housed in the old boiler room and another called the Detention Bar. Inside a former girls bathroom is the onsite Concordia Brewery (don't worry—it's been thoroughly cleaned and redone).
A nifty restaurant that spills out into a lush courtyard dining area has replaced the former cafeteria. Instead of sports, the gymnasium hosts live music, dances,and other events. And as if all that wasn't enough, the auditorium is now stuffed with comfy couches to lounge in for film screenings.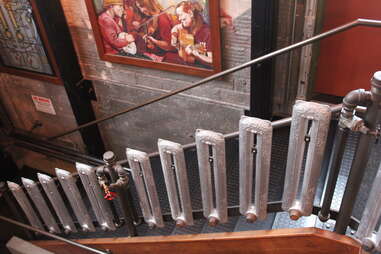 Along with its historic bones, it's the artwork and decor that gives Kennedy School the aesthetic of an actual school of magic. McMenamins' quirky artwork is the work of nearly 50 artists, and has been dubbed 'historical surrealism' since each work is based on or inspired by the building's history with fun twists.
"It's a blank canvas," says company historian Tim Hills, whose exhaustive deep dives into the history of each property uncovers stories to inspire the artists and pay homage to the building's former lives. "It's kind of an adventure, you can never guess what happened in these places."
Hills collected blueprints, old documents, photos, and testimony from former students, teachers, and neighbors, turning the information over to the artists. From paintings to mosaics to wood panels, the artwork ranges from depictions of classroom lessons to interpretations of events where the artists take a little creative liberty.
"Every artist is a little different," Hills says. "Some try to tell the story exactly how it was, others play with it."
For more background information about the different pieces, you can take a self-guided tour of the school's artwork.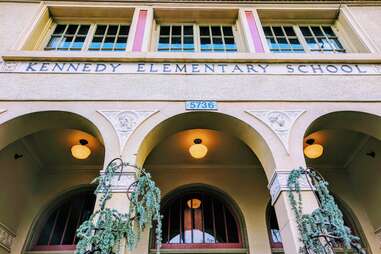 Preserving the history of the Kennedy School through its art and architecture, guests can soak up all the information during their stay without fear of homework or quizzes. First built in 1915 and named after landowner John Daniel Kennedy, the Kennedy School was also used as a community center for events like town hall meetings and collection drives. Faced with dwindling enrollment in the mid 1970s, the school was officially closed in 1975 and set to be demolished due to its poor state. Led by former students and heads of the PTA, neighborhood residents, and the Portland Development Commission, the community rallied to save the building.
"This place meant so much to residents," Hills says.
Out of several proposals to give the building new life, the neighborhood and the city selected the vision of
McMenamins founders Mike and Brian McMenamin. Purchased in spring 1997, the renovated 'school-tel' reopened later that year, ringing in the new era with the original principal's bell.
Like the Kennedy School, it's the art, excellent craft beer, and all things peculiar and strange that make Portland Portland. If you get the inclination to leave school grounds, Kennedy is a great basecamp for exploring Northeast Portland, especially the galleries, vintage stores, coffee shops, restaurants, and bars of the neighboring Alberta Arts District. You can also zip out of town for hiking and waterfall chasing a la TLC in the Columbia River Gorge.
If you find yourself won over by the Kennedy School's charms, you can check out McMenamins' 61 other properties around Oregon and Washington. At least nine locations are on the National Register of Historic Places. Their other hotel properties include the St. Francis School in Bend, Oregon, a former Catholic School with secret rooms, and Edgefield in nearby Troutdale, a (deep breath) county poor farm-turned-hotel-slash-brewey-slash-winery-slash-distillery-slash-outdoor-entertainment-venue. Whew.
Zoe Baillargeon is a contributor for Thrillist.