Photo courtesy of The Walt Disney Company
Photo courtesy of The Walt Disney Company
"Good journey."
You will hear that intergalactic greeting repeatedly even before you take the long walk down an almost brutalist, intentionally drab, concrete hallway. That leads to an elevator—er, pod—that shuttles you from the planet's surface to the spacious atrium of the Halcyon, the hub of Disney World's new Star Wars: Galactic Starcruiser.
The Halcyon is part cruise ship, part adventure, part interactive theater, part dining hall, part hotel. It is trying to do a lot of things. Rather, it's trying to do a lot of things and have them form a cohesive whole, a single story that you live over the course of a two-night stay. The end effect isn't perfect, but it's an ambitious spectacle that will make guests smile.
There has been no shortage of handwringing around the Star Wars: Galactic Starcruiser experience. Just how immersive it will be and how much it costs have been flashpoints in the echo chamber of Star Wars and Disney fandom. (A Venn diagram that increasingly looks like a circle.) That discussion, however, can pivot with the March 1 opening of Galactic Starcruiser, which lives up to Disney's oft-repeated assertion that it's a "first-of-its-kind experience."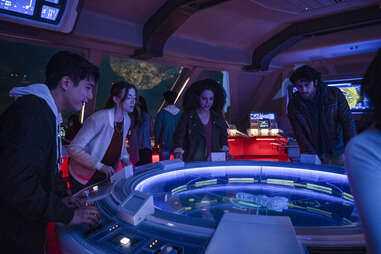 Cruise around planets
The Halcyon experience is a lot like taking a luxury cruise through the stars. Everyone who is staying for the two-day journey boards the Starcruiser at the same time. You'll eat there and get to know the crew. There's even a stop at the Black Spire Outpost on the planet of Batuu, which is really Galaxy's Edge at Hollywood Studios. That means, as part of the stay, travelers have the chance to ride both Star Wars: Rise of the Resistance and Millennium Falcon: Smugglers Run inside Disney's Hollywood Studios theme park.
The "trip" itself is housed in an unassuming building with faux windows looking out at hyperspace highways, asteroids, and stars. What is seen out the window of the bridge or your sleeping quarters changes as the story progresses. Asteroids zoom past as the Halcyon weaves through an asteroid field, and should the First Order board the ship, you'd see that through the windows as well.
In many ways, Galactic Starcruiser is the next logical step from theme park areas like the Wizarding World's Diagon Alley at Universal Orlando, which itself was the next step from the proliferation of IP-steeped rides. Otherwise known as Harry Potter World, you can walk down Diagon Alley in your dress robes and get a wand lesson before hopping on a coaster.
Aboard the Halcyon—which has not-coincidentally had its profile raised in other Star Wars media with upcoming YA and children's books, as well as a comic book series—you're getting a two-night excursion deep into the world of Star Wars. Characters flit about, each with their own plot arc that you can choose to enter or ignore. It's basically Dungeons & Dragons come to life but scripted by Lucasfilm.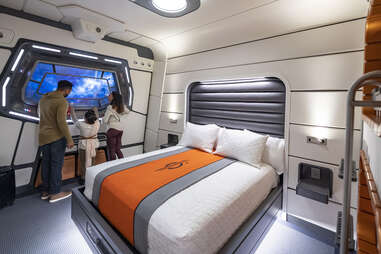 Sleep in the stars... or go on a mission
You have themed quarters with a bed and bunk beds for kids, but guests aren't likely to spend much time there and not just because many of the rooms are small. The AI-powered droid that has access to your room prompts you to take action, to join the welcome party, perhaps. Then your datapad (which were not part of the media preview, but Disney asserts that they exist and work) can send you messages from the ship's characters, who can invite you to lightsaber training, help a Wookie escape from the brig, or help a smuggler escape a First Order attack on the bridge.
It doesn't matter that most of us are more Peli Motto than Boba Fett, the calls to action are unavoidable. There are tie fighters to shoot down, concerts to see, and Storm Troopers to avoid. Unless, of course, you choose to help the First Order.
That's the crux of the experience according to its creators at Disney. You get to choose how the adventure plays out. The things you do during your stay impact what you're allowed to do next. If you don't make nice with the ship's engineer and let him know you're pro-Resistance, then you might not get his invite to help steal a First Order ship.
Though, it may overstate the case to say that you're fully guiding the story, since the experience shown to Thrillist has a very specific ending that incorporates many familiar faces from the movies. (No spoilers here.)
Or just run away from it all and have a drink, ala Han Solo
It's not all story. Scott Trowbridge, Portfolio Crew Executive at Disney, says that the stay is for "people who love Star Wars and people who love people who love Star Wars." The price tag might be steep for that latter group, but it's not inaccurate.
You can drop into the bar anytime, which offers themed beers—a Gamorrean Ale from New Belgium Brewing—as well as wine and craft cocktails like the $23 Mark of the Huntress with bourbon, peach-infused black currant, orgeat, lemon, and "sparkling bubbles." Once you have your drink in hand, you can make like a young Han Solo and plop down for a holographic game of Sabacc. (It's a card game. Don't worry. There are lessons.)
And it wouldn't be a Disney experience if you couldn't shop. There is a shop with everything you need to get dressed in the galaxy's finest duds, in case you didn't cosplay upon arrival but decide you're ready to get more in the spirit of things.
The details are what makes it special
Every detail on the Halcyon has been crafted to reflect the Star Wars universe. There aren't doors that swing because that doesn't exist in the universe, for instance. Doug Chiang, Vice President and Creative Director at Lucasfilm Creative, says that the ship provides a comprehensive view of Star Wars, calling it the first time that the original trilogy's aesthetic has fully met the aesthetic from Episodes I-III.
Even the food and drinks are painstakingly crafted to reflect a galaxy far, far away. Guests are offered a buffet for breakfast and lunch. Dinner on the first night features a sultry performance from galactic superstar Gaya, who moves about the room singing and revealing a bit more about the story. The next night features a menu that provides a taste of different parts of the galaxy, including an alluring bright blue shrimp from the jungles of Felucia, braised bantha short ribs, and brightly colored dumplings.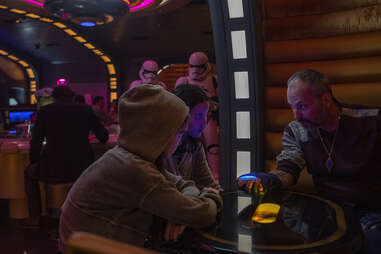 Is it worth it?
That's the question that so many people want to know, and I'm going to disappoint you. I don't know. It's complicated. It can be hard to see how decisions impact the entire trip from moment to moment, especially since it seems like the grand finale is set in stone.
Then there's the cost. It's expensive. The prices range from $749 to $1,207 per person per night. On the one hand, the sticker shock might be in part due to having all of the expenses piled up in a single tab. That price covers lodging, food, and non-stop entertainment. It might be comparable to a stay at Disney otherwise, once you add up the resort, park passes, food, etc. Though, that stay is also expensive.
So, yes, there's a bit of hedging on the question at hand. That is in part because the preview shown to Thrillist wasn't the full stay and certainly left questions about the cohesion of the experience. The AI droid—a bit of a Star Wars Alexa—is still in testing. (Though, the preview of the technology was impressive.) No datapads were used. The wristbands that provide access to rooms and terminals throughout the Halcyon were glitchy for the crew and unavailable to guests at this time.
Nonetheless, it's impossible to deny that it's a unique experience. It takes what Disney offered with the Star Wars Galaxy's Edge to an entirely new level. The Batuu of Galaxy's Edge is a dusty planet where you'd expect to find bounty hunters and smugglers. That runs in stark opposition to the Halcyon, which is—both in our world and the world of Star Wars—a luxury experience. There has never been an opportunity to feel like you live in the world of Star Wars like this. It, as an experience, raises the bar on the kind of unique experiences we will expect from theme parks in the future.