Stay in a British Castle fit for... 28 of your friends
Built in 1841 as a "gentlemen's folly", there's nothing foolish about staying in this massive Airbnb named Augill Castle. This Victorian gothic revival bad boy sits in the rural setting of South Stainmore (northern UK) and has 14 bedrooms, and thus 14 opportunities to make a gentleman's folly of your own.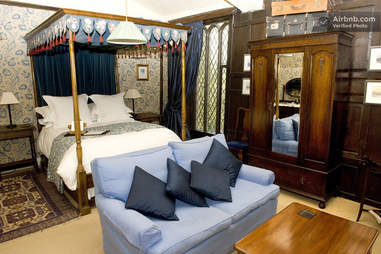 All 14 of those bedrooms have Egyptian cotton bed linens, come with their own unique artifacts (African tribal masks, etc.), and some even have their own damn turret.
Along with all the bedrooms, there're 10 baths (robes included!), and even one with a church pew opposite the "loo".
Plenty of common rooms available for cozy lounging made possible by fireplaces.
Or relax in the small "cinema" room, which actually looks like it might be as old as the castle, and barely has three dimensions itself.
Modern conveniences abound.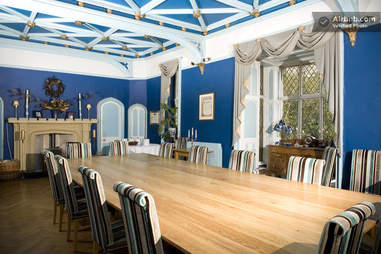 Meal out on the castle's huge oak dining table where they serve "breakfast, lunch, supper, and dinner". Wait, what's supper? Have the British been hiding a fourth meal?!
Still more working fireplaces, but those swords, they've been retired, buddy.
What kind of giant manor would this be if it didn't have a dual library and bar?
With around 15 acres of grounds, there's plenty of outdoor space to explore, and much of it houses pigs, goats, and turkeys -- something no one'd ever call you for renting a freaking castle.