Sleep in a Sacred Navajo Earth Home Near the Grand Canyon
Become one with the desert and save water for the community in this Airbnb.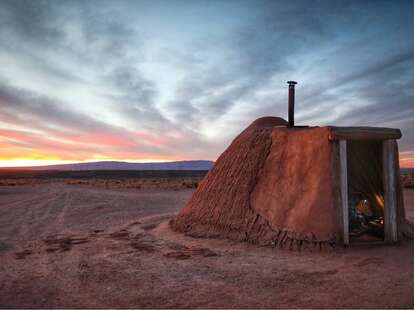 Photo by Robert Franklin
Photo by Robert Franklin
A winding road snakes along the edge of the Grand Canyon, through a piney forest, before opening up to the Arizona desert. A turn off the highway leads to a dirt road, to life off the grid. This is Navajo Nation. Here, the starry night skies are more vivid. A rounded home in the distance blends in with its reddish surroundings. Which makes sense, because the house—a traditional Navajo hogan—is made out of mud.
Hogan by the River sits in Cameron, Arizona, one of the closest towns to the south entrance of the national park. Navajo family members and the tribal community helped build this hogan with their hands in 2006, using cedar logs from the Grand Canyon and mud from a nearby wash.
There are actually two hogans on the property: a male and a female. While the female hogan is used by the family for gatherings, the male hogan is a place for ceremonies, where blessings and songs help maintain balance and harmony with Mother Earth. And this sacred male hogan is where Airbnb guests are invited to stay.
Shanna Yazzie is the one who opened up her family's homestead. When her grandmother passed away in 2016, Shanna decided to continue her legacy, following her elder's strong example of bringing life back to their culture. Along with her mother, Amelia, they sought approval from the family to open up their home to travelers, so that they could share their family traditions through the earth home.
"Not all natives live in a teepee or speak the same language," says Shanna. "We are still here and we all have our own language, ceremonies, and traditional homes."
Shanna gives visitors the option to participate in her tribe's traditional corn grinding and weaving demonstrations. During these hour-long experiences, her hands grip a stone pestle until a fine, pale yellow flour fills a mortar; or she picks through strings on a loom, until she passes the spool over to the guest. The daughter and mother duo share stories of their culture and history of the area, along with recommendations for local restaurants and shops, traditional jewelry makers, and directions to nearby attractions like Monument Valley, Lake Powell, and Grand Falls.
Here in the desert surrounding the hogan, antelope tracks are clear in the dirt. Lizards dart under rocks and coyotes sing in the distance. You might spot a porcupine, fox, or rabbit nearby. At sunrise, light stretches over a distant mesa and illuminates the San Francisco peaks further off. Nearby blue hills have survived generations of youngins climbing up and sliding down with pans and cardboard. Depending on the weather, a seasoned wash ripples with sandy ridges, or else flows with water into the Little Colorado River, crossed over by a wooden bridge.
The humble interior of the hogan provides basic needs—nothing superfluous. There are two beds, a small table with chairs, a clock, firewood, wool blankets, and some books. During cooler months, the Yazzies put a cast iron wood burning stove in the cozy room. Just outside the hogan sits an outdoor cooking stove. Like an upgraded campsite—some might say glamping experience—the space invites visitors to disconnect from the daily hustle and grind.
"I want people to experience what our grandparents lived like and what we currently still live like," says Shanna. "I wanted to keep everything simple."
In that vein, an old miners-style lamp hangs off a wooden notch—which is necessary, because there is no electricity in the earth home. And bottled water awaits, as there's no running water.
The decision not to install running water also speaks to a critical aspect of the land: water is crucial here. It's something Shanna knows all too well, as she and her cousin Emma Robbins are members of the Navajo Water Project. The indigenous-led human rights nonprofit works to bring the precious resource to homes that don't have running water, a lack that affects one in three Navajo homes.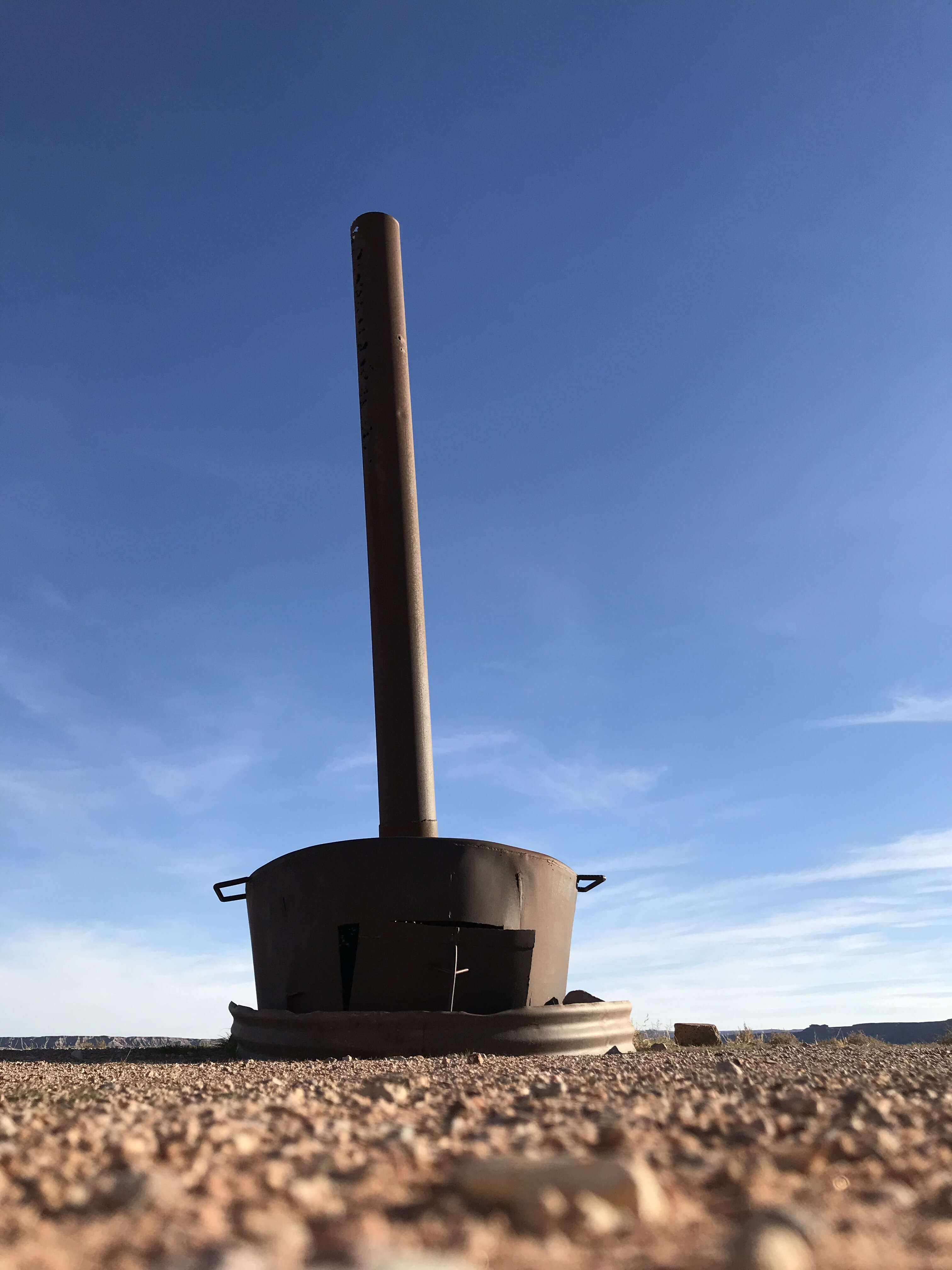 Native American households are 19 times more likely to lack running water than white households, while Black and Latinx homes are twice as likely to be in need. The Navajo Water Project has helped more than 300 homes since 2014, and are expanding their work to the 44 million people in need across numerous states in the US, as far as Texas and West Virginia.
"I think I would be part of the Navajo Water Project even if I wasn't employed," says Shanna. "I feel like it's our responsibility to help other people get the essentials, such as water. I feel like I'm not working, but I'm doing what needs to be done."
Shanna's home reflects this need to provide the essentials, respect those in need, and connect with the surrounding nature—a nature that's so seemingly endless out in this middle-of-nowhere land full of stories and possibilities. Our family has gathered in this area numerous times to help our community, reunite and share laughs, and learn the traditions from our elders, which we pass down and preserve in this hogan.
Ashley Franklin, Diné, is Hashk'ąąn Hadzohí (Yucca Fruit Strung Out) and born for Táchii'nii (Red Running Into the Water). She is a writer for Thrillist.