The Rocky Mountain city of Steamboat Springs, Colorado, has a gutsy reputation to uphold. It's a rough-and-tumble cowboy town to be sure, but instead of outlaws, it has daredevils on skis. Dubbed the ski jumping capital of Colorado, it's produced more Olympic athletes than almost any other city in America. But Steamboat is never rowdier than during its annual Winter Carnival, when men on shovels are pulled behind horses through snowy streets, skiers jump through hoops of fire, and a high school marching band glides through town on (you guessed it!) skis—all culminating in one of the largest fireworks displays in America.
The idea of a winter festival isn't unique to Steamboat Springs, which sits in Yampa Valley, three hours northwest of Denver. The season's cold and darkness have a way of making people crazy, and events like Montana's Cabin Fever Days or Minnesota's Great Northern Festival help cooped-up residents blow off steam. But you've never seen anything like Steamboat's Winter Carnival, which has continuously run during the second week of February for more than a century. This year's event is happening February 8 to 12, and it's sure to be a wild time.
A historic celebration
The Winter Carnival originally started with ski jumping and cross-country ski races in 1914. It was a way for locals to beat the cold weather blues and avoid cabin fever, explains Sarah Floyd, who coordinates the event with the Steamboat Springs Winter Sports Club. February snow totals in Steamboat typically measure several feet, so it's understandable that folks tend to get antsy. "The events were organized to bring the community together during the long winters," says Floyd.
Speaking of the Winter Sports Club, it's actually the oldest ski club in the western United States, responsible for more than 100 Olympic athletes who have made 179 appearances in 21 Winter Games. So in case you're wondering... Yes, the Winter Carnival can get pretty competitive.
Today, the festival has expanded beyond its original offerings. More than 800,000 pounds of snow are trucked into the center of town, covering Steamboat's main street, Lincoln Avenue, for head-to-head races. Thousands of spectators and hundreds of participants converge on the city for the occasion, with racers competing on both streets and mountain slopes for bragging rights in the categories of Alpine, Nordic, and freestyle skiing, as well as snowboarding.
Cheap skiing and thrills
Competition aside, both advanced and beginner winter athletes will find plenty to do in Steamboat Springs during the carnival. Most of the party revolves around Howelsen Hill, a municipally-owned mountain where lift tickets only run $43 daily for adults, and are free on Sundays with an advanced reservation all winter long—that's right you pay nothing for a full day on the slopes. Howelsen Hill is also home to Steamboat's ski jumping facility, where you can see jumpers take daring plunges above the town throughout the carnival.
While skiing is inexpensive all winter, it's even cheaper during Winter Carnival. You can gain entry into the event and score free skiing at Howelsen Hill for the entire week by purchasing a $10 button ($12 online) or a $15 neck gaiter ($17 online). Each contribution is a donation to the Steamboat Winter Sports Club, and the buttons are somewhat of a collectors item.
This year's button was designed by a 14-year-old Steamboat resident Davis Brosterhous, and depicts a view from the foot of Howelsen Hill. "I train at Howelsen Hill multiple days a week, and the hill plays such a huge role in our community and Winter Carnival," he says. "Howelsen Hill is a big part of life for skiers, locals, and the whole town, and why it was my inspiration for the Winter Carnival this year."
Street races and parade
From ski jumping jamborees to snow sculpting and firepits with free s'mores, the Winter Carnival is a week of activities designed for all ages. But if you only have a few days to celebrate, come for the weekend. That's when the town throws down for some of the carnival's biggest events, including the street races, parade, and firework extravaganza.
Saturday kicks off with 100-meter Nordic ski sprints down Lincoln Avenue, and anyone with a pair of skis can sign up to compete. There are multiple heats and age divisions, and medals are even awarded to the fastest kids. The races are followed by an entertaining show featuring ski and snowboard stunts like street slalom, donkey pulls, and the famous shovel speed races, in which grown adults race on shovels pulled by horses.
Steamboat also has the designation of being home to a high school marching band on skis. The local high school slides (and sometimes takes spills) along the street, performing overtures and ballads galore.
The Lighted Man
You'll definitely want to hang around for the carnival's grand finale, because Steamboat gets lit on Saturday night. Join the revelry at Lincoln Ave's bars and restaurants, like The Barley Tap and Tavern and Old Town Pub, do some top-notch eating at Latin eatery Bésame, or gorge yourself on oysters, champagne, and an epic seafood platter at Primrose. When you've had your fill, head back to Howelsen Hill for the Night Extravaganza—and keep an eye out for the Lighted Man on Skis.
The Lighted Man on Skis has been a Steamboat tradition since 1936, when a man named Claudius Banks skied down the mountain wearing more than a hundred pounds worth of battery-powered lights. Today, the Lighted Man is a fixture at the carnival, though their suit is now covered in lightweight LEDs. You never know what you'll get from each year's Lighted Man; some people have even been known to strap 32-inch Roman candles to their backs and jump through fiery hoops.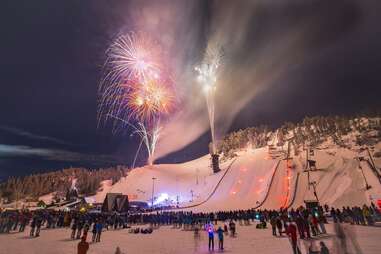 Alongside the Lighted Man, hundreds of athletes from Steamboat Springs Winter Sports Club work together to put on a dazzling performance with flares, sparklers, and lights. The show is followed by a truly massive fireworks display, an explosive end to a thrill-filled week. The carnival wraps up on Sunday—but just until next February comes around, of course.