What to Do if You Get Robbed Abroad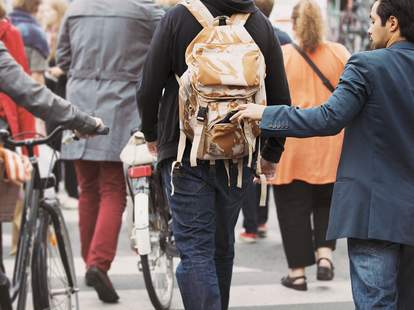 You're in a foreign country. You don't speak the language. And, if this was one of those crazy "mayhem is everywhere" insurance commercials, you just got your pocket picked. Or worse, mugged at knifepoint. Your passport, your cash, your frozen yogurt rewards card -- all gone! What do you do?!!?!?
Other than not panic, cry, or curl up in the fetal position, that is. We spoke to a State Department official and the answer is simple: follow these six steps.
Okay, actually seven, because this is a quick list of what you should pack BEFORE you leave on your trip (and keep in a safe place while you're traveling):
Color copies of your passport. At minimum, one for your luggage (or the hotel safe), and another to leave with a friend back home.
Extra passport photos 
A list of emergency contact phone numbers, since nobody even remembers their parents' number any more
A list of international 800 numbers for your bank and credit cards
A list of the US Embassies/Consulates (with addresses and phone numbers) in the countries you'll be visiting
A cheap second wallet or one of those hidden travel pouches. Split your credit cards, cash, and other IDs between two wallets – one that you carry and one left back at the hotel.
Extra cash, stashed in the hotel safe
A copy of your travel itinerary

Now, on to what you should do AFTER you get robbed...
 
1. Cancel your credit cards ASAP
This might seem like a no-brainer, but it can easily be forgotten in the heat of the moment. Head back to the hotel -- unless you're carrying your handy list of credit card phone numbers and they didn't also steal your phone -- and immediately contact your bank and credit card companies. Cancel those cards before your mugger starts his spending spree.
 
2. File a report at the nearest police station
Before going to the US consulate, hit the police station and report the crime to local authorities; having an official police report will help corroborate your story should someone try to use your passport illegally. It's also helpful when requesting a new passport and/or filing a claim for travel insurance.
3. Contact the nearest US embassy or consulate
Now you can go find the nearest embassy or consulate. State that you're a US citizen and ask to speak with a consular officer, or someone in the consular section. There's a good chance you'll need to schedule an emergency appointment, so best to call ahead from the hotel after canceling your credit cards.
 
4. File a lost-passport statement
While the consulate might ask for a copy of the police report, they'll also require that you to make an official statement, either verbally and under oath, or in the form of this DS-64 statement. Your passport will be invalidated immediately upon making this statement, thus preventing some Bulgarian dude from using your identity to smuggle a crate full of parakeets into the Ukraine, or something like that.
5. Apply for a new passport
Assuming you were smart and had a color photocopy of your passport tucked away back at the hotel, you're ahead of the game. The consulate will need some sort of documentation -- to make sure you are who you say you are -- in order to provide a new passport. If you don't have a copy and ALL forms of identification were stolen, consular staff can help you contact friends and family back home to help track down your birth certificate or social security card.

What you need to get a new passport:

The consulate will also need your travel itinerary, in order to determine whether they should issue you a full passport, or a limited-validity passport. If you're headed home within the next few days, you'll be given an emergency passport; it takes about 24hrs to obtain and must be turned in as soon as you arrive back in the US. If there's more traveling to be done, you'll be issued a new passport, valid for 10 years. It's coming from the US though, so it'll take a few days to be printed and shipped.
Also, since you're both the victim of a crime and most likely out of cash, you won't be charged the usual $135 fee for a full replacement passport. If you get a limited-validity passport (which are free), however, you will have to pay the $135 when you return home and apply for a new, replacement passport.
NOTE: While there are officers on duty in case of emergency, most consulates are closed and can't issue replacement passports on weekends or holidays.
6. Get some cash
There's a term for someone in a foreign country who can't access their money: "Citizens who are temporarily destitute." Basically, you'll have to call your bank to have money wired and/or spam your friends and family and hope they don't mistake you for a Nigerian prince. The consulate can help you navigate the local money transfer services and fill you in on which are reliable, have offices nearby, and charge the lowest fees.

Sophie-Claire Hoeller is Thrillist's associate travel editor, and is convinced she did something bad in a previous life that's cursed her to always fly within three rows of a screaming child. Follow her @Sohostyle