The World's Weirdest Museums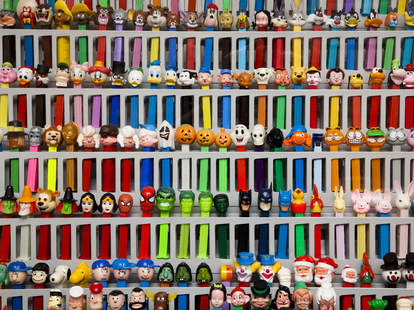 Most of the museums your parents dragged you to as a kid were, in hindsight, built around some fundamental themes. Check Out the Many White People in Renaissance Painting was a pretty common one. Learn About Science by Looking at Taxidermy was another. Maybe if you were lucky you got Here, Touch This Glass Ball Full of Lightning and Make Your Hair Stand on End.
As you got older, you came to appreciate the wider array of museums. Yes, you can still contemplate Greek sculptures at the Met, or Pollocks at MoMA, but on a fifth date you're better off taking bae to the Museum of Sex's bouncy fun room of inflatable boobs. Turns out grown-ups are the ones who curate museums, and their tastes can skew weird. Whether you're into lunch boxes, toilets, torture, or 93 different types of dicks, there's a strange-ass museum out there for you.
National Museum of Funeral History
Houston, Texas
Nobody in history has ever claimed to be enthralled by a funeral. But this museum makes the entire human concept of honoring and burying the dead an entertaining way to spend a few hours. The 35,000sqft museum has exhibits showcasing papal burial artifacts, historic hearses, presidential funerals, and the history of embalming. It's also home to celebrity funeral items from the likes of Elvis and Michael Jackson. For the kids, there's a collection of fantasy coffins from Ghana shaped like all sorts of adorable wild animals.
Iceland Phallological Museum
Reykjavik, Iceland
Prepare for the giggles. The place is a shrine to the penis -- from 93 different animal species -- as well as penis-related artwork, phallic toys, and other artifacts. It's like a bachelorette party blew up and was preserved in glass cases and formaldehyde. It's surprising that Porsche of Reykjavik isn't located directly next door to this place, for all the purchases the 6ft blue whale penis on display could trigger.
Big Mac Museum
North Huntingdon, Pennsylvania
The Big Mac is truly the great American guilty pleasure. Even self-proclaimed foodies at some point have declared, "Know what? I could go for a Big Mac." So it only follows that the man who invented this marvel should found a museum devoted to its greatness. Here Mickey D's franchisee Jim Delligatti -- credited with the burger's invention -- has the world's largest Big Mac (a 14ft-by-12ft plastic replica) along with a state-of-the-art Big Mac map and a detailed history of the meal. Wouldn't you know, the museum is also a fully functioning McDonald's. 
Torture Museum Amsterdam
Amsterdam, Netherlands
You know how when you're driving home on a Friday and somebody wrecks their car, you describe sitting in a stopped air-conditioned car for two hours as "torture"? Well, at least you didn't have metal spikes slowly screwing into your head. This museum in Amsterdam honors the disgustingly inventive things humans have invented to make each other miserable. There's artwork, sculptures, and full replicas of devices that'll make you wonder how seriously f-ed up people were 500 years ago. And will definitely have you rethinking the words you use to describe rush hour.
International Banana Museum
Mecca, California
If Bubba had come from Central America instead of Louisiana, that scene form Forrest Gump would have sounded like the inventory of what you'll find here. Banana lotions. Banana soap. Banana perfume. Banana squirt guns. Banana staplers. Basically, if you can put bananas in it, or make it look like a banana, it's here. All told, it houses 18,000 items, which means you'll work up a powerful thirst walking through it all. Fortunately, there's a juice bar in the museum. (Banana smoothies...)
Paris Sewer Museum
Paris, France
Though a summer trip on the Paris Metro could also be described as a trip to the sewer museum, the city -- which developed its first sewers around 1200 -- has opened up 1,500ft of the system to visitors, complete with sidewalks and display placards. The smell isn't as horrific as you might think, and if you're willing to breathe only through your mouth for an hour or so it's a fantastic way to learn about a side of Paris you'd never have thought about.
Kansas Barbed Wire Museum
La Crosse, Kansas
Though you may take it for granted as just "that stuff the crazy old man at the end of the block uses," barbed wire has made a significant contribution to American history. Think about it: how else could you mark property lines while also directing cattle to do a U-turn? Learn how barbed wire helped settle the American West and made World War I even worse, here in a city that dubs itself the "barbed wire capital of the world." Though it has competition. Because Americans just can't get enough barbed wire education, there's actually a SECOND museum dedicated to barbed wire in McLean, TX.
Condom Museum
Bangkok, Thailand
This museum buried in the Thai Ministry of Public Health next to a sewage treatment plant is just one of the many long, confusing journeys in Bangkok that might inspire you to question your life choices. Yet it's one of the great off-the-beaten-path finds in the country, full of condoms dating back hundreds of years, as well as some funny old condom ads and sex-toy displays. It's also home to a room where the strength and endurance of various condoms are tested. A veritable Consumer Reports of prophylactics right before a big trip to Patpong.
Burlingame Museum of Pez Memorabilia
Burlingame, California
Maybe Tic Tacs would have their own museum too, if only their inventor had thought to package them with dispensers that look like Tweety Bird. As it is, Pez stands alone as the king of candy-dispensing collectibles, and Gary Doss has collected nearly 1,000 of them. Seven-foot Pez snowman? You know it. Donkey head dispenser made for JFK? What Pez museum would be complete without it? And if looking at Pez dispensers doesn't effectively fill your day in Burlingame, the Banned Toy and Classic Toy Museums are in the very same building.
Momofuku Ando Instant Ramen Museum
Osaka, Japan
Though at some point we've probably all referred to our kitchen pantry as "The Great American Ramen Museum," one actually exists in Osaka, named after that glorious dry noodle's founder. Here, a two-level re-creation of Tokyo's Shitamachi district contains exhibits and interactive experiences for all things ramen; from making your own fresh noodles, to seeing every creation Nissin ever came up with, to trying all sorts of house-made varieties. Admission, sadly, is more than 19 cents.
Lunch Box Museum
Columbus, Georgia
As you stand back and take in the 3,500+ lunch boxes amassed by founder Allen Woodall, one can only think, "Man, that's a lot of Shark Bites." This museum is not only a trip down memory lane, but an education in the subculture of collectible lunch boxes. For example: of all the logo-embellished lunch boxes you've seen over the years, only 450 of the metal originals were produced with custom designs. And this museum has at least one of all of them. This is a mecca for anyone into kindergarten nostalgia -- or with a curiosity to see what a $2,500 lunch box looks like.
Barney Smith's Toilet Seat Art Museum
San Antonio, Texas
Proving that anything can be a "museum" if you fill it with the right stuff, master plumber/artist Barney Smith has bejeweled his garage with ornately decorated toilet seats. And not like the pink, frilly carpet your grandma decorated hers with. Smith's seats are covered with legit stuff: railroad spikes, maps of the world, original paintings. Though it's absolutely unlike any other art museum in the world, if you want to actually learn about toilets, you're going to have to travel a little further.
Sulabh International Museum of Toilets
New Delhi, India
New Delhi is one of the best places in the world to see how people disposed of waste before the advent of flush toilets. It's also home to this museum, where you'll learn about the 4,500-year history of human waste disposal, as well as see some of the most extravagant, unusual, and spectacular toilets in history. It's part toilet education and part social statement, as the founder created the museum as a way to educate Indians on the importance of public sanitation.
Sign up here for our daily Thrillist email, and get your fix of the best in food/drink/fun.
Matt Meltzer is a staff writer with Thrillist who still has a California Raisins lunch box. Follow him on Instagram @meltrez1.