Incredible Street Murals Around the World You Have to See
Your city is a canvas. Whether you choose to use it as such -- whether you're part of the paint, or just part of the fabric -- depends on whether you see the world as an artist does. In neighborhoods all over the world, beautiful, provocative street art pops up continually. And then, like, that, it disappears. Because when your canvas is the city, there's always going to be a new exterior coat of paint -- or a wrecking ball -- to make your work a memory.
To capture the great wall art standing now, author Ed Bartlett set out to find the best and most provocative street art from around the world. The result is Street Art, a new Lonely Planet book that offers a snapshot of what's going on on this big blue marble in 2017: earthquake recovery in New Zealand, gender equality in Latin America, Brexit. It's equal part aesthetic appeal and historical reference. In the interview below, Bartlett explained to us a little about some of his favorite pieces and the artists behind them.
Lisbon, Portugal
Artist: Telmo Miel
A lot of murals try to use context, the city or the neighborhood, or whatever, as part of a mural. So they make these kind of surreal images to fit the space. This isn't a big, confrontational piece, but it's community focused: The girls in the picture are wearing these big, oversized shirts, there's shirts hanging on the lines. These residential areas can be very dour and to have it brightened up by a mural is amazing.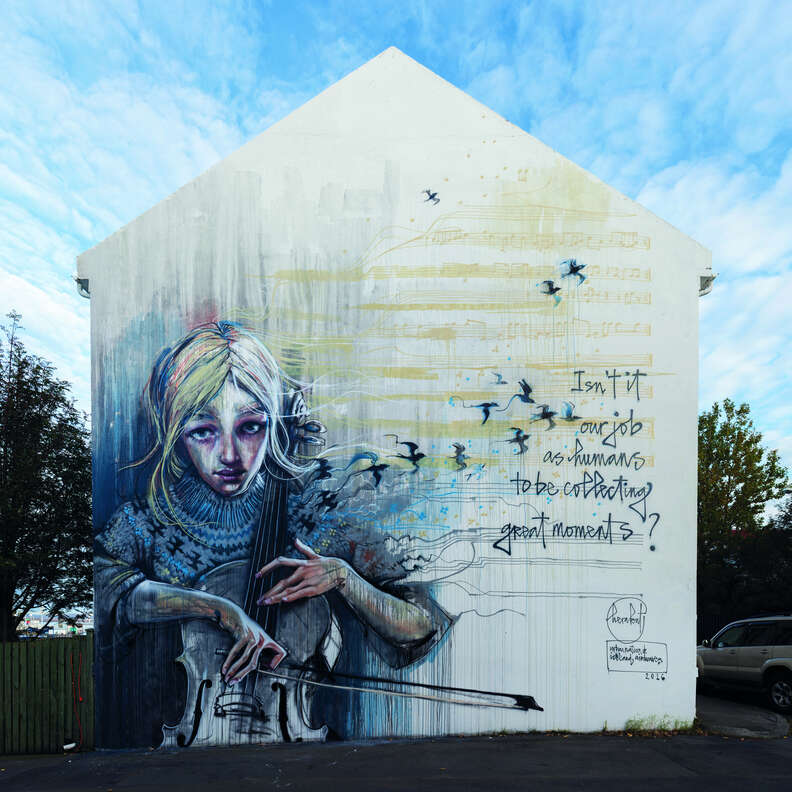 Reykjavik, Iceland
Artist: Herakut
Reykjavik, Iceland
Artist: Deih
This was a collaboration between artists and musicians for the Airwaves festival, so all these pieces are based on musical lyrics. It's called wall poetry. Most of the acts involved were Scandinavian but there were some big, Western acts like Mercury Rev and Warpaint.
Rome, Italy
Artist: Jaz/Franco Fasoli
Jaz comes from Buenos Aires, and his work is all large-scale figurative stuff about the political landscape in Buenos Aires. A lot of it is cultural, conflict, pop culture, conflict, and local traditions, but it all links back to South America. Rome is where gladiators came from, but these are lucha libre masks, so it's a South American twist on that.
Buenos Aires, Argentina
Artist: Telmo Miel
This is the same artists as the two girls in Lisbon -- again you can see that surreal take in a residential neighborhood. It's South America, so you've got the horse and the cowboy, a traditional thing they're mixing up in a more contemporary, abstract way.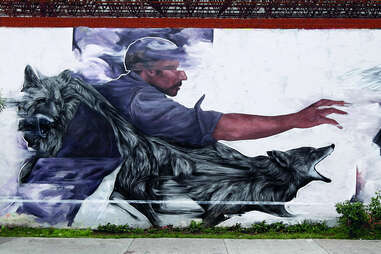 Mexico City, Mexico
Artist: Evoca1
The impressive thing here is that this artist from the Dominican Republic is completely self-taught. He has no formal training.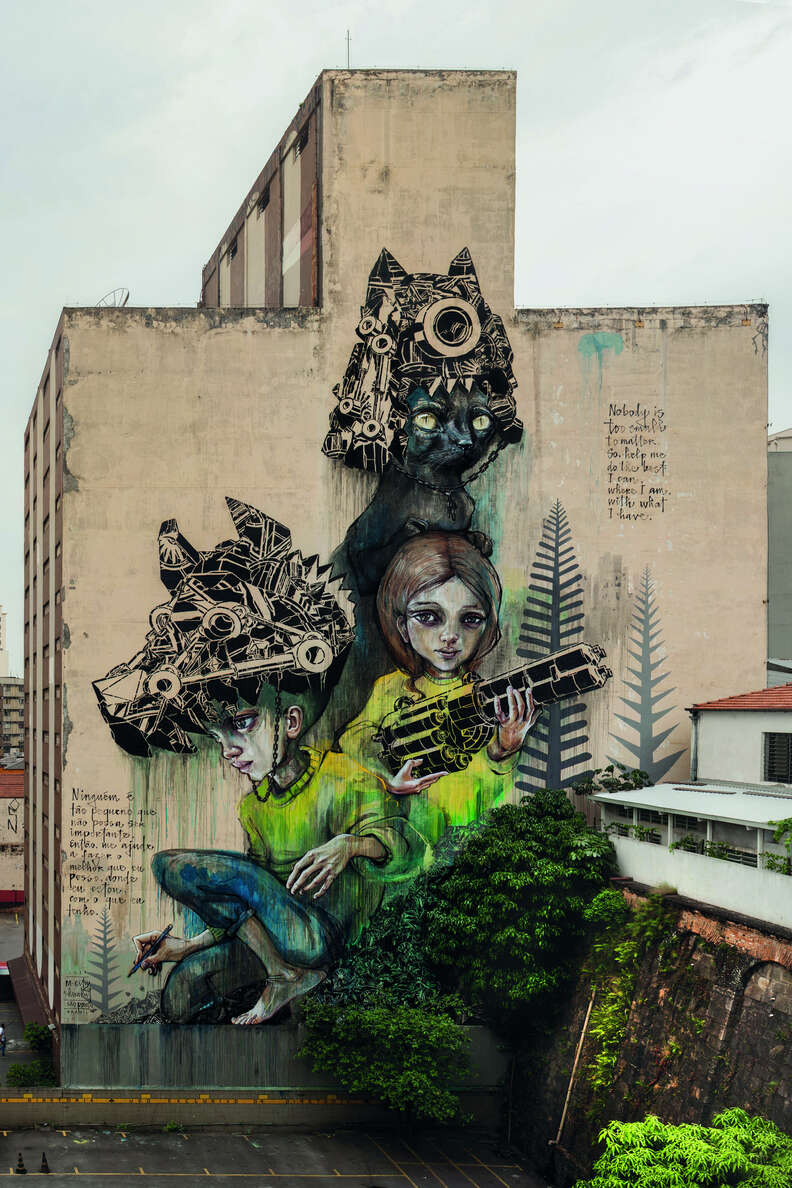 Sao Paulo, Brazil
Artist: Herakut
Herakut is a guy and a girl whose art is very politically or culturally motivated, with text included with some kind of message. Here it says, "Nobody is too small to matter. So, help me to do the best I can, where I am, with what I have." Which is again repeated in Spanish at the bottom. A lot of work they do involves body image, which is one of the issues Jasmine (the female half of the duo) is very keen on.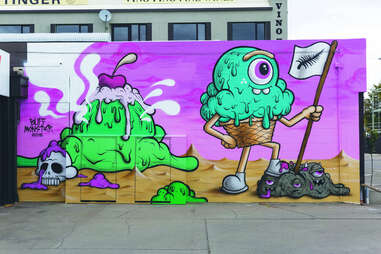 Christchurch, New Zealand
Artist: Buff Monster
In Christchurch 8,000 buildings were destroyed in the center of town after the 2011 earthquake, and this art was the first real sign of regeneration. They used this street art project to regain a sense of the city and the people and progress. This whole project is one of my favorites, how such a positive thing can come out of adverse conditions. Shows the strength of creativity and street art.
George Town, Penang, Malaysia
Artist: Ernest Zacharevic
This artist is dubbed the local Banksy because he does site specific stuff that utilizes the environment. It's very playful work. The interaction of the art and the environment is key in his work; you'll often see a real object with a painted person or some sort of thing interacting with it. You don't see that very often.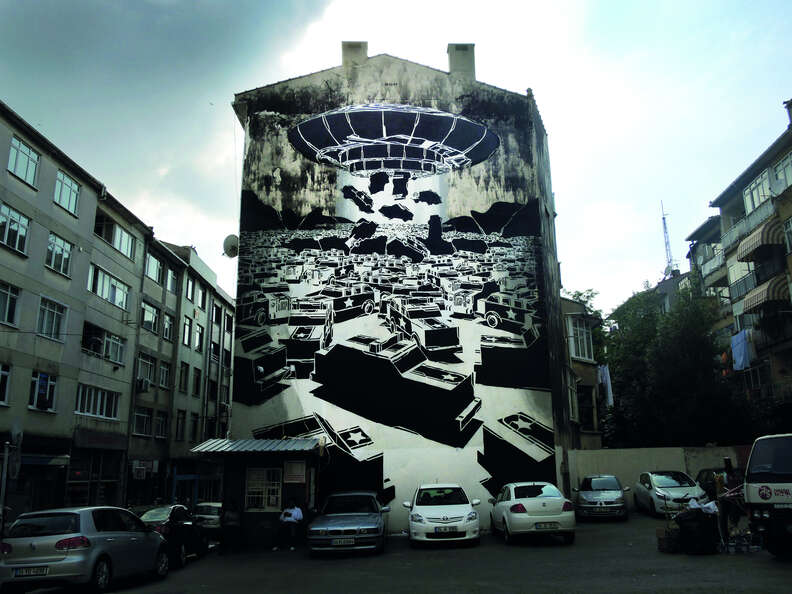 Istanbul, Turkey
Artist: M-City
This was done as part of the Mural Istanbul Festival. It's police cars being sucked up by a UFO, all done with stencils. A lot of these big murals are a bit more freehand, or done with spray paint. Stencils are typically only used for smaller works, but M-City is known for doing large scale murals with stencils.
Melbourne, Australia
Artist: Adnate
Adnate's one of the biggest names to come out of Australia for street art. Murals like this are mostly of people he's taken photos of in real life, then he'll look back and use the photos to raise awareness about social issues. He tried to draw attention to a lot of issues about the indigenous people with this.
Bristol, England
Artist: Odeith
I want this book to feel like a snapshot of a moment in time, and this piece obviously won't be there forever. [Brexit] is such a hot topic in the UK right now, this piece would only exist in this particular moment in time. If you didn't know when this book was from that would be the piece you'd see and know.
Gdynia, Poland
Artist: Sainer
He's playing golf with a bomb, and the bomb he's hitting has a heart on it, so there's a kind of peace and love message somewhere underneath.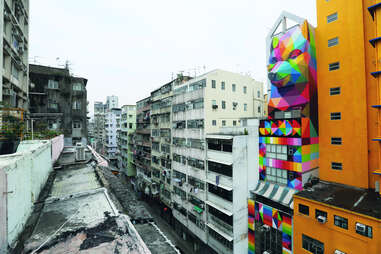 Hong Kong
Artist: Okuda
This is a great example of how street art can add to an environment. There was never much public art in Hong Kong, and now they have this great mural festival. Okuda's work is all like this, geometric, colorful stuff using three dimensions. It stands out as a great example of how street art can brighten up an environment, especially in a place that's not used to it.
Grenoble, France
Artist: Nevercrew
This is one of my favorite pieces. This is looking at the commercialization of fishing. The piece is called Ordering Machine, so it's nature being for sale, that natural resources have become commercialized ecosystems. You can read a lot of different elements into it. The best street art doesn't give you the answers. The best street art makes you ask questions.
Sign up here for our daily Thrillist email and subscribe here for our YouTube channel to get your fix of the best in food/drink/fun.