Is this the perfect public bench?
Public benches: They're simultaneously a lunch table, a cot, a trash can, and a spray-paint canvas. Sometimes a seat, too. But one bench in London is trying to put an end to the non-seat nonsense.
Designed by British contemporary street outfitters Factory Furniture, the Camden Bench is determined to deter delinquents from sleeping, defacing, and littering. An angular, uneven shape prevents trash from collecting anywhere on the bench's surface, and of course, not even a contortionist could get comfortable on the sharp lines. A lack of pockets or hiding places additionally thwarts potential drug dealers from using the bench as a dead drop.
Made to seat the collective butt of the city's borough of Camden, as the eponymous name suggests, the bench is molded out of a resilient, exposed aggregate concrete; not even graffiti will stick. The designers even reckon it can prevent pickpockets from pinching billfolds if users slot their bags behind their legs under the bench's sloping, downward ridges.
And taking into account the U.K.'s customary weather, rain slides right off the surface (along with any other unwanted liquids). But as with any public seat, don't think too much about what those liquids might be.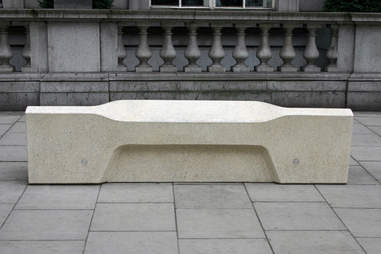 While functional and utilitarian, the bench also cuts a brutal, callous form. As this Medium essay points out, because it looks and acts like nothing but a bench, this might be the perfect bench – but at the same time, decidedly, the most boring.
Chloe Pantazi is an editorial assistant on Thrillist's travel team. Yes, that's a British accent. No, she doesn't watch Doctor Who. Follow her on Twitter at @ChloePantazi.