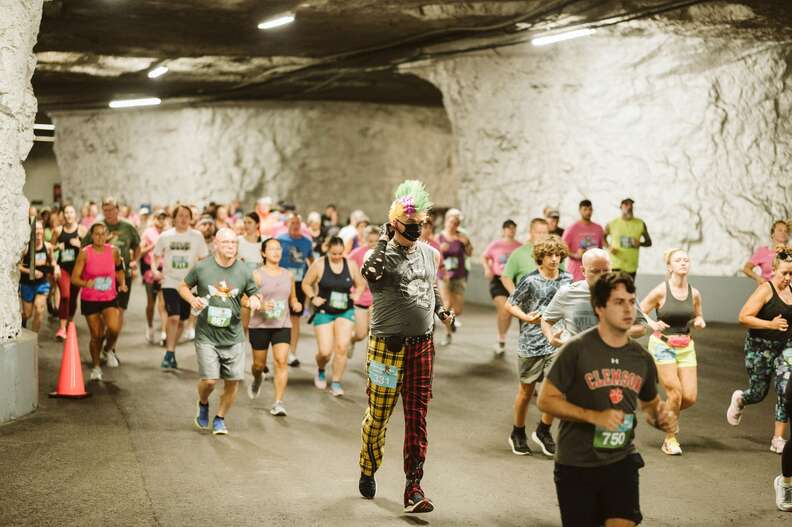 Groundhog Run participants are still just rats in SubTropolis's cage.

| Groundhog Run benefiting the children of Ability KC
Groundhog Run participants are still just rats in SubTropolis's cage.

| Groundhog Run benefiting the children of Ability KC
The Midwest's Coolest Charity Race Lurks Beneath Kansas City's Streets
SubTropolis's annual Groundhog Run is the world's only fully underground 10K.
To get to SubTropolis, take one of several entrances that buries you 150 feet below Kansas City, where 270 million-year-old limestone deposits have been excavated into massive, honeycomb-like pockets. (It helps if you're not claustrophobic.) At regular intervals, pillars 16 feet high and 25 feet in girth are painted a slick luminescent white, lit from above by bright LED lights. Underground caves, but make it futuristic.
A sign instructs you to turn on your headlights, keep the speed limit to 15 mph, and "Smile! you're on camera." And also beware: Your first visit can be disorienting. The tunnels of the self-proclaimed world's largest underground business complex seem to go on forever—make a wrong turn, and you'll be shining your headlights into spooky undeveloped darkness. It's such a distinctive visual that tours stop by, perhaps as an add-on on their way to Branson, speculates Connie Kamps, SubTropolis's director of property management. "It's just kind of a side thing to jump off the I-435, which is just minutes from us, then maybe go over to the casino and have lunch," she says.
There are other subterranean limestone chambers-turned-business-space beneath Kansas City, MO, at least eight, possibly even up to 12. The makeup of this strata of bluff along the Missouri River is known as the Bethany Falls limestone formation, an almost pure 95% calcium carbonate that attracted extensive mining beginning in the 1800s. But while there's more than a few of its kind, SubTropolis is the only underground chamber with the cool name. And since 1982, it's also the only one that allows regular folks to run through its buried labyrinth almost every winter for the annual Groundhog Run. Benefiting the charity Ability KC, this year's race takes place on January 29, where in addition to the usual 5K and 10K, they've added a third Children's Run.
If you've got a groundhog costume, go ahead and pull that out—you won't be alone. The race has its own groundhog mascot, and if you ask, he'll pose for photos. Either way, say hi–his name is GUS, AKA Great Underground Space.
The Great Underground Space (not the groundhog one) owes its existence to that Bethany Falls formation, but the late Richard Gentile, geologist and professor emeritus at the University of Missouri-Kansas City, would say so does Kansas City itself. In a 2013 lecture he explained that its jutting ledge was used as a landing place for steamboats in the 1830s. Because it was so easy to dock here, Gentile purported that it sped up the development of the city by decades.
In 1857, the town of Kansas laid claim to 40 manufacturers alongside 750 steamers tethered to the wharf. The following year, passenger ships started arriving, and according to the lecture, one visitor wrote: "The steamboat landing is perhaps the best on the Missouri River. In fact, the entire riverfront constitutes a natural wharf where any kind of vessel might discharge and pick up freight safely." Other visitors called it the Plymouth Rock of Kansas City, and Kansas City's Birthstone.
The bluffs above the Missouri River were eventually subdivided and sold, and in the late 1800s, mining began, the limestone dug out to create millions of square feet of underground space. To most, it would seem that once excavated, the rock had served its purpose. But to developers with vision there was opportunity for a second life.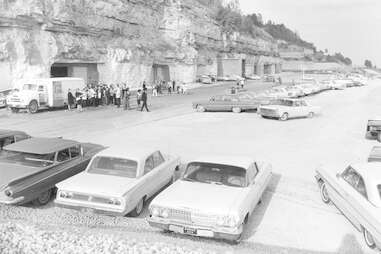 One of those developers was Lamar Hunt, who in 1963 relocated his football team from Dallas–Fort Worth to Kansas City, renaming them the Kansas City Chiefs. The next year, he established a storage facility inside the empty caves mined by Midwest Precote (which he later purchased), and began leasing out the space. The first tenants included Russell Stover Candy, Pillsbury, and Ford Motor Company, who needed somewhere to park their overflow vehicles. In 1985, Hunt, along with partner Jack Steadman, merged three businesses into Hunt Midwest Enterprises, Inc. The caves were christened SubTropolis some time in the '90s.
When Kamps first started working in property management at SubTropolis in 1985, it was a mere 2 million square feet of developed space. Mining ended in 2012, and today, the developed underground caves clock in at 7.4 million square feet—the size of 42 Arrowhead Stadiums, they like to say—with plans this year to expand to more than 8 million. There's development above ground as well, that Hunt Midwest shares with several other businesses. "The really neat thing from a green standpoint, is we had the property, we developed it on the surface, we mined it out, and we developed the underground," says Kamps. "We say we have the largest green roof in the world."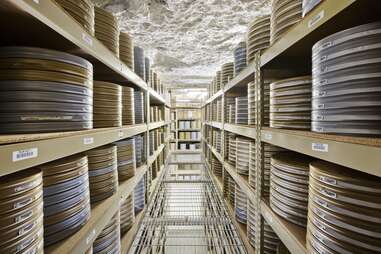 Today, SubTropolis is home to over 2,000 employees working for 55 businesses. Besides being a Foreign-Trade Zone allowing occupants to bypass or defer import duties, there's the savings afforded by natural temperature regulation. The space maintains a cool 68 to 72 degrees, no matter what's going on outside, keeping heating and cooling bills low.
It's also particularly immune to natural disasters, and limestone's low permeability translates to low humidity, which, in addition to 24-hour security, makes SubTropolis especially ideal for preservation efforts. The USPS takes advantage of this, operating a stamp distribution center holding hundreds of millions of stamps—including rare specimens—as does the National Archives and Records Association. Hallmark has an office, as does the EPA, and the specialty food company Paris Brothers, which stocks literal cave-aged cheese and unroasted coffee.
It's also home to some significant cultural history, with tenant Underground Vault & Storage housing hundreds of thousands of original film reels of cartoons, soap operas, and major titles like Gone with the Wind, The Wizard of Oz, and Friends, in 45-degree refrigerated vaults.
There are 2.1 miles of railroad track and 17 different entrances (five accessible to vehicles). Cell phone networks don't work underground, but there are landlines and internet access. And though traffic is constantly buzzing, it's not quite an underground city. For one thing, there's no restaurant or bar ("The vending operations are so elaborate these days," notes Kamps). And if you need an ambulance or the police—with over 2,000 people working there each day, emergencies do occasionally happen—they'll show up. They'll just have to be escorted through so they don't get lost.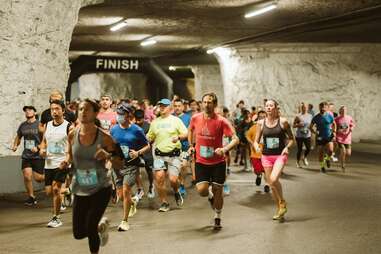 The first Groundhog Run in 1982 was thanks to Van Cooper, who was on the board of what is now Ability KC, a therapeutic center which treats adults and children with rare conditions and medical disabilities regardless of their resources to pay. Looking for a fundraising idea, someone suggested a novelty race in Hunt Midwest's underground tunnels. It's come a long way in 41 years—back then it was partially on gravel, and conditions were less than ideal in other ways. "It was a three-lap course, and we had to run through some undeveloped area that was really dusty and grimy [lit with] temporary lights," says Kamps.
These days, the only sanctioned 10K run completely underground is illuminated by permanent LEDs. It's also fully paved, the two-lap course accommodating up to 4500 runners between two races, even more with this year's new children's race. And though they take over a portion of the complex from 6 am to 2 pm, Kamps says resident businesses have always been supportive. "We do it on a Sunday morning to be the least disruptive to our tenants," she explains.
If you want to participate in the Groundhog Run—either in-person or virtually—you can sign up online anytime before January 28 at 12 am. You can also register to volunteer. And if you're worried about getting lost yourself, don't. Kamps assures us that they've "never lost a runner." Expect hordes running alongside you, 100 to 150 volunteers, plus bicyclists leading the way through pathways sectioned off by orange cones. And if something does go down, there will also be security personnel zipping around on golf carts—a sight that might be reason enough to venture into SubTropolis's depths.
So stretch out those calf muscles and enjoy the cool temperatures. And don't forget to let us know if it'll be an early spring.
Vanita Salisbury is Thrillist's Senior Travel Writer. If she ran, she would leave breadcrumbs to make sure she got out.