How to Feast in a Sugar Shack, Quebec's Tastiest Tradition
Get good and sappy in maple syrup country.
It's a sunny afternoon in the Quebec countryside, all blue sky and white, crunchy snow. I admire hundred-year-old cottages and clusters of maple trees on the grounds of a local family farm. Perhaps I'll hop aboard a horse-drawn carriage or wander the woods for a while, but when I get cold I know where I'm headed: into the farmhouse dining hall (or "cabane," as they say in French) to chow down on a wide array of Quebecois dishes with dozens of other hungry guests. There's never been a better way to enjoy a late winter meal.
Open to guests from late February through April, Quebec's sugar shacks—known as "cabane à sucre"—celebrate the maple syrup harvest season across the province. A key part of this celebration involves serving up a traditional meal full of everything sweet, fatty, and delicious. The food alone makes Quebec worth a slightly chilly visit, but for those of us who are from the area (I grew up in Montreal), sugar shacks are simply synonymous with the end of winter. As a kid, pea soup, maple-drenched ham, and snow taffy at the cabane à sucre were an absolutely normal weekend feast. But now, having traveled the world, I've come to appreciate just how unique this tradition is—and how much it deserves a spot on everyone's travel bucket list.
Enjoy a sweet and savory Quebecois feast
They say that the best way to discover any new culture is through its food, and a cabane à sucre experience certainly fits that bill, providing a sticky lens through which to view this beautiful part of Canada.
At the sugar shack, you start with the savory and then move on to the sweet. The first item on the menu is typically a warm bowl of split pea soup flavored with ham. For side dishes, you'll find cretons (a French Canadian-style pork pâté), pickled condiments like onions and beets, jams, relishes, and freshly-baked bread.
Then the savory journey into Quebecois culture continues: Think sausages, omelets, ham, baked beans, and tourtière (a meat pie that's typically enjoyed during the holidays in Quebec). One trip to the cabane à sucre and you'll be able to check off pretty much most of the items on your Quebec food bucket list.
Importantly, maple syrup will always be available on the table throughout the meal, so feel free to pour the syrup over both savory and sweet dishes. Don't hold back—It's part of the experience.
No matter how much sugary syrup you consume with your lunch, you should still save some room for desert. Enjoy a plate of pancakes and pie—including sugar pie, which is a sweet local favorite. If you want a thematic drink to accompany your eats, some sugar shacks also sell homemade alcoholic cider and beers, among which you'll surely find maple-flavored beverages.
Explore a maple farm, catch some tunes, and sample snow toffee
The cabane à sucre feast will, of course, be a highlight of your visit, but that's not the only thing to enjoy at a Quebec sugar shack. The main house where you eat your meal will be set on a farm that's typically been owned by a local family for generations. Make the most of the day and wander the grounds, sampling some of the sap that's being sourced from the maple trees along the way.
Some of the best cabane à sucres will also have live traditional music on weekends, where you'll get to catch the sounds of the Quebec fiddle. On top of that, the farms sometimes have petting zoos set up for the kids, as well as carriage rides where you can go on a little trip around the property on a horse and buggy.
Your meal ticket also comes with another maple indulgence that can't be missed: snow toffee, or "tire d'erable" in French. Usually this means that one of the sugar shack owners will set up at a snow station, where they'll pour a bit of boiling hot sap right on the snow. Then take a popsicle stick, wait a minute or two, roll the stick over the hardened sap, and voila! You've got yourself the freshest sweet treat you've ever tasted.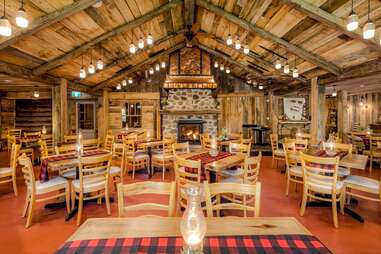 How to experience your first cabane à sucre
If you're about to embark on your first cabane à sucre experience, a good one to start with is the Sucrerie de la Montagne in Rigaud, Quebec. Located less than an hour's drive from downtown Montreal, this farm brings the country vibes and a solid sugar shack meal, along with live entertainment and all the thematic activities you could want.
Another authentic Quebec sugar shack experience can be found at Érablière Charbonneau in the town of Mont-Saint-Grégoire. Book your meal here and you'll be served the classic sugar shack spread while catching a glimpse of country life in Quebec. Follow your meal with a hike on some of the nearby trails.
Apple lovers should head to the town of Oka, 45 minutes west of downtown Montreal, where you'll find the family-run "apple shack" of Labonté de la Pomme. Oka is known for its apple orchards and amazing cheese, so this sugar shack is the perfect fit if you want to sample all the best flavors that Quebec has to offer. Make sure to check out the cider house to try their hard apple cider that's made right there on the property.
No matter which sugar shack you decide to visit, you'll have the best time if you schedule your excursion on a weekend during the day. Be sure to reserve your space ahead of time, because there are only so many seats available for feasting, and they do tend to sell out. After all, there's only a few weeks of peak sugar shack season, and we Quebecers are a hungry bunch.
Where to stay for your sugar shack adventure
While you can hit up a sugar shack in a single wintery afternoon, I'd recommend making a weekend of it by staying nearby. If you want to check out Montreal as part of your trip, book a room at Hotel Manoir Sherbrooke. This intimate boutique hotel is set in a remodeled historic building that paints a picture of Montreal's lengthy history. The hotel is located right on Sherbrooke Street, and you'll be a short walk away from some of the city's best restaurants, bars, and attractions.
Alternatively, there's the option to stay right near Sucrerie de la Montagne and some of the other nearby sugar shacks. Modern yet immersed in nature, Auberge Des Gallant is one of the top hotels to stay at in Rigaud—and it even participates in the sugaring season by producing its own maple products and offering a maple-themed menu. You'll be just a quick drive away from the Mont Rigaud ski resort and the nearby hiking trails, if you want to work off some of that inevitable sugar rush.