The Best State in the USA for Your End-of-Summer Getaway
Summer road trips are an American right of passage, and while Route 66 is a classic and the PCH has famously good looks, no drive encapsulates what summer's all about quite like U.S. 1, along the rocky coastline of Maine.
This is where I found myself with my husband one Memorial Day, aimlessly driving from one capital "A" adorable New England town to the next -- Ogunquit to Portland to Rockport to Camden. We stopped for blueberry pie at Moody's Diner (est. 1927); to climb up squat lighthouses, with epic cliffside views over crashing waves; to hike, climb, and kayak in Acadia National Park. Along the way I cracked into my first whole lobster, pulled straight from a massive bubbling pot set over a wood-fueled fire, and plopped onto a tray with only a bib to go with it.
Even if you're not a lighthouse/lobster roll kind of person, there are so many stunning places to visit in Maine -- even inland, where a vast system of rivers, lakes, and forests gives way to cascading waterfalls and sweeping vistas. And if you can't make it there before Labor Day, you're in luck -- this state's an even bigger looker in the fall.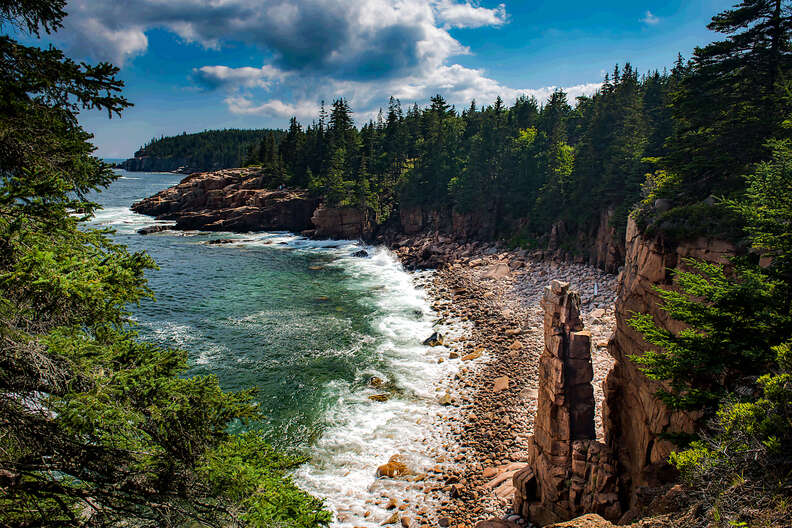 Acadia National Park
Let's start things off with a bang, shall we? The first ever national park east of the Mississippi is easily the most beautiful in New England. Hiking, camping, or even just driving through Acadia (you can take the 27-mile-long Loop Road for a great overview) affords breathtaking scenes at every turn. A few favorites of mine: Jordan Pond, a glassy 187-acre pond strewn with rocks and a pebble shoreline; Cadillac Mountain, the highest peak on the Atlantic Seaboard (bonus if you're go at sunrise or sunset); and, if you're a climber, the Beehive and Precipice trails. There's even a few underrated beaches like Sand Beach, a pocket beach surrounded by granite mountains and rocky shores. You'd have to be a masochist to swim there (the frigid waters rarely go above 55 degrees) but laying out on the pink-tinged sand is mighty nice after hiking Acadia's trails.
Mount Desert Island
Acadia is located on Mount Desert Island, the largest island off the coast of Maine. Here you'll also find the very cute town of Bar Harbor -- think brightly painted shingled buildings and a boat-filled marina. It's a pretty good place to eat some lobster. Other Instagrammables include the Bass Harbor Head lighthouse, and Bar Island, whose natural sandbar land bridge from the town of Bar Harbor disappears at high tide -- so don't get stuck!
Cranberry Isles
It's a quick 30-minute ferry ride from Bar Harbor to the Cranberry Isles, a cluster of five tiny islands with beautiful views of the surrounding mountains. Two of the islands are private, so plan your day trip around Islesford and Great Cranberry, where you'll find the most "action." And by action we mean a couple of gift shops, general stores, historic homes, and the most ridiculously adorable post office I've ever seen. There's almost no cars (the speed limit is 15 mph) and no more than 140 year-round residents. It's worth escaping for an hour or two and getting a slice of small town New England living.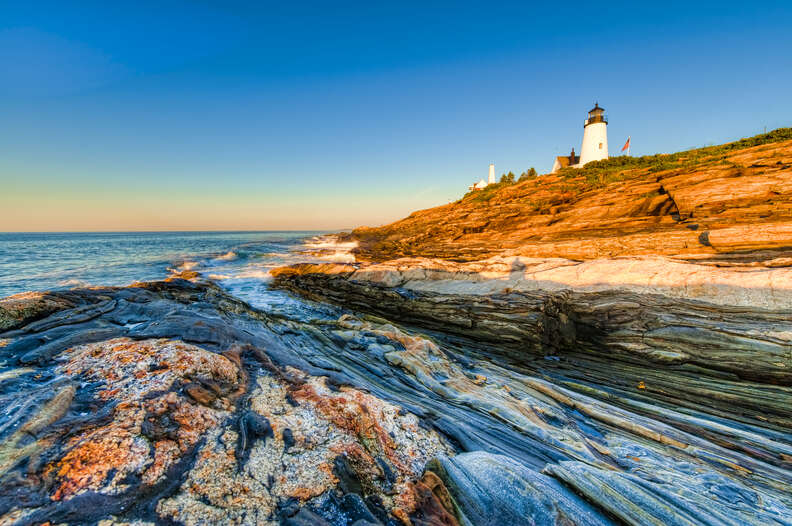 Pemaquid Point Lighthouse
This is classic coastal Maine: dramatic cliffs, crashing waves, and a simple white lighthouse -- but this one you may recognize from Maine's state quarter. It was commissioned by President John Quincy Adams in 1827, and standing near the edge of the jagged cliff with the Atlantic roiling below, it's not hard to imagine a ship or two getting a beating here, so good job on that one, Adams. The keeper's house next to the lighthouse is a fishermen's museum packed with all kinds of quirky oddities and artifacts.
Mount Battie
The town of Camden is ridiculously charming in itself -- and we'd argue the best small town to visit in the state, with its friendly restaurants, grazing belted Galloway cows, and unbearably photogenic harbor filled with bobbing sailboats. You'll get the best vantage point of all that New England goodness by climbing Mount Battie, located inside the Camden Hills State Park. Hikers can take in panoramic views of Camden Harbor and Penobscot Bay from the top of the mountain. Fair warning, the trail is a little over a mile and can be fairly steep and slippery through the forest, with some wild Maine blueberries along the way. It's also possible to drive to the top.
Bailey Island
Located in Casco Bay, tiny Bailey Island contains several of the state's coolest attractions: Land's End, a rocky beach at the end of the island; Mackerel Cove, a lovely cove usually dotted with fishing boats; the Giant Stairs, a rock formation that looks like, well, giant stairs; and the Bailey Island Bridge, which connects the island to neighboring Orr's Island. This famous bridge is thought to be the world's only granite cribstone bridge (built in a hole-filled, cobwebbed manner using no mortar because of the tides) and was added to the National Register of Historic Places in 1975.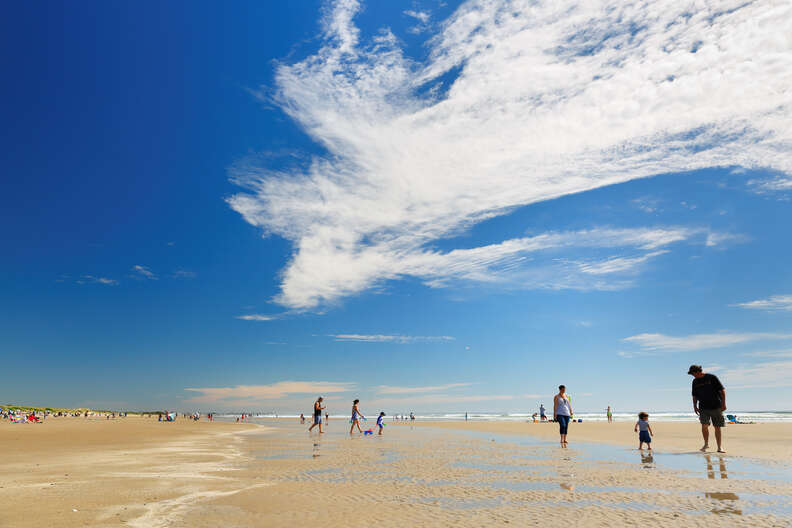 Ogunquit Beach
The coast of Maine is full of beaches that look lovely but aren't actually that hospitable (read: full of sharp rocks and soaring waves). The most notable exception is Ogunquit Beach, which offers three pristine miles of soft white sand. Summers here on Maine's southern shore can be downright balmy, and the Ogunquit River helps keeps ocean temps on the warmer side.
The town itself is equally picturesque (one of our favorite beach towns in America) with a dose of LGBTQ panache and a solid dining scene (try the Crooked Pine or Brix + Brine). I love hiking along Marginal Way, a path along the cliffs where you can take in panoramic ocean views and a classic lighthouse (are you even surprised at this point?). The path leads to Perkins Cove, an impossibly photogenic harbor, where you can and should order the lobster roll of your dreams at Barnacle Billy's.
Quoddy Head State Park
Ever wondered what the easternmost point of land in the continental U.S. looks like? This is it, folks. This 541-acre state park juts out like a bloated finger into the northern Atlantic Ocean, just southwest of the Canadian border. There's five miles of hiking trails, and the main attraction is the candy cane-striped West Quoddy Head Lighthouse. Is it just me, or are lighthouses really pretty? Or maybe it's just where they always happen to be positioned: on rocky coast with a magnificent ocean backdrop.
Sunday River Bridge
Taking a break from lighthouses for a second: Located in the western part of the state near the Sunday River Ski Resort, this covered bridge was basically the 19th century version of Instafamous, earning the nickname "Artist's Bridge" because it showed up in so many paintings and photographs. It's an 87-foot Paddleford truss bridge -- one of the few historic covered bridges remaining in the state -- that's been closed to vehicular traffic for decades.
Height of Land
On Route 17 (aka the Rangeley Lakes Scenic Byway) where the Appalachian Trail crosses the highway, Height of Land is a small parking area with one of the best views in the state. Pull over for epic views of Mooselookmeguntic Lake (Maine lake names are the best!), Toothaker Island, and a backdrop of New Hampshire's White Mountains.
Continue on to the town of Rangely, perched on the shores of the trout-filled Rangely Lake. Hit up the Pine Tree Frosty, a small blue shack in the center of town, for an expertly made lobster roll and a few scoops of Gifford's ice cream, a local favorite. The Rangeley Lakes Region encompasses six large lakes and dozens of other smaller tributaries-- so rent a kayak, canoe, or motor boat, and keep your eyes peeled for bald eagles.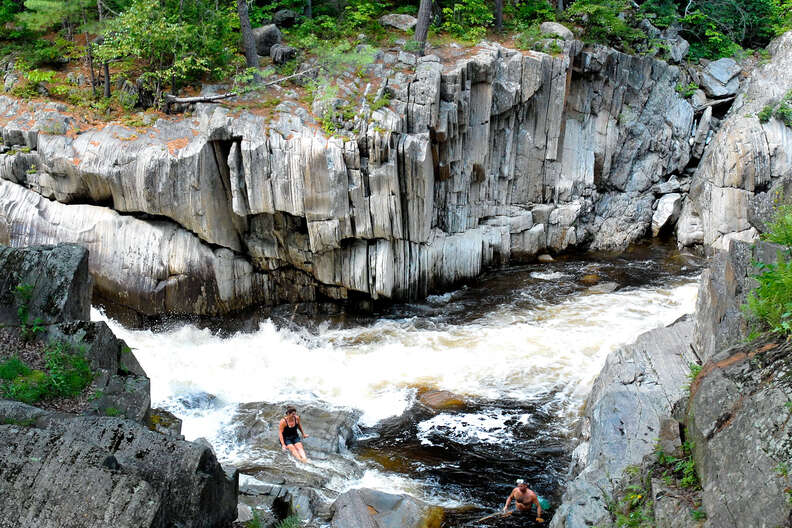 Coos Canyon
I found this water-filled canyon driving through the town of Byron, south of Rangeley, one summer (it's listed on a sign simply as a "rest area") and I'll never forget the feeling of jumping off the edge into the refreshing Swift River below. The erosion lines along the canyon add to its beauty and there's a 15-foot drop with cascading falls for the ultimate backdrop. Bring a picnic and find yourself a shady secluded spot.
Moosehead Lake and Mount Kineo
Maine's largest lake, located in the heart of the highlands, is a true stunner. The massive body of fresh water (74,890 acres, to be precise) is dotted with pretty coves, inlets, and more than 80 islands. You can rent kayaks, canoes, and -- if it's the salmon and trout you're after -- fishing boats. On the eastern shore rises Mount Kineo, with its dramatic 700-foot cliffs and a peak of 1,789 feet. There are multiple trails to the top, depending on how much of a challenge you're up for, and you'll be rewarded with 360-degree views, thanks to an old fire-tower-turned-viewing-platform.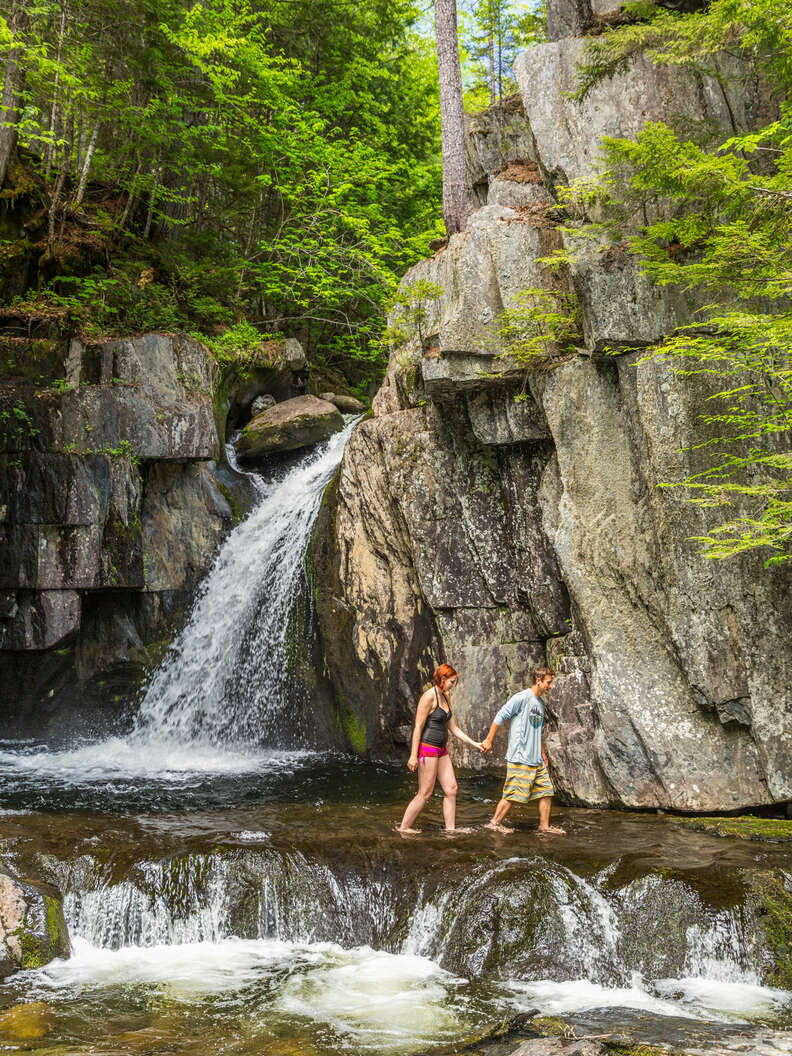 Gulf Hagas
This gorge is found in the mountains of central Maine, on the last 100 miles of the 2,200-mile Appalachian Trail (don't panic, you can also drive there.) Pleasant River runs through the slate gorge, creating multiple scenic waterfalls, and you can swim or kayak in the swimming hole beneath the main falls. Three miles long and dropping 370 feet along the way, Gulf Hagas is known as the Grand Canyon of the East.... I don't know about that, but, it's certainly beautiful.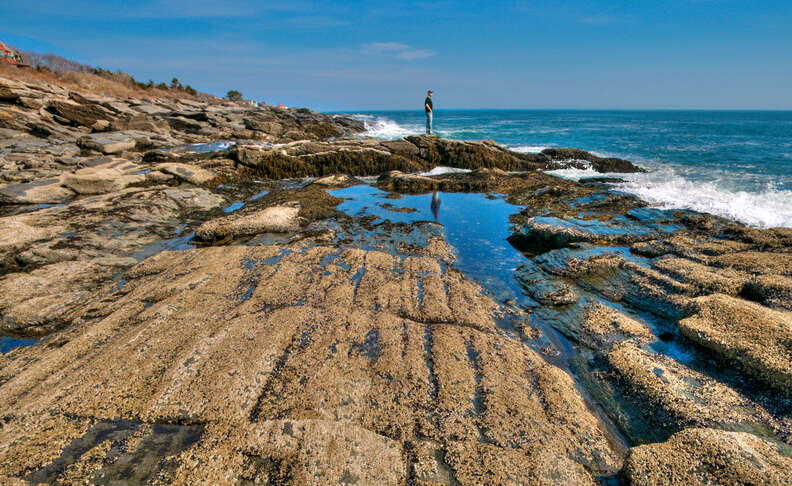 Two Lights State Park
The name of this park refers to two lighthouses dating back to 1828, although only one is still functioning (the other is a private home -- how cool is that?!?). Weirdly, the lighthouses actually aren't located inside the 41 acres of Two Lights State Park, which is on the stunning Cape Elizabeth, just south of Portland. The park is full of rocky cliffs, crashing waves, and sweeping views of Casco Bay and the Atlantic. But if you want to see the lighthouses, you'll have to leave the park and head to the end of Two Lights Road. Trust me, it's worth it, and Edward Hopper agrees (he depicted one of the lighthouses in his 1929 painting The Lighthouse at Two Lights).
Devorah Lev-Tov lives in Brooklyn but travels the world, from Israel to India to Italy and across North America. She writes for Travel + Leisure, Afar, Condé Nast Traveler, The New York Times, Saveur, Eating Well, and more.