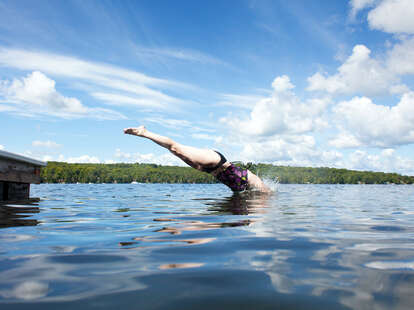 We all want to leave it all behind and escape into beach, ski, or paraglide bum status on an exotic island. There's only one small problem: living that life can be very expensive.
But is it really? Traveling on a shoestring while still living the good life is possible, as long as you have a little inside knowledge. So we compiled a list of 9 destinations that will satisfy your thirst for epic adventure or extreme relaxation, whatever your speed may be -- without busting your budget.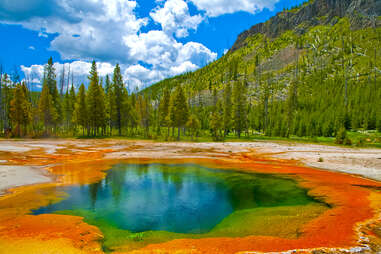 1. Yellowstone and Yosemite National Parks
Why: They're only the crown jewels of the US National Park Service. Yellowstone and Yosemite do both get crowded in the summer -- NPR just did a story about how Yellowstone, widely considered the first national park in the world, is being "loved to death." But still...
How much: ...at $30 per vehicle, per week, and camping options available for as little as $12 a night, you can't top that total price -- it's less than the cost of a good burger.
What to see: Skip the popular (and packed) sights like Old Faithful or Glacier Point and opt instead for hidden gems like Colter's Hell, a bubbling, fiery collection of springs and geysers at Yellowstone, or Eagle Peak atop Three Brothers. Legendary naturalist and Yosemite forefather John Muir considered it the best view in the park.
2. Bocas del Toro, Panamá
Why: Instead of traveling halfway around the world to Fiji or the Maldives, consider this colorful, isolated corner of the Caribbean.
How much: You can rent an overwater bungalow for around $100 a night (and fly in through Panama City, Panama, or San Jose, Costa Rica, both of which offer affordable flights from the East Coast).
What to see: Best of all, you can choose your own vacation style in Bocas del Toro: immerse yourself in the archipelago's dense jungles, while away your days on the beach, or enjoy the full Carnavales experience in Bocas Town, one of the most colorful urban melting pots in the Americas.
3. Montreal
Why: Ever dreamed of a romantic getaway to Paris but dread the cost of crossing the pond? Take a look at Montreal, the most Francophile city in North America.
How much: Flights from US hubs like Chicago, Detroit, and New York can be had for less than $400. And although hotel rooms run $100-$150 a night, just remember that you're spending far less than that trip to Paris (and you'll probably be greeted a whole lot friendlier).
What to see: Old parts of the city still feature cobblestone walkways, sidewalk cafés, and horse-drawn carriages. Montreal is far more fun than Paris (or at least the rest of Canada) -- its nightlife and festival scene is legendary (think Osheaga Music Festival or Pop Montreal), and you can drink anywhere in the city as long as you're eating food. The city is also starting to embrace its more upscale artistic side: in 2006, it became one of only three UNESCO Cities of Design in the world. Combine that with stunning parks like Mont Royal and Jardin Bontanique and you've got the perfect mix of regal and rowdy.
4. The Rocky Mountains (in the summer)
Why: Sure, Vail and Aspen are some of the swankiest wintertime skiing destinations in the world. But an off-season visit in the summer can be equally rewarding, at a much lower price, with a much broader palette of activities: whitewater rafting, horseback riding, hiking, and biking, along with the very real possibility of still seeing a little snow.
How much: Four-day summer passes from the big resorts in Vail and Aspen that include lodging, meals, activities, and guides run approximately $700 for adults and $500 for kids -- that's roughly $175 per person, per day. Which is not too shabby for a vacation destination as high-rollin' as the Rockies.
What to see: A drive through the Rockies on Interstate 70 is always a jaw-dropper, particularly for those who haven't seen the mountains before. Beyond that, just get outside -- summer is the best time of year to do it.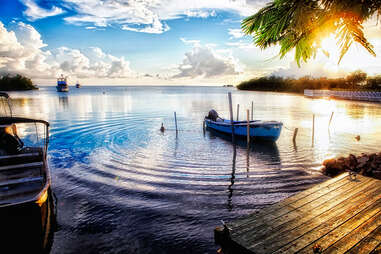 5. Puerto Rico
Why: In the wintertime, Puerto Rico is the place to be for surfers and other beach-inclined Americans looking for a quick and easy tropical escape.
What to see: In the summer, things slow way down, giving visitors interested in the island's rain forests, snorkeling and diving holes, and general Caribbean cultural mish-mash an impressive bang for their buck.
How much: Let's be honest -- the tourist industry is pretty much keeping Puerto Rico's economy afloat these days (and it needs our help). So book that ridiculously cheap ticket from anywhere on the East Coast (think $200 from the Southeast or $300 from the Northeast), rent a cheap guesthouse for $80-$100 a night, pack nothing more than a bathing suit and a good book, and remember why the US fell in love with this pill-shaped paradise in the first place.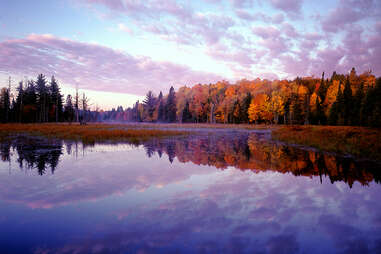 6. Door County, Wisconsin or Michigan's Upper Peninsula
Why: Can't afford a beach house on Cape Cod or Nantucket? No shame there -- we can't either. So flip the script on your summer getaway this year and consider the Cape Cod of the Midwest, Wisconsin's Door County.
How much: With more than 50 lodges dotting the lakefronts and islands of Door County, package deals that start around $200 a night are there for the taking -- particularly if you book in advance. And since gas is still relatively cheap, a scenic drive through the Upper Midwest can be done for less than $100 round trip. As for the Upper Peninsula, take the time to ramble and find the quirky cabin or lodge that speaks to you. Or go truly budget and find a campground to pitch your tent.
What to see: Statuesque pines line the Lake Michigan shorefront, while lighthouses, five state parks, empty beaches, and hundreds of non-chain mom and pop businesses also draw tourists from all over the Midwest. Want to get a little more lost? Hop on up to Michigan's Upper Peninsula, where the options of outdoor enjoyment are infinite. And remember, these aren't just summer destinations, either -- Door County routinely ranks in the Top 10 of best places to see fall colors.
7. The Himalayas
Why: "Wait!" you say -- "that's halfway around the world!" Well, if you dream of elite mountaineering, a trip to Nepal, where Earth's highest peaks climb more than two miles into the sky, can cost 1/10th of a journey to the Swiss Alps.
How much: Yes, a flight from the US will run somewhere in the ballpark of $800-$1,000 from New York, Washington, D.C., and even Dallas. But once you arrive in Pokhara, you can get a three-star hotel, a taxi ride, a trip to a museum, three meals, and three drinks for $28 a day. You can't even buy a link for the band of your fancy watch in Switzerland for that price.
What to see: Europe's cool and all, but we know what to expect on the continent. As for the Himalayas? Culture shock may be an understatement. Although given the Nepalese propensity for hospitality and warmth, everyone you meet will probably try to help you fit in.
8. The Adirondacks.
Why: Want to tackle the mountains but don't want to fly to freakin' Nepal (or risk death climbing 10,000 footers)? Never fear -- New York's Adirondacks are here! Boasting user-friendly peaks in the 4,000-5,000-ft range, the largest protected natural area in the lower 48 states, and 12 distinct regions with no fees or entrance requirements, you can truly do it all here: canoeing and kayaking, hiking, biking, wine tours, scenic drives, dives, and bikes, world-class fishing, and so much more.
How much: First and foremost, this upstate paradise features 12 distinct regions, none of which charge fees or have entrance requirements. Check out VisitAdirondacks.com for package deals, many of which include offers like two extra nights free when you book five.
What to see: Don't miss the newly-opened Wild Center -- the innovative museum mixes the indoors and the outdoors in ways that our frontier-ready forefathers never could have dreamed.
9. Bali
Why: Although it's as far-flung as it gets for Americans, this bustling Indonesian metropolis offers every level of amenity for the budget-minded traveler.
How much: Want to sleep in a hammock in a feral cabin for less than $5 a night? You got it. Want to rent your own motorbike for less than $10 a day and explore jaw-dropping neighboring islands like Lombok and Java? Just wear a helmet. Want to stay up all night dancing in Kuta's infamous clubs, where the preponderance of food, drinks, and street food has increased competition and decreased the price? Done, done, and done. Yes, the flight's expensive, but once you land, there might be no cheaper place to exist.
What to see: Just be careful what you eat and drink (Bali belly is a real thing), respect local customs (like removing your shoes before entering someone's home and using both hands to give or receive something), and don't do drugs -- the stories you hear about Indonesia's strict laws are true. But chances are you'll find yourself hooked on Bali's affordable charms for years to come.