Space: The final frontier. Or, at least, the best place to take photos of a super typhoon. Because really, most people don't get as jacked up about being in extreme weather as Jim Cantore.
To prove it, Italian astronaut Samantha Cristoforetti shared incomparable photos of super typhoon Maysak from space as the International Space Station flew over the Category 5 storm. The results, of course, would be breathtaking, except there's no oxygen in space. Regardless, the typhoon reportedly packs ridiculous 180mph winds, already having killed five people across Micronesia on its way towards the Philippines. Though it's believed the storm will be less aggressive by Sunday, it's still evidence of Mother Nature's tremendous force.
Thankfully for Earth folk, Cristoforetti uploaded plenty of images to Flickr and Twitter, where she wrote: "Commands respect even from #space: we just flew over typhoon #Maysak." It commands respect, alright… and really gives you a lot better idea of the magnitude of a typhoon more than those wispy white streaks on doppler maps.
Check out these legitimately out-of-this-world photos of the beast below.
Recommended Video
Please Don't Hang Up: The Best BBQ & Barcade in Dog-Friendly Kansas City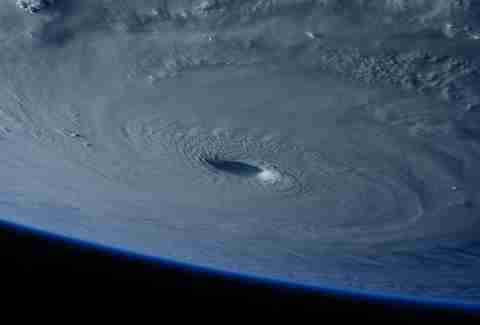 Chloe Pantazi is an editorial assistant on Thrillist's travel team. Yes, that's a British accent. No, she doesn't watch Doctor Who. Follow her on Twitter at @ChloePantazi.