The locals in Munich may be landlocked, but that doesn't mean they love the sea any less. Leave it up to those intrepid Germans to find a way to bring the beach to Bavaria -- like surfing in a freezing cold river, for example. 
And now, they've even brought shredding waves to the airport. Because... honestly, who knows? Germans are weird.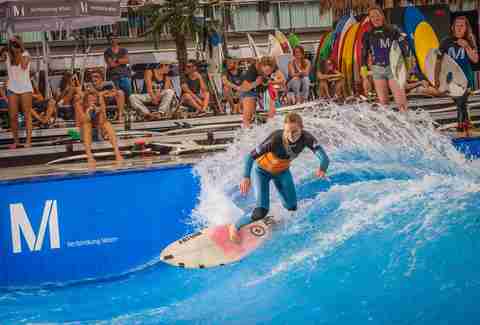 Munich Airport is making waves (had to say it) with its new 2,150ft indoor wave riding pool – which features the world's largest stationary wave – located between Terminals 1 and 2 through August 24. Mornings are set aside for a day camp (ages 8 to 16, only) and lessons given by pros. But the wave is open to everyone else from 3pm to 8.15pm every day.
 
Best of all, the wave riding is completely free! The airport even provides wetsuits and surfboards for the 10 people admitted to the pool in 45 minute increments.
It sure beats watching CNN on loop or hanging out at Sbarro in the food court.
For those not ready to brave the board, there's a beach bar complete with palm trees and lounge chairs – an excellent spot for those who watched the European Championship of Stationary Wave Riding on August 9 and 10, during which urban surfers from around the world competed for a grand prize of $13,000.
 
You can register to shred waves online here.

Sophie-Claire Hoeller is Thrillist's über-efficient German associate travel editor, and grew up watching Munich's river surfers. Follow her @Sohostyle.