Sustainability Tours Have a 40,000 Year History—If You Know Where to Look
From Australia to Hawaii, Indigenous guides have been on it for centuries.
Photo by Sunny Fitzgerald
Photo by Sunny Fitzgerald
I'm crouched near a large rock, its dimpled sandstone surface announcing that—unlike me, a visitor in the South Australian outback—it has been here for quite some time.
"See that petroglyph there?" asks Kristian Coulthard, a guide from the Adnyamathanha indigenous community.
Admittedly, I do not. What's in front of me appears to be just an ordinary rock top splashed in the browns, greens, and greys of lichen baking in the sun. I lean closer.
Coulthard traces the air above the weathered rock, leading my eyes along the carved lines. As if roused from a long slumber, the petroglyph seems to rise up toward us, its shapes now unmistakable. It's an image of an ancient camp, my guide explains—and it's not the only one. As I now look all around us, shapes emerge from faint etchings: goanna tails, ground ovens, maps, and boomerangs, each with their own stories. Coulthard points out a particularly clear carving of a yamurti, a giant extinct wombat.
"Traditionally the yamurti was about as big as the SUV that you're driving," Coulthard says. "We co-existed on this continent for about 25,000 years with these fellas. But [humans] put pressure on the species by hunting them, by changing the environment, by pushing them further out into drier zones." Over the course of the tour, Coulthard illustrates how, in so many ways, environmental protection was a core part of Adnyamathanha beliefs, long before sustainability became a trending term.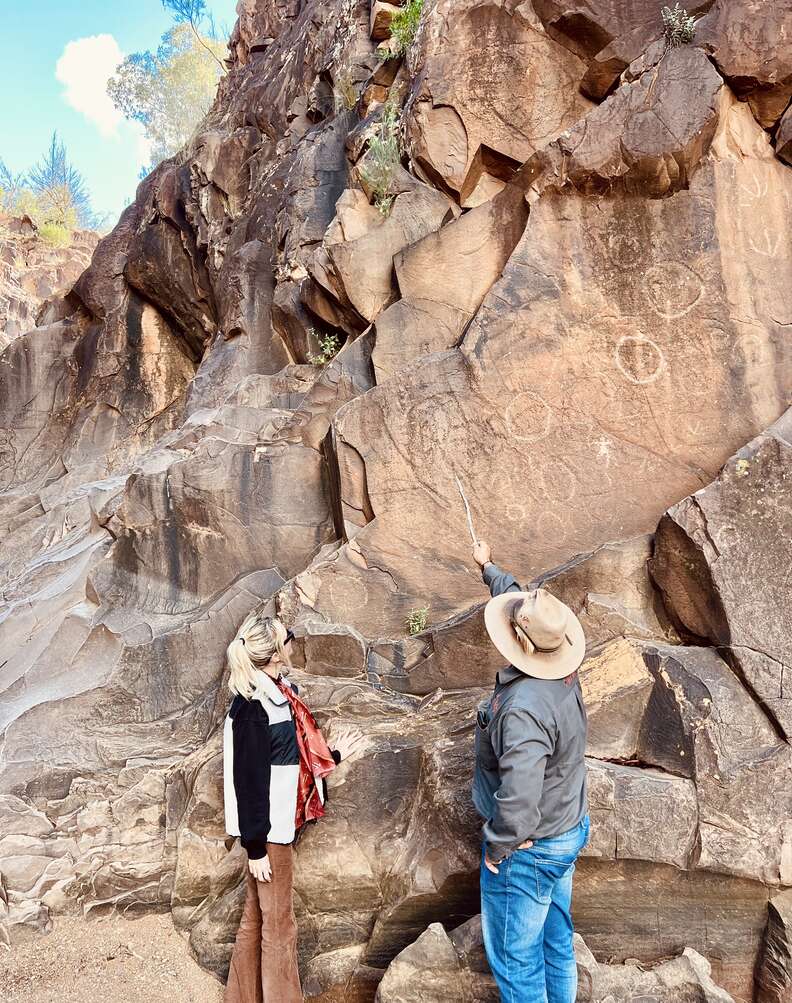 Adnyamathanha, meaning "People of the Rocks," are the Aboriginal people from the Flinders Ranges region of South Australia, who've inhabited this region for about 49,000 years (evidenced by shelters, tools, and giant wombat bones archaeologists found). Originally, their language was not written; they shared stories and traditions orally and through rock art, which are called yura mulka. "Some of these yura mulka date back 40,000 years," says Coulthard. "This is our written history—to pass on to the next generations and the generations to come—that you can survive here."
With my vision now calibrated to the yura mulka, the landscape no longer appears static; it seems to be pulsating, each stone and shrub potentially possessing stories of those that have passed here before us. But without an Aboriginal guide, I could have easily walked right past these almost-hidden tales.
That's why Coulthard started his Aboriginal-owned and operated tour business, named Wadna, the word for boomerang—he wants to share with travelers their community's intricate relationship between country and culture here in Australia. "The people that live on the land can explain those storylines better than anyone else," says Coulthard.
After finding several more petroglyphs, each with their own story or legend, we move on to another activity: identifying plants and food in the Australian bush. My guide points out the myakka, an important plant with four editble parts: the flower, leaves, an avocado-shaped fruit, and yams at the base.
Coulthard explains that it's traditional practice to take a couple yams, but always leave the main one and bury it. "We don't take all the resources. If we took all those yams, the plant would die."
Sustainable practices have long been central to Adnyamathanha culture and survival. "When we traveled through this country, we took very little from the environment so there were always resources there for the next time we traveled around or the people coming behind us," he says. Coulthard finds it important to share these messages with all travelers on his tours, offered at different sites.
Elsewhere around the world, other Indigenous-led experiences are also offering visitors the opportunity to actively sustain cultures from the people who've known the lands the longest. In northeastern Tasmania, visitors come to Wukalina (also known as Mount William National Park) and Larapuna (the Bay of Fires) for a multiday Wukalina Walk. The journey invites travelers to slow down and connect with Country, a word that includes land, seasons, stories, ancestors, and more. On the trek, visitors hike with guides from the Palawa people and, along the way, learn about sustainable kelp foraging, sample edible plants, identify wildlife, and more.
But sustainable travel isn't just about the environment; it also includes cultural knowledge and local communities. "When I was in school, we were still being taught that Tasmanian Aboriginal people were extinct," says guide Cody Gangell. "Through the walk, we are able to teach people how to respect our Country and culture. We can show them we're still here and what we're about." He explains how the walk facilitates "respectful engagement" and encourages stewardship of the natural environment and perpetuation of Palawa culture.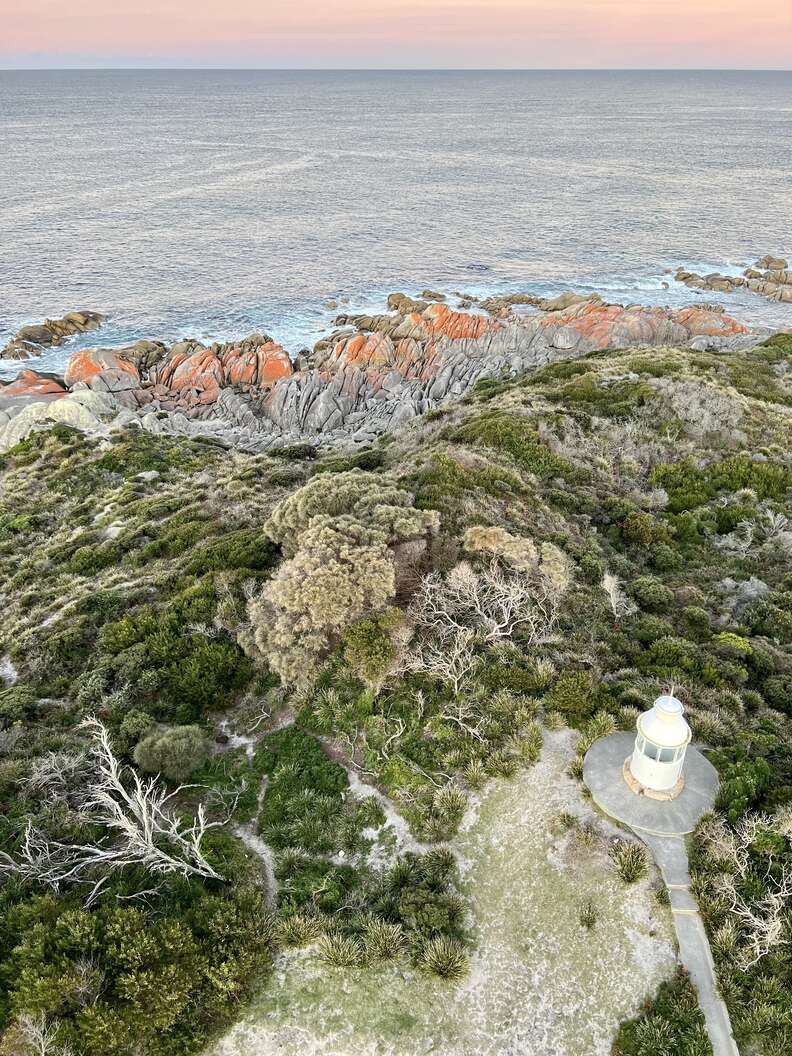 The Wukalina Walk also serves the Palawa community, which Gangell says is an important part of the mission and founder Clyde Mansell's vision, who's a Palawa elder. "We run some trips for Aboriginal people from our community to come and connect with our traditional homelands," Gangell says. Gathering together has strengthened relationships and facilitated knowledge sharing, which is particularly important to people like Palawa, who were forcibly removed from their cultural homelands. "It's become this big knowledge network," says Jake Brown, another guide on the Wukalina Walk.
These networks—created within Indigenous communities and with visitors—are a critical piece of the larger sustainability puzzle. Travelers who feel a genuine connection to a place and its people are more likely to become stewards and advocates, sharing their experience with friends and family and inspiring others to choose Indigenous-led and more mindful tours, says Kimela Keahiolalo, the education programs manager at Kualoa Ranch in Kaneohe, Hawaii.
As part of the Malama Experience at Kualoa Ranch, participants head to the loʻi (taro patch) to plant, harvest, or clean alongside Native Hawaiian farmers. This is not a surface-level voluntourism activity; knee-deep in mud, you'll learn about the traditional and sustainable management of resources, the cultural significance of the kalo (taro), and how to engage in malama ʻaina (care for, protect, and preserve the land).
"We have a concept in Hawaii: ma ka hana ke ʻike. It means 'In working, one learns,'" Keahiolalo says. "By working in the loʻi, you'll learn more about my culture and who I am, and therefore feel more responsible to take care [of the land and culture] in the way that we take care."
Working with kalo is especially significant. Beyond its culinary uses (the staple crop is used to make poi) and health benefits, kalo is an important part of the Hawaiian creation story. So, in spending time with the farmers and getting your hands—and everything else—dirty, Keahiolalo says you become family. "Once you've done the work, this is part of who you are," she says. "And part of you will always be here."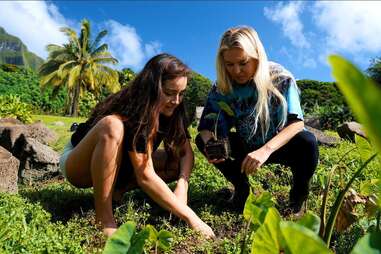 Afterwards, guests sample some food, including kalo, prepared by Kualoa Ranch's chefs. Many visitors, after tasting the fruits of the land and their labor, like to bring home some locally-grown products as gifts. "When you share those tangible things with people back home, you also get to share your experience, what you did and learned here," Keahiolalo says. More than just a souvenir, she explains how "that continues the cycle and perpetuates the good."
There will always be demand for the beach and the well-known tourist sites, but Keahiolalo points out that the opportunities to really dig in and learn from Indigenous people will likely be the most meaningful memories you carry with you. And the positive impacts of choosing Indigenous-led tours, in Hawaii and elsewhere, ripple out to people and the planet. "As we like to say, 'It's a kakoʻo thing,'" Keahiolalo says, which translates to uphold or support. "Meaning: All of us, we do it together."