Everything you ever wanted to know about swingers resorts
Admittedly, we've taken you on some pretty weird nakations in the past, from nude beaches and nude resorts, to the world's kinkiest festivals, naughty ski trips, and erotic vacations, but even we had to stop for a second upon discovering swingers resorts. Call us sheltered. Call us naive. We assumed they existed, of course, but we just didn't know much about them. Until now, that is. And everything we've learned, we're sharing with you.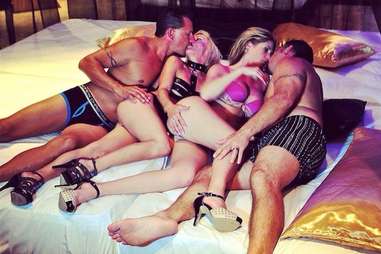 So, are they just "adults only" all-inclusive resorts?
Sort of, in the sense that "adults only" means no kids. But no, in the sense that people aren't typically having public sex in your standard Cancun adults-only spots.
Wait, so then they're nude resorts?
Not technically. Though many swinger getaways are clothing-optional, they aren't specifically nude resorts. Which means, you'll have to cover up for meals among other club activities -- like lawn chess.
What is a swinger exactly?
Swingers are generally couples in a relationship who enjoy having "relations" with other people's partners. There are different categories within what people refer to as "the lifestyle", like exhibitionism, voyeurism, soft swaps, full swaps, orgies, and Game of Thrones. Ok, maybe not that last one.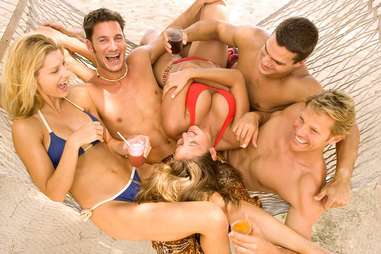 I'm just a single dude who wants to get laid. Cool?
Most swinger resorts are couples-only, though there are resorts that do allow singles. These are ideal for the kind of swinging couples where the woman likes to… play, while her husband watches.
But obviously people are doing it everywhere?
Nope. Even resorts with names like Hedonism have some semblance of etiquette – sex on the beach or in public is still a no-no, although many resorts have outdoor "play areas", like rooftop Jacuzzis surrounded by beds.
What about partying? There is partying, right?
Oh yea, don't worry, there's ton of partying. Most resorts have live entertainment, nightly theme parties (Eyes Wide Shut, anyone?), and discos, as well as bars that pour all night.
Is sex with strangers the only activity offered at these resorts? What do people do all day, other than each other?
Like all resorts, swinger clubs have non-fornicating activities as well, like tours, snorkeling, and the aforementioned lawn chess. The main difference is that swinger resorts have designated sex spots, like hot tubs and playrooms. Most people like to hang at the pool or beach in the mornings, do some sort of athletic or cultural activity in the afternoon, then head to the play areas for a quick romp before dinner and more sexing.
Will I be having sex, like, all the time?
That depends on you, the other couples, the mood... you get the idea. Of course, casual, spontaneous sex is statistically about a billion times more likely to happen here than in your favorite dive bar back home, but there's no guarantee at check-in, if that's what you're hoping for.
Are these resorts nice, or kind of skeevy?
Obviously that depends on the specific resort, but most of them are like any other all-inclusive resort at which you'd vacation.
Can I organize a sex party in my room?
Absolutely, knock yourself out.
Do I have to make a straight trade with another couple or can we mix and match?
Anything goes.
So, are there any rules?
Indeed there are. No cameras, no cell phones, and no sex anywhere you could be seen by someone not on the resort's grounds. That's about it.
What about hygiene?
Fresh laundry and towels are provided in abundance. Like, ABUNDANCE.
Finally, what do I tell my friends and family? I can't very well say I'm vacationing at a place called Hedonism.
Who knows, tell 'em your fishing for marlin off Key West. When it comes to "the lifestyle", though, discretion is the name of the game. Shrewdly, many of these places offer a special, discrete phone number for friends and family to call in order to help conceal where you actually are.
Book your next swinger vacation here:
Hedonism II -- Negril, Jamaica
Opened in 1976 as "Negril Beach Village", Hedonism II (there used to be a I and III) is by far the most famous of the lot.
Desire Resort & Spa -- Cancun, Mexico
Desire, which also has a location in Costa Rica, boasts "sensual jacuzzi lounges", erotic workshops, and "sexy aqua fitness".
Rooftop Resort – Hollywood, FL
This place bills itself as South Florida's premier nudist swingers resort. So there.
Swinger Cruises
Yup, that's right, you can even take "the lifestyle" into international waters. Bon voyage!