S
XSW has flowered. What began as a small music festival has grown exponentially over the past 30-odd years into a full-blown panoply of the entertainment and tech trends you need to know about right now. But with its maturity comes an overwhelming sense: How the hell are you supposed to suss out which bands and films to see, which panels to attend, and where to eat and drink in between all of it without being inundated with the out-of-town crowds? Fear not: We've taken out the guesswork for you, dear reader. If all this isn't enough, there are plenty more places to
eat
and
drink
. Just please,
don't blow your trip
.
... if you're nostalgic for The OC soundtrack
With new records by Dirty Projectors, The Shins, and The New Pornographers, 2017 is shaping up to be a big year for people who got into indie rock in the '00s. Why not get in touch with your inner Seth Cohen by seeing the infinitely reliable Spoon, promoting their follow-up LP to 2014's excellent They Want My Soul, on any evening of their three-night residency at The Main. (March 14, 15 & 16)
... if you're still listening to Chance the Rapper's Coloring Book
The Chicago rapper's Grammy-winning record was full of big-name guests like Kanye West, 2 Chainz, and Lil Wayne, but some of the most intimate moments came courtesy of emerging artists like Noname, a 25-year-old Chicago rapper who made waves with last year's Telefone mixtape. Her calming, contemplative flow makes her an essential artist to catch when she plays the SXSW Music Opening Party at Maggie Mae's Rooftop with dance-punk mainstay !!! (Chk Chk Chk). (March 14)
... if you're looking for punk with a touch of glammed-out theater
Queer garage-punk duo PWR BTTM make hard-hitting, glitter-speckled music that you've gotta experience for yourself. The pair are promoting their highly anticipated 2017 record Pageant, out on May 12 via Polyvinyl, with a show at Stubb's on Wednesday where they'll be joined by Joey Bada$$, Sylvan Esso, and The New Pornographers. They'll also be at Cheer Up Charlie's on Thursday with Jay Som, Tim Kinsella, and Beach Slang. (March 15 & 16)
... if you're an out-of-towner looking to catch something local
Local genre-splicers Golden Dawn Arkestra combine Afrobeat rhythms, jazz-funk instrumentation, and disco vocals to create songs that hover like UFOs. Get beamed up at Hotel Vegas Patio. (March 16)
... if you're into Stranger Things
The creepiest part of this summer's Netflix hit wasn't the Demogorgon, the Upside Down, or Matthew Modine's white hair. No, it was the haunting throwback credits sequence, which was scored by Austin synth-drone specialists Survive. Catch the Grammy-nominated electronic trio scare up more '80s horror nostalgia at the Hotel Vegas Patio. (March 16)
... if you're looking for something from another dimension
UK art-rock teens Let's Eat Grandma create the type of beautiful, strange psychedelic music that sounds like Kate Bush scoring a children's show on a UHF station. Watch them summon their peculiar astral energy at Latitude 30 or at Blackheart as part of the Transgressive Records showcase. (March 14 & 16)
... if you're just looking to chill, man
There are probably an infinite amount of options -- SXSW is never short on hazy guitars -- but if you're looking for that premium beverage-sipping music, you can't do much better than New Jersey indie rock standard-bearers Real Estate, who you can catch at the Radio Stage Day or at the Clive Bar as part of Showtime's two-day Twin Peaks experience, where they'll be joined by Neko Case, Julie Byrne, M. Ward, and, presumably, a damn fine cup of coffee. (March 16 & 17)
... if you're looking to lose your shit
Richmond, Virginia, hardcore-meets-speed-metal warriors Iron Reagan don't mess around. Their latest album, the exhilarating Crossover Ministry, has joyfully flippant song titles like "Fuck the Neighbors," "Power of the Skull," and "Eat or Be Eaten," and one assumes the group will bring the same sense of unhinged proprietary to their show at the Austin Terror Fest on the last day of the festival. (March 19)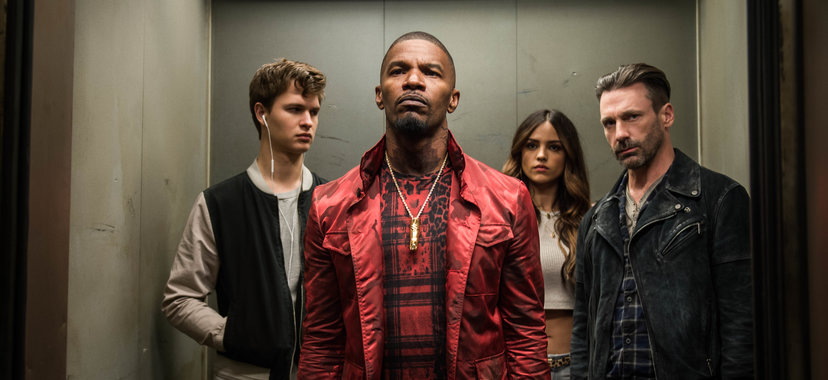 ... if you want a guaranteed great time
Baby Driver is the latest feature from Shaun of the Dead and Scott Pilgrim vs. the World director Edgar Wright. Based on early looks, it sounds like a comedic take on Drive, promising equal parts comedy and action. Starring big names like Jon Hamm, Jamie Foxx, and Ansel Elgort, Baby Driver is the best gamble you could make at SXSW. (March 11)
... if you want a shoot-'em-up for the ages
From the director of the modern horror classic Kill List and the ball-tripping satire High-Rise comes Free Fire, a '70s throwback that looks to have spent 90% of its budget on bullets. Set against a shady arms deal gone wrong, the movie pits Brie Larson, Armie Hammer, Cillian Murphy, and more against each other in a non-stop shootout. The only thing firing faster than these criminals' guns are their mouths. (March 13)
... if you want a poetic take on music festivals
Terrence Malick, the acclaimed director of Badlands, The Thin Red Line, and The Tree of Life, brings his music-centric drama Song to Song to the only spot on the festival circuit that makes sense. Rooney Mara, Ryan Gosling, Michael Fassbender, and Natalie Portman star as two couples who mix and mingle and reckon with romantic existence while traversing the Austin music scene. (March 10)
... if you want your mouth to water
Barbecue, says the description for the new documentary Barbecue, "is about more than grilling a piece of meat. It's a ritual performed religiously across the world." We tend to agree, so we blindly endorse this look at the people around America who put pork on a pedestal and eat cow like communion. (March 10, 12 & 18)
... if you need an ol' Texas Western
In The Ballad of Lefty Brown, a career sidekick (Bill Pullman) picks up the mantle of his fallen ranching partner to "confront the ugly realities of frontier justice." Seeing as the movie is set in 1889, shortly after Congress declared the frontier closed, expect cowboy hats and six-shooters to aid in the confrontin'. (March 11, 13 & 15)
... if you want to beat your Netflix-watching friends to the punch
The Most Hated Woman In America, a biopic based on the life of atheism advocate Madalyn Murray O'Hair, will hit Netflix on March 24. But you can see it first if you're in Austin, and brag about watching actress Melissa Leo introduce the film as they sit on their dumpy couch with a cat butt in their face. (March 14 & 18)
... if you dream of watching TV on the big screen
Adapted from Neil Gaiman's book by Hannibal and Pushing Daisies mastermind Bryan Fuller, Starz's American Gods earns a luxurious premiere before its April debut, courtesy of SXSW's TV line-up. The show imagines a clash between old, mythological gods and newfangled modern ones (imagine if The Internet had a face... and could kill you), so you can assume American Gods is going to put your 50in to shame. (March 11)
... if you need 100cc's of EFFIN' WEIRD, BRO
You might recognize the gorilla in a casual business suit from the days of Vine, specifically the account Simply Sylvio. In Sylvio, the primate's big screen debut, this small-town gorilla joins a local TV program. According to the SXSW Film Guide, "a series of on-air mishaps threaten to shatter his identity, sending him on an adventure of self-discovery where reality and fantasy start to blend." Sold. (March 11, 13 & 15)
... if you've been wondering what the former Vice President's been up to
Good ol' Uncle Joe Biden will be speaking on March 12 to give us a life update since leaving office. He hasn't slowed down much, just turning his work in the direction that hits close to home: the vital importance of effective cancer research.
... if you binge-watched Chef's Table
Food sessions are hardly sparse in this year's conference schedule. If you came to Texas for the tacos, don't miss this deep dive into the regional specialty (March 10). Breakfast fiends, this panel delves into how the (questionably) most important meal of the day has affected our lives over the past 60 years (March 12). Hardcore foodies should pencil this conversation between acclaimed chefs Kevin Fink, Naomi Pomeroy, and Michael Chernow into their schedules (March 13).
... if you came for the music
Get philosophical about it: Consider the relationship between hip-hop and the fertile future of today's youth during "Can Hip Hop Save Us?" (March 15). Small and DIY venues are frequently upended -- what can be done to support and save them? A bunch of independent promoters, venue owners, and artists discuss (March 18).
... if you came for the film portion
The Game of Thrones showrunners (March 12) will likely be dropping hints as to what fans can expect from the end of the series, and the cast and crew of Veep will be flinging witticisms on the upcoming Season 6 (March 12). Those of us using HBO to watch these shows might be interested in this panel on cord cutting (March 12). If you're a first-time festival film goer, this Beginner's Guide (March 10) is all you could ever need in a primer. And in a crazy intersection of film, theater, and virtual reality, check out this panel on an immersive horror experience (March 13).
... if you work at a startup
SXSW Interactive is meant entirely for you, but a few panels stand out from the deluge of codespeak. First, learn how our ever-connected lifestyles stand to affect the way we live (March 11). Then, the progenitor of the entire internet, Vint Cerf, will get an entire session to himself (March 12). For the STEM advocates out there, "Building the Future of Code" (March 14) will address the next generation of programmers.
... if you've been attending a lot of protests lately
You'll be in the presence of other social activists at these talks: Cecile Richards, president of Planned Parenthood, joins a panel with Tumblr founder David Karp and writer/podcaster and general badass feminist Aminatou Sow take on what it means to be an activist and an ally (March 10). Been curious how all that hashtag activism affects real life? Attend this session, which deals with exactly that (March 11).
... if you care about the future of journalism
Then, one, you're probably a journalist, and two, you should attend these panels on media. Nick Denton, former EIC of Gawker, takes the stage to discuss life and the media after the site's bankruptcy (March 12). Hitting a similar vein, journalists ponder: Who has the courage to fund fearless journalism (March 15)?
... if you're excited about the recent discovery of habitable planets
There are two talks that should tickle any space buff: First, sit in on a conversation with man-about-the moon, astronaut Buzz Aldrin (March 13). Stick around to hear about what NASA's Johnson Space Center is up to these days (March 13).
... if you want a quick bite
The gathering of food trucks on East César Chávez and Comal is perfect for a quick and cheap meal just outside of Downtown. Dee Dee Northern Thai is consistently praised with making some of the best Thai in the city (try the pad krapow). You know you aren't getting up at 6am to endure the Franklin BBQ queue, so eat at La Barbecue instead -- the line is manageable, you get free beer, and the BBQ is fantastic. Not-to-miss tacos are also on this block: Veracruz All Natural makes the best migas and fish tacos in the city.
... if you want to eat at a restaurant like a civil human
Treat yourself to the happiest hour with punch and Southern eats like grilled pimento cheese at Jacoby's Restaurant & Mercantile -- one of the first spots to set up shop on far East César Chávez. Just across the street is Jacoby's sister restaurant, Grizzelda's, which specializes in modern Mexican cuisine. Then, zag on over to Tillery Kitchen and Bar, the newly opened, bedecked, riverfront eatery; you're gonna want to order the lamb fritters.
... if you want to eat like royalty
If you drop some cash on one thing this SXSW, it should be one of these SouthBites dinners with chefs José Andrés, Aaron Franklin, Naomi Pomeroy, Michael Chernow, Kevin Fink, and Andrew Wiseheart, aka internationally and nationally recognized culinary badasses. Get your tickets here.
... if ice cream is the cure to what ails you
Wander over to one of the new, made-to-order, liquid nitrogen-frozen ice cream shops that delivers a super-creamy product. We love The Science Cream's classic strawberry cheesecake. Get more adventurous at SPUN Ice Cream on East Seventh with a combo of a drizzle of olive oil over pistachio ice cream and a handful of chopped pistachios.
... if you're feeling a Prohibition-era vibe
Slip off to one of Austin's (semi-) secret speakeasies. The Milonga Room, in the basement of Buenos Aires Café, has a cocktail menu that highlighting amaros and fernets typically found in Argentina. Cocktail bar Midnight Cowboy, in the heart of Dirty Sixth, is a welcome refuge; just make sure you RSVP online and buzz the name "Harry Craddock" outside the unmarked door. Firehouse Lounge is the entirely red bar hidden behind the false bookshelf in the lobby of the Firehouse Hostel. Inside, you'll find classic cocktails and plenty of air conditioning.
... if you want to drink like a local
East 12th St and Chicon has blossomed into a full-fledged bar district. Hit up our favorite bar, King Bee, for a dark haven with fantastic cocktails and pizza. Then, head next door to the new Rio Rita location for a relaxing patio and spicy margaritas. On the next block, moody Moloko is a great pit stop for an Old Fashioned before ending the night at Full Circle Bar with a little Skee-Ball and a Cuban sandwich.
... if you need a pick-me-up
The other kind of buzz. Our top recommendation is Fleet Coffee, where you'll find a few coffee drinks you won't find anywhere else. Example: the espresso-based Sunday Morning Ritual, blended with Cinnamon Toast Crunch-infused milk and served with a Rice Krispies treat. Flitch Coffee is housed in a retro Airstream trailer and is a quiet spot to recharge and/or get some work done. Last but certainly not least, Figure 8 Coffee Purveyors pulls perfect shots of espresso and always with a smile.
... if you're trying to keep a tiny tab
Get your kicks during one of these very generous happy hours. From Monday to Saturday 3:30-6:30pm and all day Sunday, comfort food destination Irene's offers select $3 pints, $10 pitchers of beer, and $3 house spirits. Cocktail mecca The Roosevelt Room does an all-night happy hour on Monday and Tuesday, and from 5 to 7pm from Wednesday to Saturday where you can nab $6 select classic cocktails. French eatery and absinthe bar Péché's happy hour runs from 4 to 7pm from Tuesday through Friday, and all evening on Sunday and Monday with $5 drinks and half-off dishes.
... if you need to re-up on electrolytes
It's a no-brainer: Stay hydrated so you don't die. Topo Chico is the unofficial fizzy water of Austin; you can stock up on a bottle at literally any convenience store. Don't be shy with electrolyte water or tablets either. If times get real tough, call Hydrelief. A certified EMT or nurse will come to you with bags of IV fluid, vitamins, and anti-nausea meds to bring your withered ass back to life.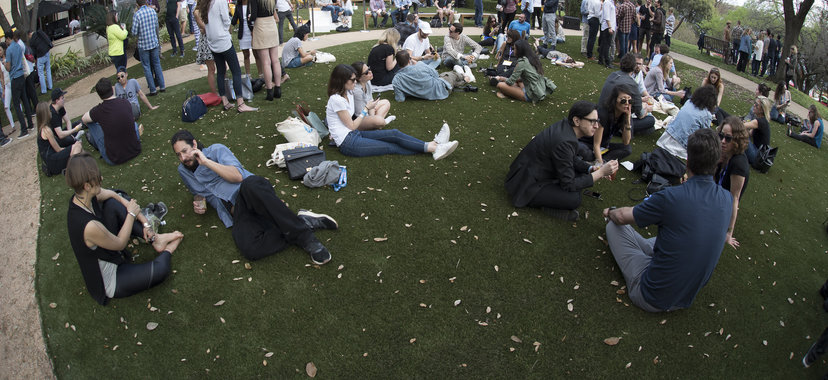 ... if you need to ditch the city
Drive out to the boonies and stuff your face with pizza and beer and liquor. Along the way to the award-winning Jester King Brewery, you'll encounter Pieous making perfect pastrami and a pizza crust pillowy enough to sleep on. Once you've made it to Jester King, sip on one of the gloriously weird pints before heading next door to Revolution Spirits. Pick up a bottle of their fragrant gin to share with your friends who stayed behind on this expedition.
... if you want to escape, literally
Try one of Austin's many escape rooms. These are usually occupied by corporate team building retreats, but nothing strengthens actual friendships like pretending to bust out of jail or the (fake) threat of imminent death. The top-rated experiences are at The Escape Game Austin, Austin Panic Room, Maze Rooms Austin, and Lockout Austin.
... if karaoke is your catharsis
If sing-yelling "Say It Ain't So" in a private Jem and the Holograms-themed room with food and cocktail service is your idea of a good time, The Highball is your kind of spot. In North Austin, Hi Tunes Karaoke has clean rooms, great systems, and you can BYOB and food. If you're into exhibitionism, Ego's has long been the place to go with its crappy furniture and long wait times for your song, but where else can you hang out for five hours and end the night with a $21 tab? The answer is nowhere, y'all.
Sign up here for our daily Thrillist email, and get your fix of the best in food/drink/fun.